1.
The show opens, and Michelle reveals that she bought Danny this hideous "party tie" that doubles as a cup holder. Excuse me, but why does this product even exist?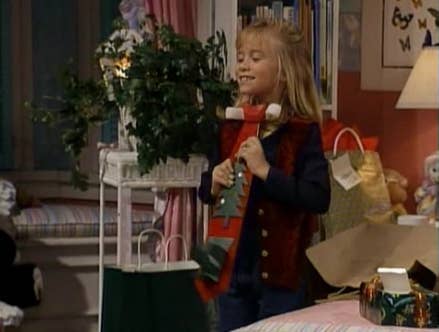 2.
D.J. commends Michelle for no longer being poor as hell, since she gave cereal as Christmas presents last year.
3.
She freaking made earrings out of Frosted Flakes for Stephanie. I felt so sorry for her.
4.
And even worse, she made D.J. a Rice Krispies retainer container.
5.
BUT ALL TRUE FULL HOUSE FANS KNOW THAT D.J. NEVER HAD BRACES, SO WHY WOULD SHE NEED A RETAINER CONTAINER?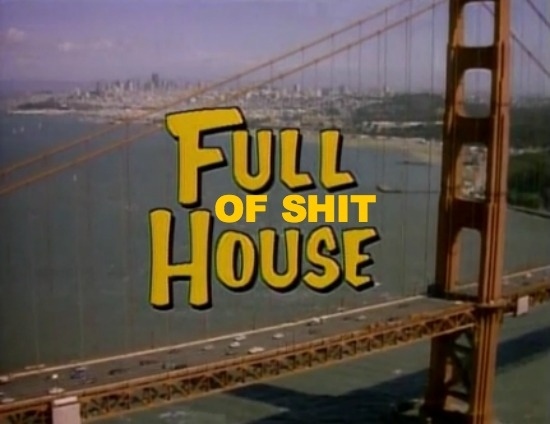 6.
In the next scene, Becky walks into the kitchen and says she smells "roast turkey, hot apple cider, and pumpkin pie", but it's just Danny's new air freshener, "Can O' Christmas". OK???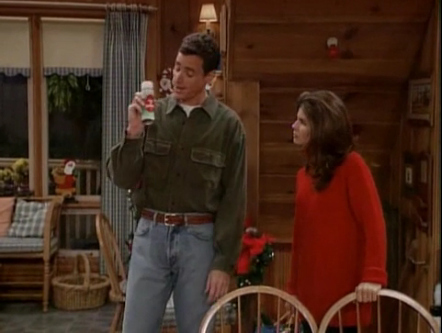 7.
Jesse complains cause he was "mauled by 20 fat, jolly guys" at the dry-cleaners, and Becky responds "well, it's been a while."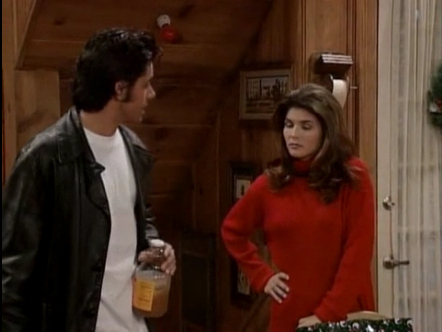 8.
Jesse then reveals that he spent seven dollars on mistletoe, which turned out to be parsley*.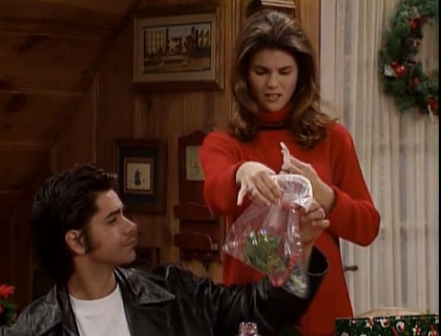 Becky announces that she got Joey a gag gift, AKA THE SAME TIE THAT MICHELLE GOT DANNY.
9.
Danny reacts accordingly, unaware that Michelle actually got the same gift for him.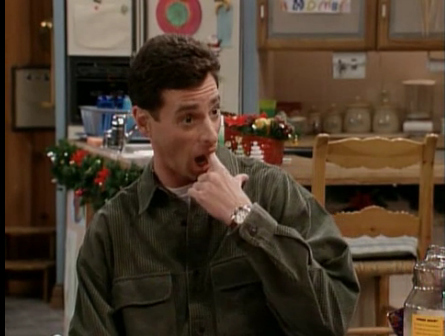 10.
Upon hearing this trash talk, Michelle attempts to throw her present in the fire, almost burning down the house.
11.
Rather than giving Danny the tie, Uncle Jesse proposes that Michelle gives her father a Fruit Loop sombrero.
12.
BUT THERE'S A DILEMMA. MICHELLE ALREADY GAVE DANNY A FRUIT LOOP SOMBRERO TWO YEARS AGO.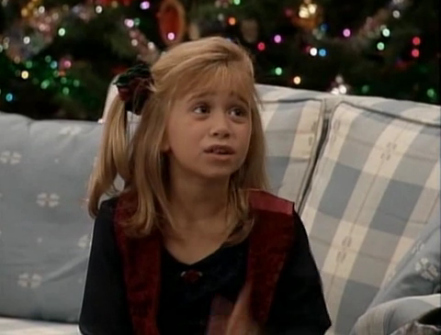 13.
Michelle convinces Uncle Jesse to take her back to the joke store to return the gift. ON CHRISTMAS EVE.
Meanwhile, Steph and D.J. try to help Joey into a Santa suit.
14.
Several grunting noises later, the three of them end up on the bed together.
Nicky and Alex watch in horror because they think Santa (AKA Joey) is hurting their precious cousins.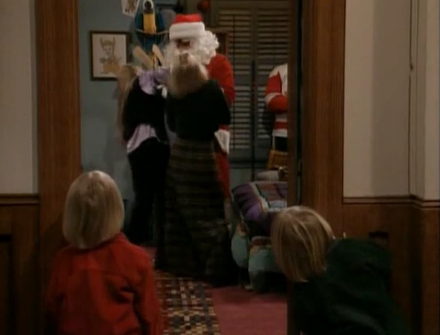 15.
The next scene takes place in a joke store, WHICH IS OWNED BY MICKEY ROONEY.
16.
Mickey Rooney runs to the door and locks it before Uncle Jesse and Michelle can enter, because he's a miserable old bastard.
17.
Uncle Jesse tricks Mickey Rooney into thinking that they can't hear him, so Mickey Rooney opens the door and almost gets tackled to the ground.
18.
Mickey Rooney says that he begrudgingly remembers Michelle because she paid for the five dollar gag gift in all nickels. NICKELS.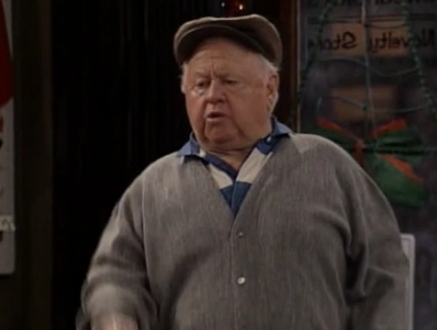 Michelle wants to exchange the gift, but she doesn't have a receipt, so Mickey Rooney won't let her.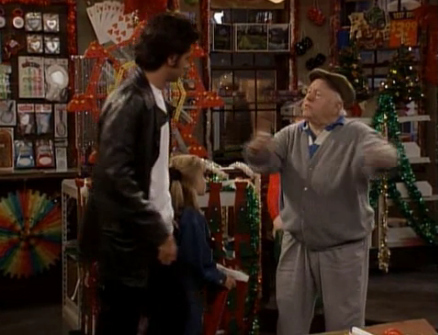 Uncle Jesse requests that they exchange the five dollar tie for some other crappy five dollar present.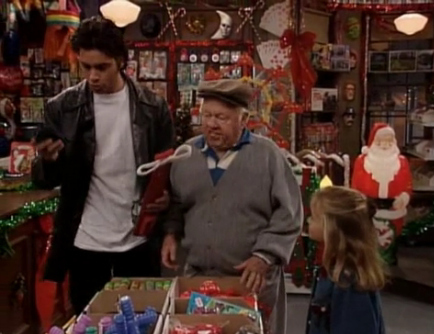 19.
Mickey Rooney wasn't having any of that shit, so he decided to LOCK THEM IN THE STORE.
20.
To make matters worse, he also touched the secret alarm, which called the police.
21.
WHICH MEANS UNCLE JESSE AND MICHELLE, A MERE SIX-YEAR-OLD GIRL, ARE GOING TO SPEND CHRISTMAS EVE IN JAIL.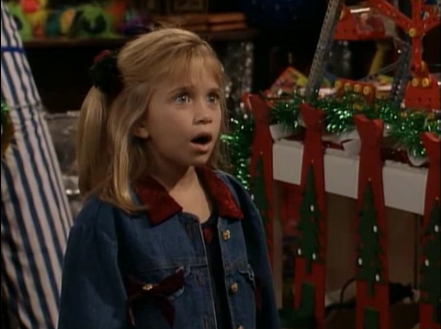 22.
But Uncle Jesse thinks about the situation and says he wants the cops to come cause he was basically KIDNAPPED by Mickey Rooney.
23.
Then Uncle Jesse politely asks Mickey Rooney for a cup of water, as if the whole kidnapping thing never occurred. Like, what?
24.
And then Mickey Rooney and Michelle have a good laugh about the trick drinking glass, as if they're best buds, DESPITE HIM CALLING THE COPS ON HER.
Michelle then offers Uncle Jesse a towel.
25.
BUT OBVIOUSLY IT'S A FREAKING JOKE TOWEL WITH GREASE ON IT.
26.
Literally two seconds later Michelle tricks Uncle Jesse AGAIN, saying a dollar fell out of his pocket.
27.
Then Mickey Rooney says he talked to the police on the phone and told them not to come. But how could he secretly talk to the police if he was so close to Jesse and Michelle this whole time?
28.
Mickey Rooney tells them to leave, but Michelle thinks he's lonely, SO SHE INVITES HIM TO SPEND CHRISTMAS AT THE TANNER HOUSEHOLD, EVEN THOUGH HE IMPRISONED THEM.
29.
And then Mickey Rooney admits that he doesn't talk to his family anymore, so he's used to spending the holidays alone. Then the audience collectively awes in the background because they feel bad.
Mickey Rooney finally agrees to spend Christmas Eve with the Tanners, and Uncle Jesse finds his Christmas spirit again.
30.
But of course Uncle Jesse falls for yet another gag before they leave. This time it's the old handshake buzzer joke.
31.
Meanwhile, Joey dresses as the Easter Bunny, which he thinks will make Nicky and Alex less scared of Santa. This man is an idiot.
32.
Later that night, everyone returns home, and Mickey Rooney is dressed as Santa. Why the hell would he have a Santa suit if he literally was the world's biggest Scrooge 15 minutes ago?
33.
But of course this magically cures Nicky and Alex of their fear of Santa.
34.
Michelle gives Danny the new Christmas present, which turns out to be a freaking candy cane toothbrush.
35.
Did I mention that the toothbrush also plays Christmas music???
36.
"Deck The Halls" plays in the background as Mickey Rooney calls his six-year-old granddaughter, who apparently has her own phone line because she answers the phone herself on the first ring and immediately wishes this creepy stranger a Merry Christmas.
37.
But all is right in the world now, so everyone starts singing and hugging each other, even though there is a complete stranger dressed as Santa in their house.
The end.