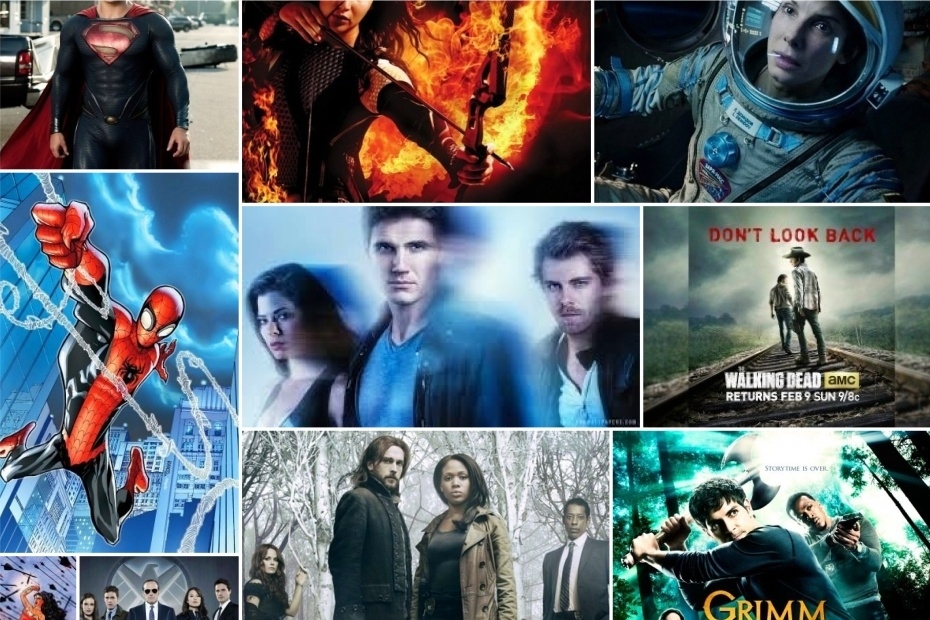 As 2013 comes to an end there is the eternal hope for a brighter, happier, less-douchey new year. When it comes to geek culture (comic books, cosplay, sci-fi, etc.) there is always a sense of great things to come as well as trying to pry the incompetence, misogyny, and overall stupidity from those fan favorite pastimes. Most fans want an inclusive atmosphere so others can also embrace whatever they love. It doesn't matter if you love Peter Parker, Miles Morales or (heaven forbid) Doc Ock as Spider-Man you can co-exist and engage in some friendly discussion. It shouldn't matter if you love Doctor Who you shouldn't be told you can't cosplay as your favorite because you're a woman or a person of color. The motto should be "Do what you love" and you should not be bullied because you don't fit someone else's perception of what they perceive accurate or canon or some other nonsense. The idea is to express yourself and have fun. So in other words people should refrain from being judgemental and basically 'Don't be a dick'.
Geekdom has come a long way and has grown more into the mainstream. The increase of comic book movies has helped that immensely and the books themselves have seen a jump in sales. Comic book and pop culture conventions are as popular as ever and cosplay has grown as well. Will its popularity and trendiness subside? Eventually. In Hollywood especially they tend to milk whatever genre is popular until it's absolutely dry. Superhero and fantasy films will continue for at least the next 4 years because they continue to bring in huge box office. It won't be until these extremely expensive features begin to flop will they stop making them. Even then it's not so clear considering Disney-owned Marvel exists solely to bring their stories to screen. Disney is not going to let their superhero arm fail.
On television there is a great number of genre shows with more on their way. Some of the biggest shows on broadcast and cable networks are comic book based or fantasy. Shows like AMC's The Walking Dead, ABC's Marvel's Agents of S.H.I.E.L.D. and The CW's Arrow draw millions of viewers every week. That still leaves shows like Grimm, The Originals, The Tomorrow People, Sleepy Hollow, Almost Human, etc. filling the hearts of genre fans. This is the golden age of fantasy shows. There is more on tap as new shows involving the Flash, Batman's ally Commissioner Gordon, and other DC Comics characters.
New shows are being distributed in new ways too. The aforementioned Marvel has a Defenders mini-series in development with Netflix. Marvel comics characters like Daredevil, Luke Cage, Iron Fist and Jessica Jones will be available as original productions in the growing streaming market. The future of comic book television is certainly bright and something to look forward to in 2014 and beyond.
This topic has probably been around for decades but there are strides being made in entertainment with regards to casting television shows and movies with people that reflect the world we live in; diverse, complicated, and gender neutral. The best example is the hit rookie show on Fox, Sleepy Hollow, that consists of a cast of white, black, Asian and Latino characters. This shouldn't be ground breaking news but considering that the female lead is African-American and every bit the equal of her white male co-lead is another reason to celebrate the show. The show succeeds for other reasons though. The leads have extremely good chemistry and banter that doesn't sound forced or entirely contrived. The supporting characters get time to develop and allow the audience to invest in them. Ultimately, it's the writing that is funny, creepy, and exciting with a cast that reflects its audience.
Other shows could learn from Hollow as well as movies and comic books where the cultural divide is even greater. There is no African-American writer among the two biggest publishers and women are still making inroads but can still be counted on one hand. The comic book characters are becoming more racially diverse including more and more LGBT heroes and supporting characters. The industry has faced a lot of criticism for its misogynistic portrayals of women and that has gotten better but it's still a work in progress. What could make it harder for change is that the industry is coming off a better than expected sales year. Still the pressure will be put on by the fan base that still embraces it warts and all.
On the movie side I think we can lay to rest two myths: actresses can't open a blockbuster and women over 40 need not apply. Hunger Games: Catching Fire and Gravity were huge money makers lead by two of the finest actresses in the business, Jennifer Lawrence and Sandra Bullock respectively. Potential Oscar contenders for best actress could include Bullock, Judi Dench, Emma Thompson, Julia Roberts, and Kate Winslet all north of the Hollywood taboo age of 40. Age is just a number we've been told and talent knows no bounds obviously.
Now let's hope 2014 brings more people of color and women to projects. Will news ever break that a Wonder Woman solo film is indeed in the works? Will John Stewart be the Green Lantern in upcoming Justice League movie? What role is The Rock actually playing? These are just some of the questions we need answered in 2014.
This post was created by a member of BuzzFeed Community, where anyone can post awesome lists and creations.
Learn more
or
post your buzz!