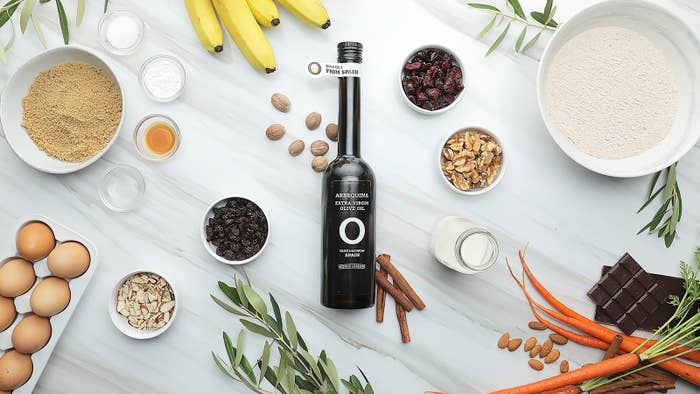 WHOLE GRAIN OLIVE OIL CAKE
INGREDIENTS:
1 cup Extra Virgin Olive Oil From Spain — Arbequina, plus extra for greasing pan
2¼ cups whole wheat pastry flour
1½ teaspoons baking powder
¾ teaspoon salt
¾ cup light brown sugar
¾ cup skim milk, at room temperature
3 eggs, at room temperature
PREPARATION:
1. Preheat the oven to 350ºF. Grease a 9-inch-round (or loaf) cake pan with olive oil.
2. Whisk the dry ingredients in a large bowl. Set aside.
3. In a food processor, combine milk and eggs with a few short pulses. With the processor
running, slowly pour in EVOO from Spain — Arbequina.
4. Pour the wet ingredients into the dry, gently mixing until combined.
5. Pour the batter into the pan, spreading evenly and smoothing the top.
6. Bake for about 45 minutes or until the top is domed, golden brown, and a skewer
inserted into the center comes out clean. The cake can be eaten warm or cool from the
pan — or cooled, wrapped tightly in plastic, and kept for 2 days.
Variations:
Chocolate Almond:
1 teaspoon almond extract
½ teaspoon vanilla extract
¾ cup chopped 60% cacao
⅓ cup sliced almonds
Carrot Raisin:
½ teaspoon vanilla
1 teaspoon cinnamon
½ teaspoon nutmeg
½ cup shredded carrot
½ cup raisins
Banana:
2 very ripe bananas, mashed
1 teaspoon vanilla
Cranberry Walnut:
½ cup chopped walnuts
¾ cup dried cranberries