The Four-Step Marketing Funnel That Closes the Sale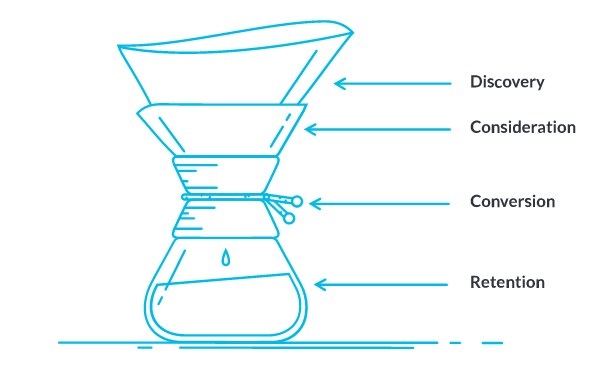 Step 1
This is the first part of your funnel—the portion that involves action, interest, consideration, and awareness. At this point, your goal is to reach as many people as possible and start spreading the word about your product or service. You'll spend a great deal of money to cast a wide net, but you won't invest heavily per person.
What does this look like? It could mean running traditional advertising online or in print, inclusive of social media and Google AdWords. It could also mean renting booths at popular trade shows or attending local events to establish your presence. Step 1 is about reaching as many potential customers as you can. If your target demographic spans wide, plan to go big here.
Step 2
At this step, your funnel should start to narrow a bit. Let's say you have a new hardware business. In step 1, you reached out to anyone who needed tools or home products. Now, you should only deal with those who are interested in buying tools or home products from your company.
You've got their attention, and now you'll focus your spend on wooing them and convincing them to buy. These people are no longer part of the general public—they're leads or potential sales. You want to provide them with as much information as they need to convince them you deserve the business. Direct them to a compelling website, hand out a well-designed informational pamphlet, let them see your products in a demonstration, and show them high-quality videos. Show your business adds value they aren't receiving elsewhere.
If people decide they don't want your products, this is the step where they should fall off.
Step 3
Step 3 is where you start to see the light at the end of the tunnel. Those who've made it to this part of the funnel are interested in buying but they aren't totally convinced. These are your qualified leads. The great news is that, if they've made it to step 3, they're likely to transition to step 4. The bad news is that you'll have to test out some strategies to see what works and what doesn't.
In step 3, you should focus your spend on erasing their doubts. This could mean spending one-on-one time with customers, getting them into the store to view your set-up and try your products directly, or offering some type of discount or incentive. These people are engaged with you, so you need to go big in the places where they engage with you most.
If they follow you on social media, invest resources into creating compelling content to keep them hooked. If they subscribe to your newsletter, produce weekly updates that promote your business and add value to your readers' lives. Give them a reason to stay invested and to buy. Do, and spend, what it takes to move them to step 4.
If you find that most of your qualified leads drop off before step 4, you've got a problem. Take a look at everything to make sure the process of buying is as easy as possible. This means assessing everything from the checkout process to the pricing displays. Make the experience seamless and test new options until you get it right.
Step 4
This is the final step of your marketing funnel. At this point, you shouldn't introduce new information. All reservations should be addressed, and all information needed should be provided. Now, you're simply getting to the checkout stage, presenting a contract, or collecting payment details. Qualified leads who've graduated to step 4 are now your customers.
If you find that you're losing qualified leads at this stage, take some steps to gather information about what's not working. Are your salespeople too aggressive or ill-informed? Is your website filled with glitches? Have you left out a major detail? Conduct some surveys and ask your engaged social media followers for feedback. Find out what's not working so you can invest and make the sale.
Step 4 is where all your spending should pay off, and if it's not working, you need to fix it to avoid wasting company funds on a losing strategy.
Your marketing funnel is a path to business longevity. It takes time, testing, and considerable money, but once you've identified an effective formula, you'll be well on your way to success.
This post was created by a member of BuzzFeed Community, where anyone can post awesome lists and creations.
Learn more
or
post your buzz!