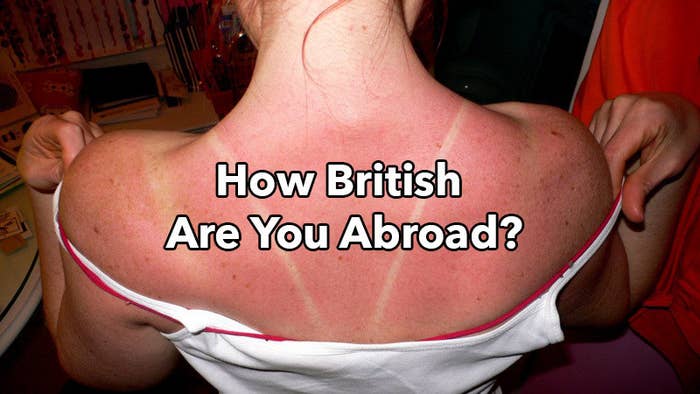 Tick off all the things you have done on holiday abroad:

Had a pint at the airport no matter what time your flight is.

Been naively optimistic about the airline food then immediately disappointed.

Felt smug about the weather forecast when it's raining at home.

Posted pictures on Facebook of the weather forecast while you're away.

Affected a slight foreign accent.

Spoken more loudly when people didn't understand you.

Attempted to speak the language and just embarrassed yourself.

Not considered yourself to be European in Europe.

Said you're from London even if you live 50 miles away.

Worn an England football shirt.

Gone to a bar because it's showing your team's game.

Been asked if you support Manchester United.

Gone to the beach in the rain.

Drawn a cock in suncream on someone.

Complained about the poor quality of tea abroad.

Brought your own teabags on holiday.

Brought a travel kettle with you.

Complained about the poor biscuit offerings abroad.

Worn an embarrassing hat.

Walked around reading from the guidebook.

Pretended to be interested in art.

Visited a British-themed pub.

Visited a British-themed restaurant.

Only socialised with other British people.

Refused to speak to other British people.

Called a waiter "garçon".

Been given the wrong meal and eaten it anyway.

Randomly pointed at something on the menu in the hope that it will be edible.

Complained about tipping policies abroad.

Said "what's the damage?" when the bill arrives.

Balked at a restaurant bill.

Said "but it's so cheap!" as an excuse to drink two litres of wine with dinner.

Been overcharged for something and been too polite to say anything.

Complained about people stealing all the sun loungers at 7am.

Not been sure whether to kiss on the cheek or shake hands.

Rinsed duty-free at the airport.

Tutted at international queuing rules.

Got home and summarised your trip as "it was nice".