On January 1, 2018, thousands of Dalits met near Pune to celebrate the 200-year anniversary of Mahar soldiers defeating the Peshwa army in the Battle of Koregaon. At this annual celebration, Dalits pay their respects at the Bhima Koregaon Victory Pillar.
During this year's celebration, however, right-wing activists attacked Dalits who were celebrating. Right-wing activists Sambhaji Bhide and Milind Ekbote have been accused of initiating the violence. Over 40 people were injured, and one Maratha man, Rahul Fatangale, was killed.
On 2 January, the day after the attacks on their celebration, Dalits protested across Maharashtra, including in Mumbai. Bharipa Bahujan Mahasangh leader Prakash Ambedkar called for a Maharastra-wide bandh to "protest the state government's failure to stop the violence at Bhima Koregaon".
On 3 January, establishments around Mumbai and other cities in the state shut down operations for the day, in observation of the bandh to protest atrocities against Dalits.
While this protest was sparked by the killing of Rahul Fatangale in right-wing violence at Bhima Koregaon, violence against Dalits by saffron forces is far from unprecedented. Last year, four Dalit youths were stripped and beaten by "gau rakshas" in Una, Gujarat. A year after the brutal attacks, victims said they'd been denied justice.
These protests were against the targeted attacks from 1 January, but also against the violence, brutality, and systemic oppression that crores of Indians have lived with for centuries.
Unfortunately, a lot of out news outlets seemed hellbent on ignoring that context.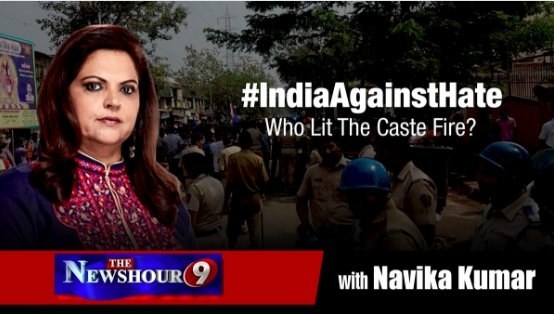 Outlets including Times Now, Republic, ABP, CNN News 18, and India Today, among others, described the violence and bandhs in Maharashtra as "caste clashes", "caste wars", "caste fire", and "caste conflict", implying a spontaneous conflict that arose between multiple equally complicit parties.
Headlines shied away from the reality that violence has historically – and in this immediate case – been inflicted primarily by upper caste forces on Dalits.
"Clash is what? Conflict between two groups, maybe? How can media project a terrorist attack of upper caste bigots on peaceful procession as clash?" asked one Twitter user.
While these protests are a demand for justice, nonviolence, and fundamental rights for and by the Dalit community, some mainstream voices have chosen instead to characterise them as "caste politics" and "clashes" – negative forces that need to end.
With the exception of Mumbai Mirror, which ran a front page story on the violence being incited by right-wingers, other outlets chose to shoot blame anywhere but at its real targets. Some channels blamed Jignesh Mewani and activist Umar Khalid for inciting the violence – they weren't even at the site of the protests on the day they occurred.
The mischaracterisations, misdirections, and skirting of the facts by news outlets were pointed out by several folks who followed both the real story and its mainstream coverage.
In 2018, crores of Indians continue to live under the continued threat of violence and sustained discrimination at individual and systemic levels. They are discriminated against so unforgivingly that simply celebrating a meaningful day together called forth violence from right-wing and saffron groups.
Dalits around India routinely face shocking brutality at the hands of the police, inaction at the hands of the justice system, and atrocious violence at the hands of upper castes.
Headlines continue to paint their protest as a mild "clash", just a "conflict", an inconvenience caused by Dalits to be shut down quickly and put away.