Nearly 16 years after starting a hunger strike, Irom Sharmila, who became a symbol of nonviolent resistance by protesting against a draconian law that allows India's security forces sweeping powers, is breaking her fast on Tuesday.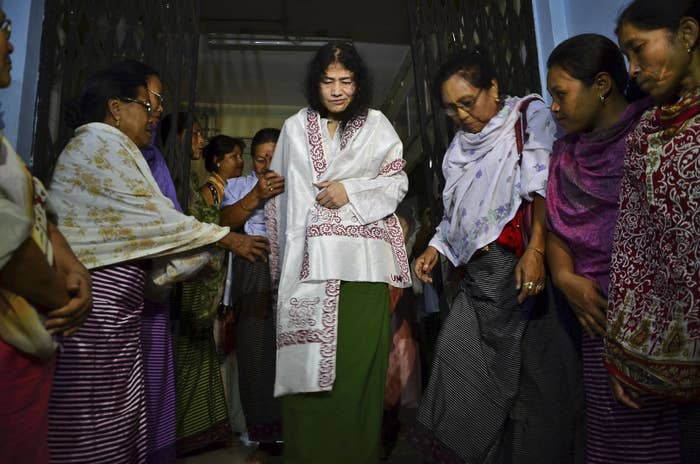 Sharmila, 44, also referred to as the "Iron Lady of Manipur", has been campaigning against India's Armed Forces Special Powers Act (AFSPA) — the controversial law allows the country's military special powers to use force in "disturbed areas" against suspected militants — since November 2000. Her hunger strike began after the reported killing of villagers by a paramilitary force in the northeastern Indian state of Manipur. Since then, her nonviolent protest has gained international attention, with rights groups asking the Indian government to repeal the controversial act.
Following her hunger strike, Sharmila was taken to the Jawaharlal Nehru Institute of Medical Sciences in Imphal, the state capital, and held under judicial custody for "attempts to commit suicide". She was being force-fed through a nasal tube for more than a decade.

During her judicial proceedings last week, Sharmila said her protest against AFSPA was not working and that she would try a different route — although it is unclear what that may look like. She has said she plans to contest the state assembly elections in Manipur as an independent candidate in 2017.

At the district court proceedings in Imphal on Tuesday, the judge wished her luck for her political career. The next hearing of this case will be held on 23 August, but she has been released on a bond of ₹10,000 (about $150).