Earlier today, 20-year-old Bengaluru resident Rithika Ramesh posted a picture of a page allegedly from the B.A. Sociology text being taught at St. Joseph's College.
This is what the page of their sociology text allegedly looks like: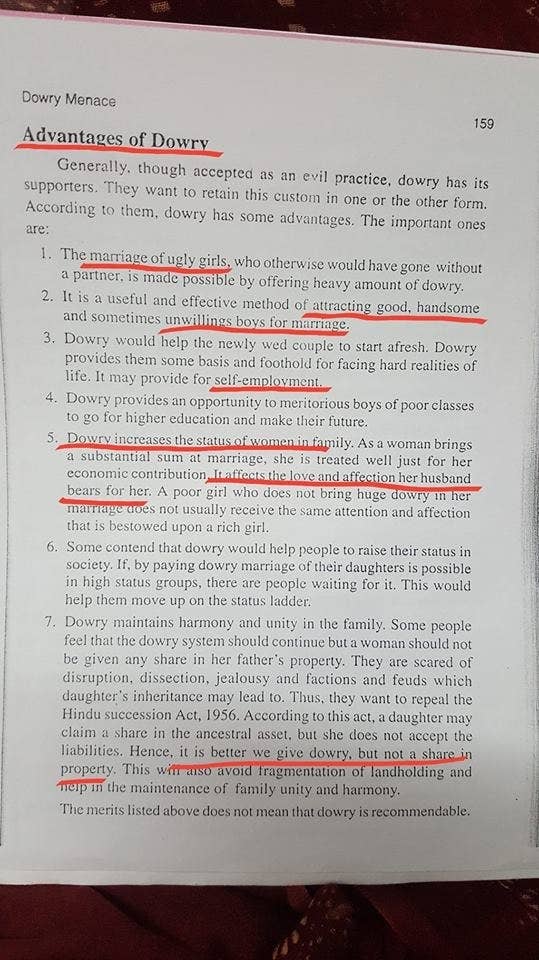 A friend of Ramesh's, who studies at the college, even asked a professor about the content of the page, but they allegedly dismissed it saying it was "what was prescribed".
When contacted by BuzzFeed, the college's public relations officer, Professor Kiran Jeevan, said that the matter would be investigated:

"The matter is being investigated and we are trying to find the root of the problem. Such views have never been part of the college syllabus. In fact, the department and the college are opposed to such obscurantist and oppressive patriarchal views as are contained in the page cited."
The post has since gone viral and has amassed over 4,600 shares.

Those who shared the post were also appalled at the quality of education being imparted to students at a time when gender equality is a huge talking point in the country.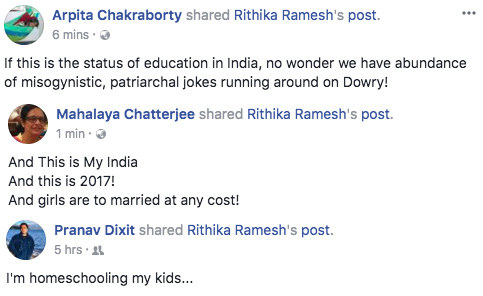 UPDATE: The college released another statement earlier on Saturday afternoon:
"The college has enquired into the matter arising from Ritika Ramesh's Facebook post about the supposed pro-dowry slant in the BA Sociology syllabus.
The following have emerged from our internal inquiry that included conversations with students of the Vth semester Sociology course, the teacher handling the subject, the head of the Sociology department and the Dean, social sciences.
First of all it is clear no teacher has made pro-dowry statements in the class - this emerged with utmost clarity from the accounts of both teachers and students.
Secondly, the method of Sociology requires students to look at opposing viewpoints carefully. We have found that the person making the Facebook post has selectively cited extraneous material from one of the sourcebooks suggested, with no understanding of the process followed in the classroom. Besides, the specific section of the book that was posted on Facebook was never recommended by the department faculty.
It is also clear that no student has raised this as a problem with the teacher concerned, with the Head of the Department, or with the Dean of the social sciences. The institution has always taken such representations through the proper channels seriously and will continue to do so. The College hopes that the media will report this clarification."