I'm Tired Of Mayanti Langer Being Uncomfortable On Air
She deserves to show up and do her job without the added burdens of sucking in her tummy and balancing on stilettos. And, for that matter, we all do.
I was nine when my father sat me down and patiently explained the rules of cricket. I've loved it since. It doesn't matter to me how many men (or women) ask, "Aye, you also follow cricket kya?" I roll my eyes at the obviously gendered disbelief and join in the banter when I can, concealing the sting of being regarded a small fry sports fan.

That sting is probably why I love watching Mayanti Langer in action.
The now-renowned anchor drops stats and analysis on international cricket's stalwarts with dignified ease, inspiring awe in women like me who've struggled to be taken seriously in cricket conversations for years. Watching Langer conquer that male bastion is thrilling.
But as I watched Mayanti host the India-Pakistan match at the Champions Trophy last week, along with awe and pride, I also felt anger.
In a room full of men in standard formal-wear – suits and dress shoes – Langer was perched atop 5-inch heels, in a top that hugged her like a corset and an asymmetrical skirt that clung just as tight. She stood in attention, as though mid-march past, because the outfit left her no choice. The getup was ridiculous enough that she trended on Twitter the same evening as an India-Pakistan match.
This isn't the first time Langer has been subject to a wardrobe decision that makes no sense. She's worn short dresses in cold weather and heels on soft ground. Her discomfort is a repeat offence, and indefensible.
We reached out to Star to ask who styles her, and didn't receive a response. On her Instagram, Langer credits various stylists for her on-screen looks and those stylists are presumably hired by the network.
But ultimately, whether she picks her own outfits or it's done for her, the end result is the same: she's dressed nothing like the folks around her, and certainly not with comfort as a priority. While the men she talks to get to show up and do their work in standard, comfortable, work-appropriate clothing, she bears the added brunts of fashion and sexiness.
Langer isn't the only anchor who's had to drop knowledge and analysis while also being measured by notions of attractiveness.

A quick search on Twitter will show you that Barkha Dutt, host of the Emmy-nominated We The People, often sparks discussion about her weight, even while she's trying to spark discussions about geopolitics.
Similarly, Mandira Bedi talked about cricket for years, but was talked about centrally in the context of "noodle straps".
Women are meant to be eye candy regardless of the job they showed up to do.
The underlying assumption at play is that women are meant to be eye candy regardless of the job they showed up to do. And television isn't the only arena in which this ugly practice is commonplace.
Corporate spaces have absurd expectations of women too. In the UK, a woman named Nicola Thorp sparked a national debate on equality at the workplace last year, by opening up about the dress code prescribed to her as a receptionist at PricewaterhouseCoopers. Her employment agency informed her that she was expected to wear non-opaque tights, shoes with a heel between two to four inches high, have hair with "no visible roots," and "regularly reapply" her makeup.
(Yes, men in some corporate spaces are similarly expected to be clean-shaven or suited, but those prescriptions seem more rooted in appearing professional than appearing attractive.)
The conversation returned to the fore when a photo of a waitress's bloody feet went viral. Even as a toenail fell off and her feet bled, her manager didn't allow her to change into flat shoes.
I know that if I were asked to work in clothes permanently on the verge of ripping at the seams, and six-inch stilettos for hours, I would cry tears of fire. So thank god digital media allows everyone to dress like a slob.

Still, Langer and millions of women around the world do it daily. And they do it with beatific smiles, relentless professionalism, and uncomplaining acceptance. With aching feet and sucked-in stomachs, they match their male contemporaries' job performances. They are resilient in ways I'm not. And in ways that they shouldn't have to be either.
American lexicographer Erin McKean famously summed up the problem when she told women, "You don't owe prettiness to anyone... Prettiness is not a rent you pay for occupying a space marked 'female'."
And yet, most female existence is centred around the assumption that, over all pursuits, there is the pursuit of prettiness.
"You don't owe prettiness to anyone... Prettiness is not a rent you pay for occupying a space marked 'female'."
If you've watched Wonder Woman, think back to when Diana emerges into the human world and tries to find an outfit. Flitting in and out of a dressing room, she finds all the women's clothes she tries on too tight, too complicated, or too itchy. In what is masterfully packaged as a comedy scene, the movie nails a central reality of womanhood – that attractiveness is more commonly peddled than comfort. She eventually rejects all the skirts and dresses in favour of a suit-type getup. Well.
If a goddess can't cope, it's unlikely Mayanti is enjoying it much either. (And Mayanti is still goddess status compared to the rest of us.)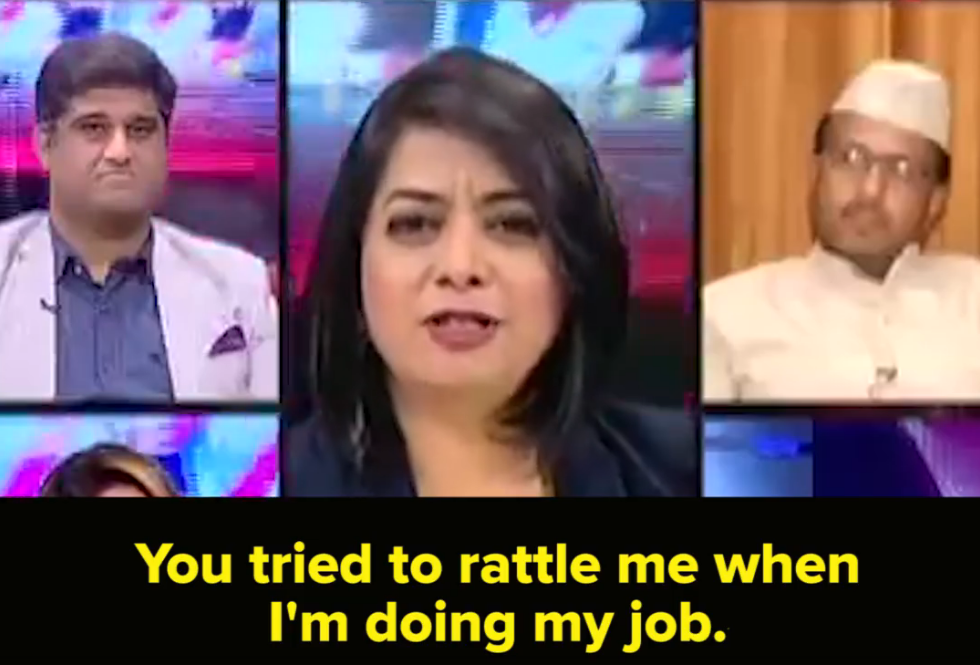 Faye D'Souza, editor of news channel Mirror Now, recently hosted a panel discussion about actresses being trolled for their clothing choices. After a guest challenged her to do her job dressed in underwear, she said: "You men think [...] if you rattle women when they're doing their jobs, that they will run back into their kitchens, they will cover themselves up, and leave the world again for you to conquer. I have news for you: we are not going anywhere."
After the clip went viral, D'Souza spoke to BuzzFeed. "People bring up what you're wearing to distract you from doing your job," she said. "It happens to us in all workplaces. And it only happens to women."

She's right. It happens everywhere. And it doesn't just happen at the hands of audiences or regressive commenters.
In entertainment, it happens at the hands of producers gunning for audience eyeballs.
This is starkly evident when former cricketer Anjum Chopra is invited to anchor or commentate. Since she's an expert guest, the network has no control over her outfits. Almost every time, she shows up in shirts, pants, suits, flats.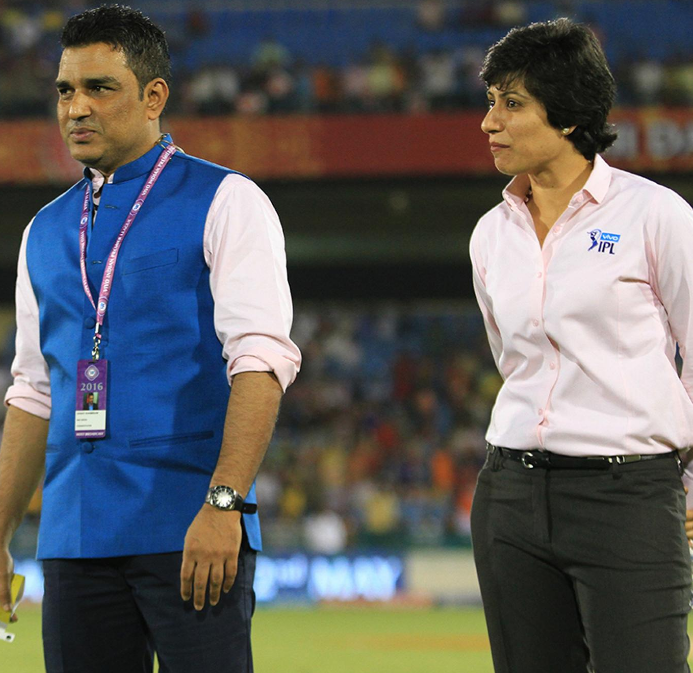 That's the radical outcome of letting a woman feel that her worth is in her work, not in her appearance. She dresses comfortably. Imagine that.

In contrast, Star Sports employee Mayanti Langer was hired by producers to whom her purpose is doubly to know the sport and to look sexy to their majority-male audience. So even if she's dressing herself, her choice is limited by the expectations her bosses, her stylists, promoters, advertisers, and audiences have put on her.

The blame falls on audiences and producers.
The blame falls on audiences for our expectations of what women should look like on screen, and on producers for pandering to those expectations.
To those producers and fans, I ask: would Mayanti's analysis hold less weight if she were comfortable? Would her insights into a game be less accurate if they didn't come with cleavage? Are we doing justice to her now staggering knowledge and credibility by compromising her comfort in favour of her appearance?
And to those same producers, I propose a few purchases:
A pair of comfortable shoes for her to wear.

A chair that she can actually sit in (not a high chair, Star Sports).

And clothes that would allow her to… wait for it… breathe.