Toby Young has lost one of the academic appointments that he used to justify his short-lived place on the Office for Students board, BuzzFeed News has learned.
When questioned about his suitability for the Office for Students Post on 1 January, Young wrote on Twitter:
"I've worked at Harvard and Cambridge, am a visiting fellow of the University of Buckingham, a Fulbright Commissioner and, as the co-founder of four free schools and director of @theNSN [The New Schools Network]"
But Sir Anthony Seldon, vice chancellor of the University of Buckingham and one of Young's former supporters, has "agreed" that his post as "visiting fellow" at his university has now "lapsed". The news comes shortly after Seldon made a stinging public critique of the journalist.
Young has now lost three positions following the uproar over his Office For Students appointment. This latest move raises questions over whether he will keep his remaining post, at educational charity the New Schools Network.
The University of Buckingham is one of the UK's five private universities. It claims to have had "long and close ties" to former Conservative Prime Minister Margaret Thatcher, who served as Buckingham University Chancellor in the 1990s, and houses the Margaret Thatcher Centre, a museum devoted to the former Prime Minister.
When BuzzFeed News contacted the University of Buckingham, a spokesperson said:
"Toby Young is no longer a visiting fellow. He was appointed as an honorary visiting research fellow in 2011. These appointments are usually for a duration of three years and therefore his fellowship is no longer current, though he may be eligible to re-apply in future".
This suggests Young has not been a visiting fellow since 2014. However, when approached, Young showed BuzzFeed News the University's own programme for its June 2017 "Festival of Higher Education", where he spoke. The university described Young as one of its "visiting fellows" in that programme.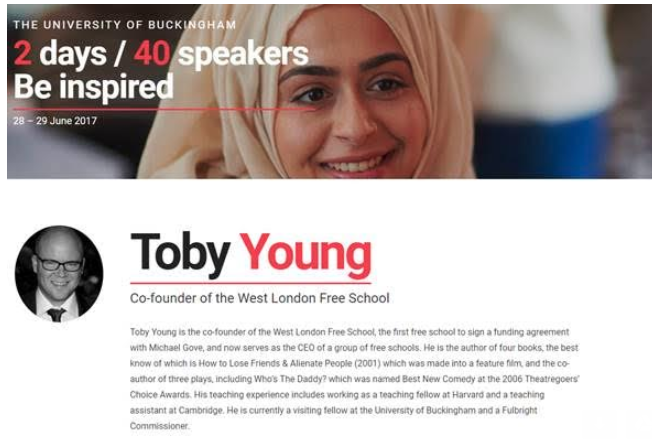 The University of Buckingham only wrote to Young this week, after BuzzFeed News had approached it, telling him that in relation to the visiting fellow post "there is now some query as to whether or not this appointment holds," adding, "the current vice chancellor and the two deans... have agreed that under our current arrangements your appointment would have lapsed in 2014."

Buckingham's vice chancellor, Sir Anthony Seldon, initially supported Young's position at the Office for Students. On 2 January Seldon wrote an article for CapX, the right-wing news website founded by the Centre for Policy Studies, arguing: "Higher education needs more people like Toby Young."
However, in a volte-face, seven days later Seldon told Radio 4's Today programme, that though Young did some good work, there was a "Second Toby Young" who "turns out revolting, disgusting thoughts on an industrial scale on social media. This is utterly unacceptable. I think that does totally preclude him from such a job."
Seldon also suggested Young should not work in education at all, "Because how can somebody hold a job in education who has – even if they apologised – said such things."
Young stood down from the Office for Students and his post on the Fulbright Commission, which oversees student scholarship programmes between British and US Universities in the wake of recent criticism, so the end of his Buckingham University role is the third position he has lost.

In an article published at the time of his resignation, Young wrote: "I am a passionate supporter of inclusion and helping the most disadvantaged, as I hope my track record of setting up and supporting new schools demonstrates.
"But some of the things I said before I got involved in education, when I was a journalistic provocateur, were either ill-judged or just plain wrong - and I unreservedly apologise."
Young also mentioned his University of Buckingham on the website of one of his remaining education jobs.
In October 2016 he was appointed director of the New Schools Network. This is a charity which promotes more state schools to become Academy Schools, and backs the creation of more "Free Schools". The charity has strong connections with the Conservative government – some of its directors have become Conservative Party advisers.
The latest accounts show the New Schools Network is overwhelmingly dependent on government backing: it received £2,126,512 from the Department of Education, which is 86% of the charity's income. The accounts also show that the charity uses this taxpayers money to give Toby Young a £90,000-£100,000 salary .
On his profile on the website of the New Schools Network Young says he is "currently a visiting fellow of the University of Buckingham".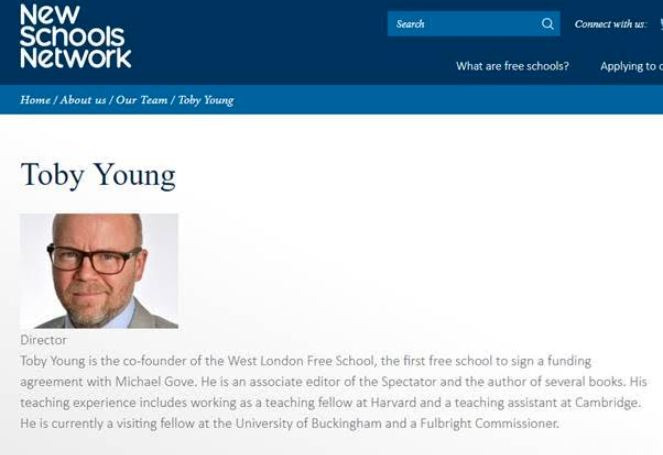 This month Mary Bousted, Joint General Secretary of the largest teachers' union, the NEU, raised concerns over Young's appointment, saying: "Toby Young remains, however, director of the New Schools Network – a charity which has received millions of pounds of government funding. Now that knowledge of Young's repugnant statements are public knowledge, questions must be raised about his continuing employment in this role."