Mini Snickers & Hazelnut Tarts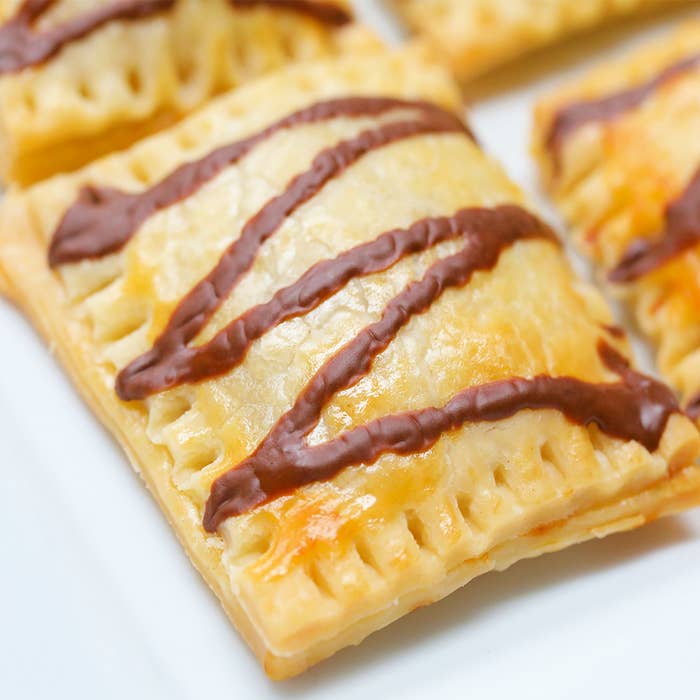 INGREDIENTS
Servings: 16 tarts
1 Snickers & Hazelnut bar

4 ounces cream cheese
½ teaspoon vanilla
2 rolls pie crust
1 egg, beaten
1 tablespoon water
⅓ cup semi-sweet chocolate
1 teaspoon coconut oil or shortening
PREPARATION
1. Preheat oven to 375°F/190°C.

2. Cut 1 Snickers & Hazelnut bar into small pieces.

3. Place Snickers & Hazelnut pieces, cream cheese, and vanilla in food processor. Pulse until creamy, but leave a few small bits of candy (can be small, pebble-sized pieces). 

4. Square off edges of both pie crusts and cut into 2-inch by 1-inch pieces (about 16 for each square).

5. Using a plastic bag or piping bag, carefully pipe about ½ teaspoon candy/cream cheese filling on each square.

6. Mix egg and water. Lightly brush edges with egg wash, and top with another piece of crust, sealing off the edges.

7. In a microwave, melt chocolate in 30-second increments or until melted, stirring until smooth. Add coconut oil and stir together. 

8. Place tarts on a lined baking sheet and bake for 15-18 minutes or until browned. Let cool.

9. Using a plastic bag or piping bag, drizzle tarts with melted chocolate. 

10. Serve and enjoy!