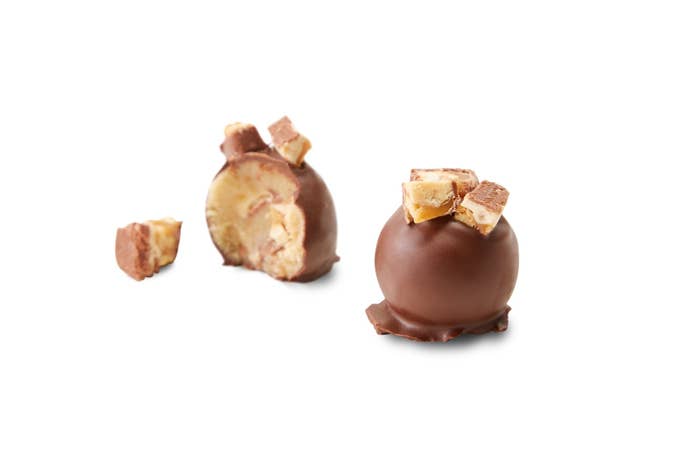 Servings: 24 truffles
INGREDIENTS
⅓ cup sugar
½ cup brown sugar
½ cup (1 stick) unsalted butter, room temp
1 ½ cups almond flour
1 tsp vanilla extract
½ tsp salt
1 cup Snickers® Red White & Blue Minis, chopped, divided
Chocolate coating
½ dark chocolate chips
2 tsp coconut oil
PREPARATION:
With a hand mixer, cream butter and sugar until light and fluffy.

Add vanilla and salt and mix until incorporated. Scrape the bowl to ensure everything is smooth.

Add almond flour, and mix on medium speed until a dough forms.

Add ¾ cup of chopped Snickers® and mix until even distributed.

Divide into 24 pieces and gently roll the dough in your hands until it forms a ball, set aside.

Melt dark chocolate chips and coconut oil in a microwave safe bowl in 30 second increments until melted, stir vigorously until nice and glossy, let cool until it's warm. Chocolate should not be hot for dipping.

Dip each ball in the warm chocolate mixture and place on a parchment lined surface.

Top with reserved chopped Snickers® , cool for 20 minutes before serving.

Enjoy!

Nutrition Per Serving:
135 Calories
Total Fat: 9.2g
Cholesterol: 11mg
Sodium: 99mg
Total Carbohydrates: 11.7g
Total Sugars: 9.3g
Protein: 2.2g