1.
OH YEAH WE BACK! And boy does this ep look juicy.
*whispers* Please send Bryan home. Please send Bryan home. Please send Bryan home.
2.
Queen Rachel, rewriting the rules per usual. Slay.
3.
Acca awkward that they're doing Rachel's hometown together though, no?
4.
Rach just straight vetoing Peter's bb clothes options. Dying.
5.
Lol @ the boys sh*tting on Peter for being a sane human being, like nah I'm not gonna propose to you after knowing you for 6 weeks… YEAH BOYS HE MUST BE INSANE.
6.
BUT YES PETER TELL US MORE ABOUT HOW YOU'RE FALLING IN LOVE WITH QUEEN RACH.
7.
Oh sh*t. She told Dean the same thing before he got sent home… DONT RACHEL, PLEASE DONT.
8.
Rachel's Ma is throwing some serious side eye to the whole show and I am loving it.
9.
Can we all appreciate Constance's maternity style? Girl is killin' it.
10.
Living for Rachel's Ma being like "so, about you PROPOSING, Peter."
11.
Love that Rachel's Ma is like yeah for sure, that's sane. Down with your authentic feelings, Peter.
12.
Legit laughed out loud at Rachel's fam being like, "No lil adorable bb, say WIN-NER!"
13.
God, Rachel is flawless in light purple.
But let's be real, she's flawless in every color.
14.
The smile on Eric's face when he talks about Rachel. I'm not crying, YOU'RE CRYING!
15.
He's so nervous. This is adorable.
16.
Btw, in full transparency, for my Bach bracket to survive I need Bryan to go home.
I know it's not happening, but a girl can dream, amiright?
17.
I already love Andrea, and Rachel's entire family's style is unparalleled. Slaaaay.
(Would you expect any less of the fam that birthed Queen Rach??)
18.
YAS ERIC. Win that fam over!!!
19.
Slay, Kathy. Just giving Eric permission for Rachel to propose to him if she so chooses.
20.
Living for these promos where it looks like Queen Constance is constantly hating on f*ckboy Bryan.
21.
Eric over this watch situation is me rn, paranoid af.
22.
Of course she's bringing Bryan to meet her OGs, but none of the other guys. Wtf Rach.
23.
RACHEL CALLING BRYAN A DOUCHEBAG IS ALL OF US.
If only we didn't lose her after that.
24.
Me praying this hometown doesn't go well with Bryan rn: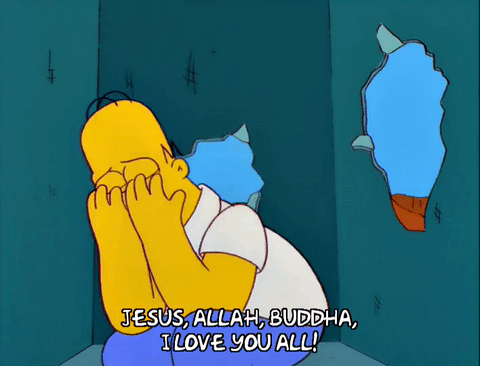 25.
"My mom is the number one lady in my life, always." A sentence you should always run away from, my fellow queens.
26.
Bryan hesitated wayyyy too long when Kathy, Rach's Queen of a mother, asked who came first: his wife or his mother. RED FLAG, RACHEL.
27.
Bryan is legit RUNNING AWAY from Rachel's fam rn.
28.
This is going better than I ever could've hoped for.
29.
Constance is not backing down. Draaaag him!
30.
FINALLY, the lead's family is just like nahhhh you do not love each other. 8 weeks is not enough time, y'all crazy.
31.
Bryan awkwardly displacing that gray pillow, though. Dead.
He's clearly so nervous for the chat with Rach's Queen of a mother.
32.
Rachel's Ma is for sure the one Keeping It Real this ep. And Constance.
33.
NOOOO HOW IS THIS ENDING WELL FOR BRYAN RN?!?!
34.
Wait… someone better get eliminated this episode or I swear ABC.
35.
Lol let's be real I ain't got sh*t to threaten ABC with. It's not like I can stop watching at this point.
*whispers* Help me.
36.
Dying at Rachel clearly reading off a tourist brochure for the description of this Spanish town.
37.
What is this camo pocket though Peter?!?! I thought you were perfect.
38.
Big Rach and Big E?!?! How am I just now hearing about this matching nickname situation. Obsessed.
39.
Eric is in love with Rachel!!! This makes me so happy.
40.
Eric is by far the most self-aware person in this trio. Without a doubt.
41.
Dying for the moment he's going to say I love you.
42.
Can we all take a second to ponder who the next Bach will be?? It's honestly a toss-up.
Praying for Deanie Babies to be the pick, but word on the street is he's behind some BIP ~drama.~
43.
Please tell her you love her Eric.
44.
This is so uncomfortable. Please, Eric, I'm begging you.
45.
There we go Eric! Yes!!! Keep it going!!!
46.
YES ERIC OMG YES!!!!!
47.
YAAAAAASSSSS!!! YAS! YAS! YAS!
48.
Omg it keeps getting better.
49.
Living for Eric's pronunciation of this random Spanish city's name.
50.
Eric and Rachel look like a real couple rn. I don't want this to end. :(
51.
IS RACHEL WEARING A ONESIE!?! THIS DESERVES AIRTIME.
52.
Queen Rachel absolutely slaying the ~makeup-free~ lewk.
53.
Peter if you f*ck this up for us I will hate you forever.
54.
Rachel poorly translating right now is everything. Dead.
55.
This wine cellar situation is so bizarre.
You guys, they clearly wrote your name on a piece of paper and hung it up. They are not keeping that cellar solely for you guys… to never come back and use.
56.
The Spanish bb!!!!! S'cute.
57.
This storm is so symbolic rn.
58.
It's currently 9:50. I'm refusing to accept the lack of rose ceremony that is happening at the moment.
59.
Peter: Pulling out the cork of their wine bottle that he saved from earlier to write a message on. Me: "Yes Peter, this is the level I want you at ALWAYS!"
60.
This is starting to sound like an ultimatum conversation which is NOT WHAT WE WANT PETER.
61.
WHY IS LOVE DISINTEGRATING IN FRONT OF ME RN????
62.
HOW COULD YOU LEAVE US ON THIS CLIFFHANGER FOR 2 WEEKS ABC?!?!
63.
But that men tell all doe!!! 🔥🔥🔥
Lee better get draaaaggged by all of the men and the audience.
64.
I NEED TO KNOW IF PETER GOES HOME.
I'll be suffering with you over the next two weeks, my fellow queens. Stay strong and may the roses be ever in your favor.
This post was created by a member of BuzzFeed Community, where anyone can post awesome lists and creations.
Learn more
or
post your buzz!