1.
Wait… what is this surprise?!?
2.
QUEEN RACH IS WATCHING WITH US LIVE?!?!
3.
Wait… Rachel watching live makes me think she picks Bryan and that she needs to counsel America through it.
Am I overthinking this? Probably. Am I onto something? DEFINITELY.
4.
Lol @ Juan Puablo. Like any of us care that he is married. He was arguably the worst Bach of all time.
5.
So… did Rachel basically just say she didn't pick Peter? That's what I heard.
6.
This live-watch with Rachel was never going to work. There will be spoilers.
7.
This Rach-Peter convo is so sad.
I feel like I'm watching a sinking ship now that Queen Rach basically just told us Peter lost.
8.
I feel like they are intentionally making this as awkward to watch as possible to make us understand why she doesn't pick him.
GUESS WHAT ABC, IT WON'T WORK. PETER 4EVA.
9.
They didn't even check back in with Rachel IRL because they're worried she'll spoil it even more.
10.
Omg they didn't check in after commercials either. My bracket is for sure f*cked.
11.
All of us Peter fans rn: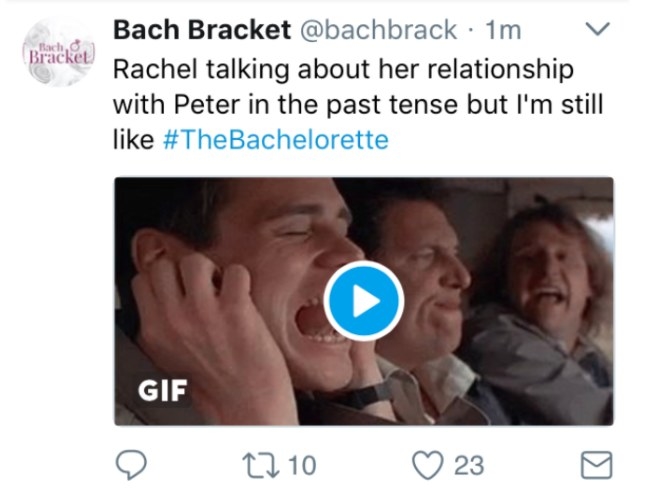 12.
Yeah so they're defs playing winner music when Bryan walks up. Not cool, ABC.
13.
I swear to god I'm actually boycotting The Bachelorette after this season. They always pick the douches.
14.
Ugh but damn if Rachel's choker/jean jacket game aren't on point rn.
15.
"I thought I handled myself pretty good." - Bryan referring to the hometown. *Rachel makes mhm face and sips wine*
Keep telling yourself that, Bry.
16.
Yes, Queen Rachel. Please tell us how you're feeling, but NO MORE F*CKING SPOILERS PLEASE. Thank you.
17.
Slay in that pink dress though.
18.
She legit referenced her just spoiling it… Bryan wins and love is dead.
19.
No one cares about this Bryan date. Although, Queen Rach has never looked more flawless.
Those shoulder pads??? Slaaaaaaaay.
20.
ABC clearly did this live-watch with Rachel because Jojo picked the worst dudes last season too and they're just doing damage control at this point.
21.
I hate Bryan so much. I'll never be on his team. Team Peter for f*cking life.
22.
Rachel is only picking Bryan and fooling herself into being happy because he was the safe choice. Ya chose wrong girl.
23.
At least Peter will be our next Bach?
Honestly, it's too soon for this to even bring me joy rn. *cries into wine glass*
24.
Dead at Rachel asking about credit scores in the fantasy suites.
25.
She clearly is going to send Peter home. Are they really going to continue this facade? I'm so over everything rn.
26.
Nothing matters. Peter's about to NOT EVEN MAKE THE TOP TWO.
What is love? It clearly doesn't exist.
27.
Tbh, I'm still in denial and blindly hoping Peter gets a rose rn.
Pe-ter. You can do it Rachel, just say it.
28.
HOLY SH*T IT HAPPENED. IDK WHO TO THANK, BUT THANK YOU SUPREME BEING!
29.
Aw, but poor Eric though.
30.
Eric's maturity in this break-up moment is what I aspire to be, instead of the petty queen I am now.
31.
"I'm just going to miss her, man." - Eric, breaking my f*cking heart tn.
32.
Ew, Bryan. It's not a battle. It's love, you freak.
33.
YES FIGHT FOR HER, PETER.
Omg all this subliminal messaging in Queen Rach's rose ceremony comments are amazing. Tell Peter what you want Queen. Love it.
34.
If she brought Peter (and me, let's be honest) this far only to shatter our hearts, I don't think I'll ever recover.
35.
But back to Eric. Seriously, his tenderness and maturity in that heartbreaking moment is almost unbelievable.
I can't believe someone that good exists. *prays to find someone like Big E*
36.
Omg. The BIP trailer with Amanda staring at the moon longingly with a pizza person dancing behind her. I'm actually dead now. Seriously.
37.
Damn, Eric looks good. Twitter's right. We slept on Big E TOO LONG YO.
38.
Low-key rooting for Big E to be the next Bach now.
39.
Eric is so tender and honest and caring and loving. He is wonderful.
If he's actually a life coach, I will legit sign up for lessons.
40.
Also, shout-out to Rachel's amazing bod. Skin, cleavage, fashion. Flawless.
41.
New dream scenario: Bryan goes home, Peter proposes to Queen Rach, and Eric is the next Bachelor.
*prays to the Bach gods*
42.
I'm so over Bryan. Someone let me know when his date is over.
43.
The only thing I care about on the screen is where Queen Rach got her choker from.
44.
Omg try f*cking harder rn Bryan. It's honestly pathetic.
We get it. You are ready to propose and Peter isn't. I would burn that f*cking dictionary.
45.
So… they keep airing Bachelor casting promos immediately following Bryan's dates.
Am I reading too much into this? Probably. Am I right though?? Definitely.
46.
FINALLY. The last date with Peter.
47.
Just hoping against hope that Peter changes his mind and is suddenly ready to get engaged.
48.
Lol to this random Spanish priest asking if they're engaged. Acca awkward.
49.
God this talk is really putting me on edge. V frustrating. Ja feel, Queen. I would honestly be frustrated too.
50.
But like, on the other hand, IT'S BEEN 9 WEEKS RACHEL. Can't you see where he's coming from?!?!
Maybe he, ya know, wants you to date only him before he proposes.
51.
You guys match clothes on accident!!! What more could you want??
52.
Please don't end this rn.
53.
Rachel is being so honest, though. Gotta give it to the queen.
54.
For sure the realest convo that has ever happened on the Bach franchise.
55.
Damn this is v emotional rn. Idk about y'all, but I'm dying.
56.
Rachel basically just telling him he's the one she wants to end up with.
57.
"I want you to do it because you want to do it." - Rachel expressing a statement every girlfriend has said at one point in her life.
JA. FEEL. YOU. QUEEN.
58.
This is heartbreaking.
60.
They clearly are desperately in love with each other.
61.
"If you change your mind you know where you can find me." THIS IS NOT WHAT WE TALKED ABOUT PETER.
62.
THE PASSION!!! ARE YOU SERIOUSLY SAYING GOODBYE RIGHT NOW?!?!
63.
SHE SAID I LOVE YOU. WHAT IS HAPPENING RIGHT NOW. THEY ARE ACTIVELY SAYING I LOVE YOU TO EACH OTHER.
64.
This is what ultimatums do children. THEY BREAK EVERYONE'S HEARTS.
65.
GO AFTER HER PETER! WHAT ARE YOU DOING?!?!
66.
"I cried my eyelashes off." - Rachel. Dead.
67.
PETER HAS TO WIN. I DON'T BELIEVE YOU CHRIS HARRISON. THIS ISN'T A BREAKUP.
68.
My heart can't take these commercial breaks at the height of the drama. I honestly think I'm going to have a heart attack.
69.
Wait what?!?!?! Why are they doing this Rachel/Peter interview?
Get back to the show. I refuse to believe Peter got eliminated.
70.
Whoever pitched this idea needs to be fired. I'm not buying this. They are defs together.
71.
I'm confused, but holding onto my hope (read: clutching with my dead fingers) that Peter isn't eliminated.
72.
Wait, what? I'm not even listening because I thought they were both acting. But, like is this real life?!?!
73.
WHAT. THE. F*CK. IS. HAPPENING.
74.
I can say for the first time, 100% honestly, that I've never ever seen a Bachelorette finale like this.
Was that your end game, ABC!?!? It better be. (Please god say it is and Peter isn't eliminated and it's all a big, cruel joke.)
75.
But Peter's diss to Bryan about him being a life of mediocrity…. Can we all appreciate how f*cking dope of an insult that was.
Touché, Peter. Touché .
76.
WHAT IS GOING ON???? ARE THEY OVER OR NOT?!?
77.
Can we get back to the show please???? Why have we not gotten back to it?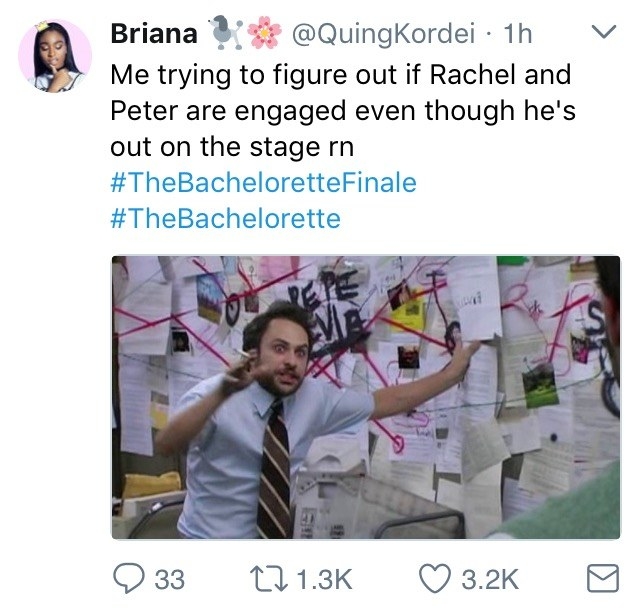 79.
This is real life. I'm breaking inside. Literal tears are forming. What are the stages of grief again??? I think I'm on stage 1.
80.
Like what was this? I'm boycotting this show.
I was ready to accept Peter going home in the beginning of the episode. I AM NOT OK WITH IT NOW.
81.
Like is it super insane of me to be thinking maybe Peter will just turn up and not be eliminated after these commercial breaks??
I think it's v rational.
82.
NOOOOOOO. PETER IS ELIMINATED. I'M NOT OKAY.
83.
Who even cares about the remaining finale at this point???
84.
Rachel is being straight up cruel to poor heartbroken Peter rn. NOT OK, RACH. HE CLEARLY STILL LOVES YOU.
85.
Lol oh really, you're living your best life, Rachel?? Then you probably wouldn't feel the need to reiterate it over and over to us and Peter.
86.
I hate every second of this. First, Andi picked Josh. Then Jojo picked Jordan. Now this. I can't, ABC. I can't.
87.
Take a leap of faith and jump off one of these mountains and kill yourself, Bryan.
Jk that was harsh. You need to know my sense of humor.
88.
Is it totally psychotic for me to still be hoping she stops him when he gets down on a knee and is like, WAIT PETER THOUGH.
89.
This insane wind is me rn. Drowning out this bull sh*t proposal.
90.
I can't believe this is happening.
91.
I honestly need to rewatch the Rachel-Peter convo now that I know they weren't pretending…
92.
I thought Queen Rachel was the Bachelorette we needed. But alas, she has fallen prey to the Bachelorette curse and ended up engaged to the douche of the season.
93.
I'm just tipsy and sad and confused and heartbroken at this point. Thanks for nothing, Queen Rachel.
94.
I just want Rachel to call Peter back on stage and say she made a mistake.
Hey, it's happened before, amiright?
95.
Ew. Bryan's re-proposal... Lol @ the audience barely clapping for Bryan rn.
96.
Everything Bryan does disgusts me.
97.
I honestly couldn't care less about this interview. Bryan is the worst. End of story.
98.
That BIP trailer, though. Juuuiiiicccyyyyy.
99.
Rachel and Bryan are so awkward and fake. It's uncomfortable. I give them 6 months to a year tops.
100.
Tbh, still hoping Rachel shows up on Peter's doorstep circa Love Actually-style and tells him what a horrible mistake she made.
But… I guess… it's…. really…. over?! *sobs uncontrollably* Also, please enjoy this.
101.
Well, my fellow Bach Queens, as it turns out, the roses most definitely were not in our favor.
At least BIP starts soon and we can all drown our sorrows in someone else's poor life choices. ¯\_(ツ)_/¯
This post was created by a member of BuzzFeed Community, where anyone can post awesome lists and creations.
Learn more
or
post your buzz!
Looks like there are no comments yet.
Be the first to comment!