Meet The Actor Behind One Of 'Girls' Most Arresting Moments!
For the last few weeks photos of Jemima Kirke and Adam Driver tussling with police have been making headlines in papers across the country. Get to know the actor behind the cuffs.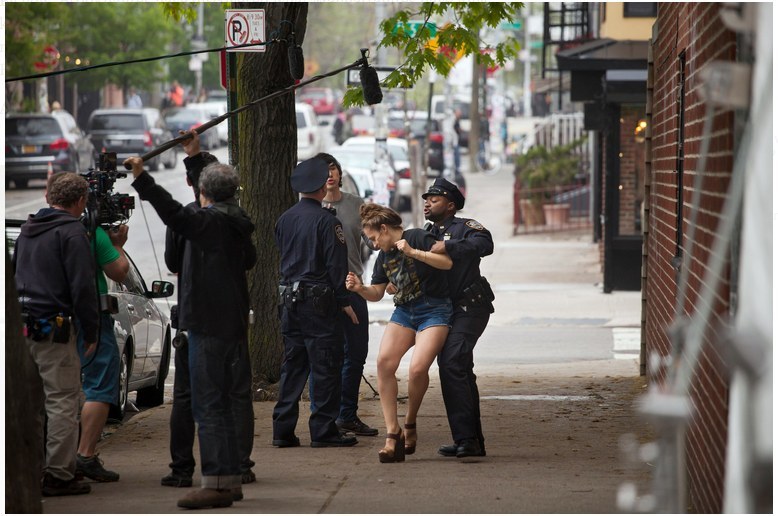 Season 4 of the HBO hit TV show Girls is underway, shooting in multiple locations throughout New York City. While most of the storyline of this particularly eventful season has stayed under wraps, one moment is making headlines in top publications across the country.
Photos of Jessa (Actress Jemima Kirke) and Adam (Adam Driver) tussling and being arrested have appeared in The New York Times, The NY Daily News, & UK's Daily Mail.
And while one can only guess what Jessa has done this time, people are now asking, who is that cop in all of the photos? Wonder no more, his name is Brian Michael.
Brian Michael is an NYC based actor whose been establishing himself as a go-to guy for law enforcement roles on the big and small screen.
We sat down with Brian Michael to get the dossier on this actor and discovered what this star-in-the-making does when he's not booking Girls.
Are you a cop in real life?
BM: No, I'm not a cop, I just play one on TV.
How many times have you played a cop?
BM: Man, I've lost count at this point(laughs) across the stage and screen I think I've played a cop or detective on almost different 20 projects, including SVU, Hostages, and Unforgettable. In fact, I just played a bailiff in this fun Improv show that ran off-Broadway throughout May.
How did you get into playing police officers?
BM: I figured I'd go the complete opposite of the stereotype, instead of being cast as the thug I decided to get in the way of the cop.
But seriously, I've always loved police shows and buddy cop films, like Law & Order and Lethal Weapon. Since I was young I've wanted to work on things like that.
I met a guy onset early on when I was doing background work and he told me " get a cop costume, and you'll always get work." And he was right! So many productions out here need cops and if you have the costume you're in there like swimwear. So I started doing background work as a cop on the shows I loved, like Law & Order: SVU. I kept with it taking roles in independent projects just to get that image out there to open doors you know to speaking roles in these shows and films.
Did that work?
BM: Yes! I booked my first feature film role last summer in Tracer's starring Taylor Lautner as a security guard based on having some indy cop roles on my reel and photos of myself in uniform for my reps to submit.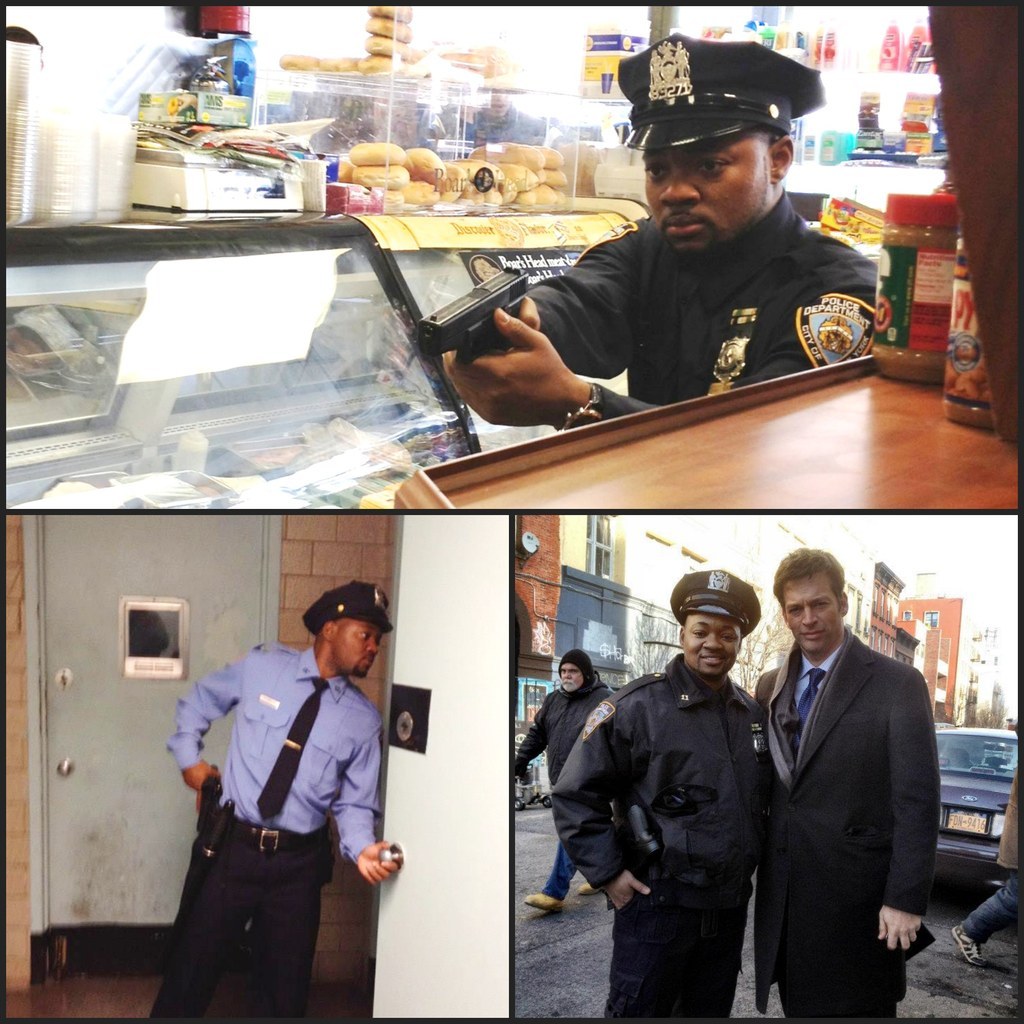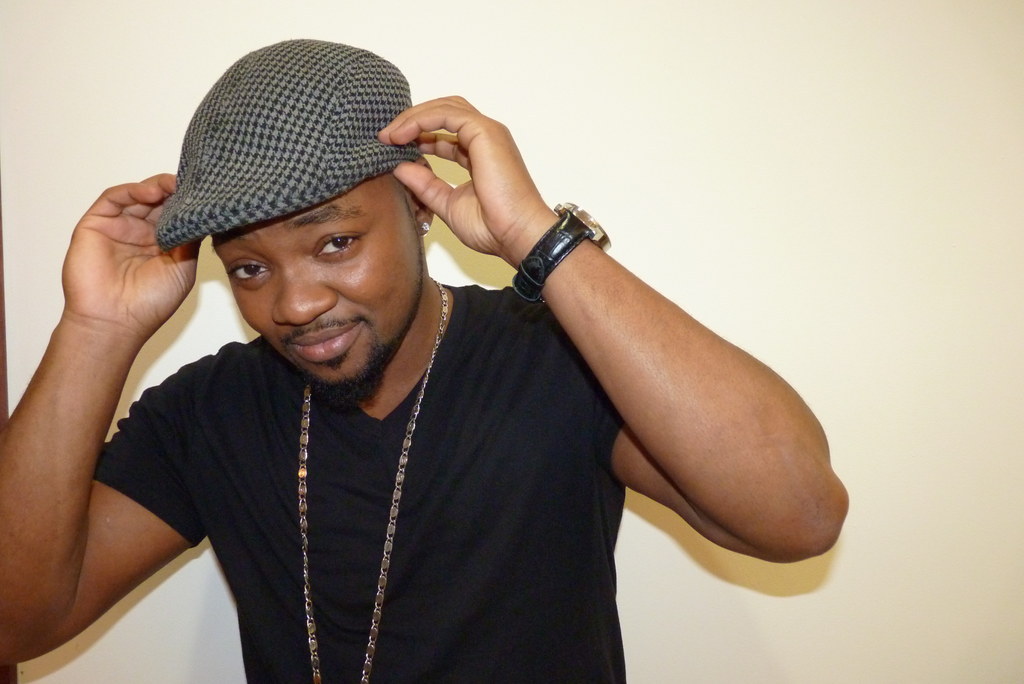 How did you get the role on Girls?
BM: A combination of things, I fell in love with the show Orange Is the New Black and started researching the show and found out who casts it. I told my reps I was interested and also started sending my headshot and resume and letters to the casting office. In the meantime I kept working and staying sharp.
I just stayed active and in touch. I even did a couple of drop offs to the casting office. I knew my reps were doing their thing submitting me but I wanted to make sure that when I went to bed at night I could say that I did everything in my power to get on that show.
Late in April, my manager called and told me I got the audition for the role on Girls and I was ecstatic because A) it's a great show and B) it's cast by the same company that casts OITNB.
How do you prepare?
BM: I read the scene, memorized it and developed some character ideas. I recorded myself doing the scene and then got together with a good friend from my acting program to rehearse it. Since I'd be arresting someone in the scene I practiced with handcuffs. I even asked cops I encountered at my day job for some tutorials on how to handcuff people!
Did They Help You?
BM: At first they looked at me like I was crazy like, "You want me to cuff you?" I was like, "Actually, I'd like you to let me cuff you!" It took some explaining, I had to show them my SAG card, but they did help me. And it paid off to do that research, it gave me a lot of confidence in the room.
How was the audition:
BM: It was a good one, for sure. I felt confident and calm since I did my homework and I really liked the scene. It was especially helpful to have been comfortable with the casting office beforehand.
Emer O'Gallaghan did the scene with me and she was great. It was one of those things were I felt like even if I didn't get the part, I enjoyed the role and felt like I brought my "A" game.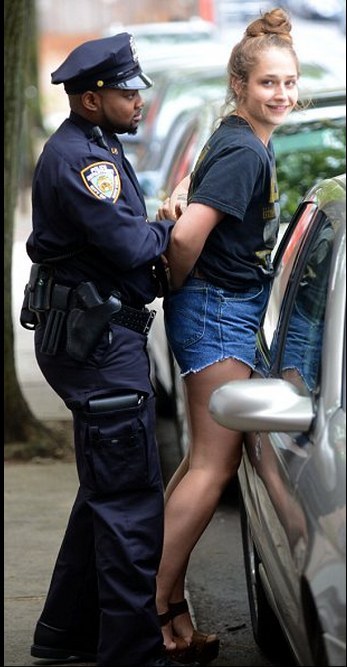 What was it like on set?
BM: Man, they are a great crew. It's such a difference too, being on set as a day player as opposed to an extra. There's a lot of sharing, lugging, herding that can go on when you do extra work.
But on that day, I had my own space to prepare and "be weird" before going out to film. I had an assistant for the day and everyone was really accommodating. The director and crew were great and you can tell these are people who like what they do and enjoy working with each other. It had a family vibe.
Working with Adam and Jemima was fun. They were there to work but they also enjoy themselves, so it was totally relaxed given the nature of the scene. I really enjoyed the whole day.
What are you doing now?
BM: I'm working on some independent projects right now through a company I'm starting called Brian Michael Entertainment, or BME. In addition to acting, comedy has always been my thing. So with the experience and insight I got from the life-altering training I received at the William Esper Studio, I'm turning my focus to self-produced comedic projects. As the company gets going I'll be performing stand up around the city and continuing to perform as a member of Gotham City Improv.
What's next?
BM: I'm going to keep developing these independent projects with BME. I'm writing a buddy cop comedy for myself and want to get that produced in 2015. I want to keep working in TV and Film. I still want to work on Orange Is the New Black & SVU. I love what Shonda Rhimes is doing at ABC with Scandal and How to Get Away With Murder and would love to work on those shows. So I'm going to keep working on my projects and reaching out to folks who run the shows I'd like to get involved in.
To learn more about Brian and his upcoming shows and projects visit
and follow him on Twitter @Smokeinthecity
This post was created by a member of BuzzFeed Community, where anyone can post awesome lists and creations.
Learn more
or
post your buzz!
Looks like there are no comments yet.
Be the first to comment!