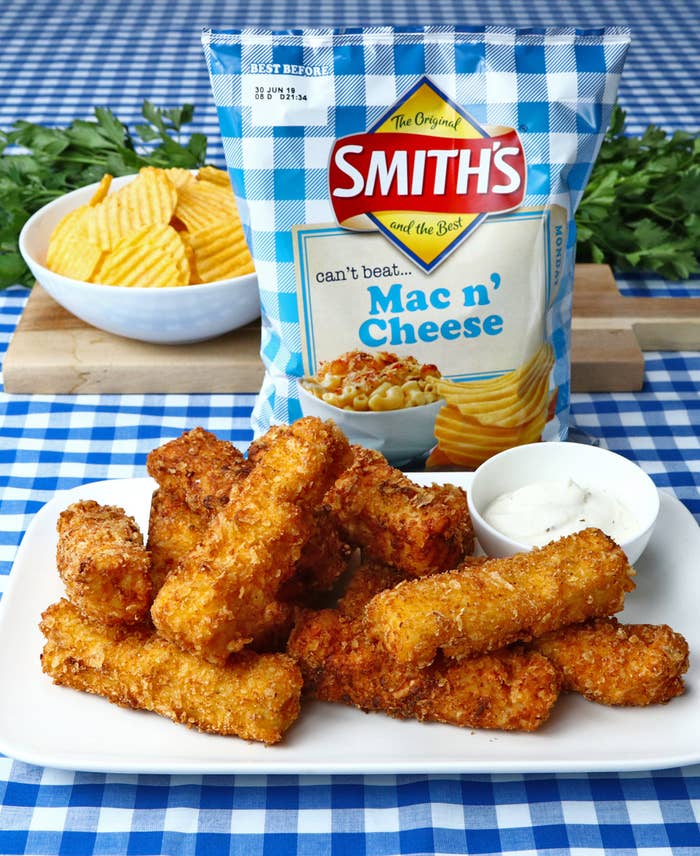 Ingredients:
150g Smith's Mac N' Cheese Potato Chips
300g macaroni
1 tbsp corn flour
80g unsalted butter
375ml evaporated milk
200g mozzarella, grated
100g parmesan cheese, grated
½ cup plain flour
2 eggs
Salt to taste
Pepper to taste
1ltr frying oil
To Garnish:
Fresh parsley, chopped
Method:
STEP 1: Add a packet of Smith's Mac N' Cheese Chips to a clear zip lock bag and crush with a rolling pin until they resembles fine crumbs.
STEP 2: Boil macaroni according to packet instructions, then drain.
STEP 2: Add butter to a saucepan on low heat, then add cooked macaroni, mozzarella, parmesan, salt, pepper, and evaporated milk, stirring constantly. Once the cheese melts and mixture starts to thicken add corn flour and stir until the mixture holds.
STEP 3: Line a rectangle slice tray with baking paper, and spread the macaroni and cheese mix evenly. Set the tray in the fridge for 1 hour to solidify.
STEP 4: Once the macaroni and cheese has solidified remove from the tray and lay on a chopping board. Cut the Macaroni and Cheese into even fingers resembling thick cut chips, ensuring to handle with care.
STEP 5: In a bowl whisk eggs, and prepare flour and crushed chips on individual dishes.
STEP 6: To coat the chips roll each finger in plain flour, egg, and then Smith's Mac N' Cheese crumbs.
STEP 7. Heat a pot of oil on high heat, and once it reaches temperature deep fry chips in batches of 3 at a time for two minutes or until golden. Blot chips on paper towel to remove oil then plate up and garnish with chopped parsley.
STEP 8: Serve hot with dipping sauce and enjoy!