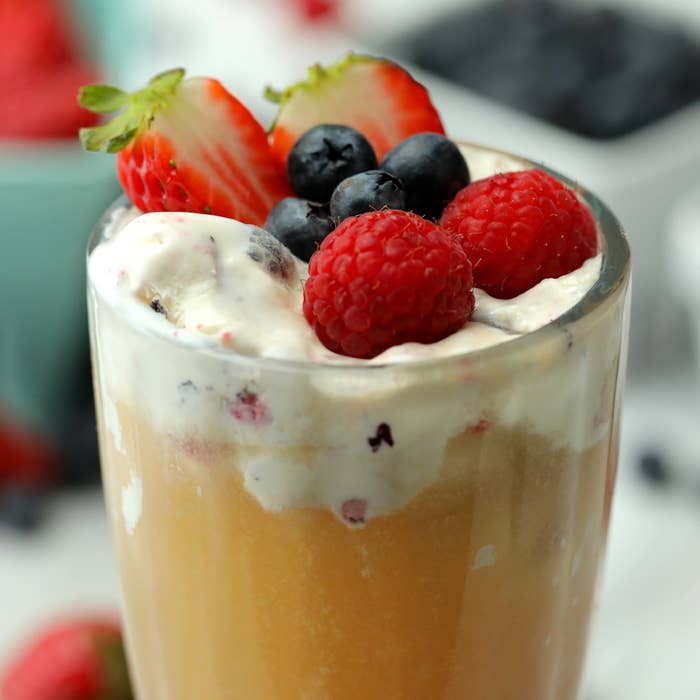 Ingredients
Ice Cream
1 cup blueberries
1 cup raspberries
1 cup strawberries, diced
2 cups heavy whipping cream
1 (14-ounce) can sweetened condensed milk
Cocktail
Extra berries, for glass and garnish
Berry ice cream
8 ounces Smirnoff Red, White & Berry (2 ounces per drink)
24 ounces cream soda
Preparation
1. Ice Cream: In a bowl, combine blueberries, raspberries, and strawberries. Set aside.
2. Pour heavy whipping cream into a large bowl. Use a hand mixer to whip the cream until soft peaks appear (2–3 minutes). Pour in sweetened condensed milk and whip for another minute. Fold in 3⁄4 of the berries, reserving the rest. Pour mixture into a loaf pan (or another freezer-safe container). Sprinkle the reserved berries on top of the ice cream mixture. Freeze ice cream overnight.
3. Place a couple blueberries and raspberries at the bottom of a milkshake glass. Slice a strawberry into thin slices. Balance the strawberry slices on top of the other berries so that they are pressed up against the inside of the glass. Repeat with the other glasses and freeze for 15 minutes.
4. Remove the glasses from the freezer. Place a scoop or two of ice cream in each glass. Pour 2 ounces Smirnoff Red, White & Berry into each glass. Fill up the glasses with cream soda. Garnish with extra berries.