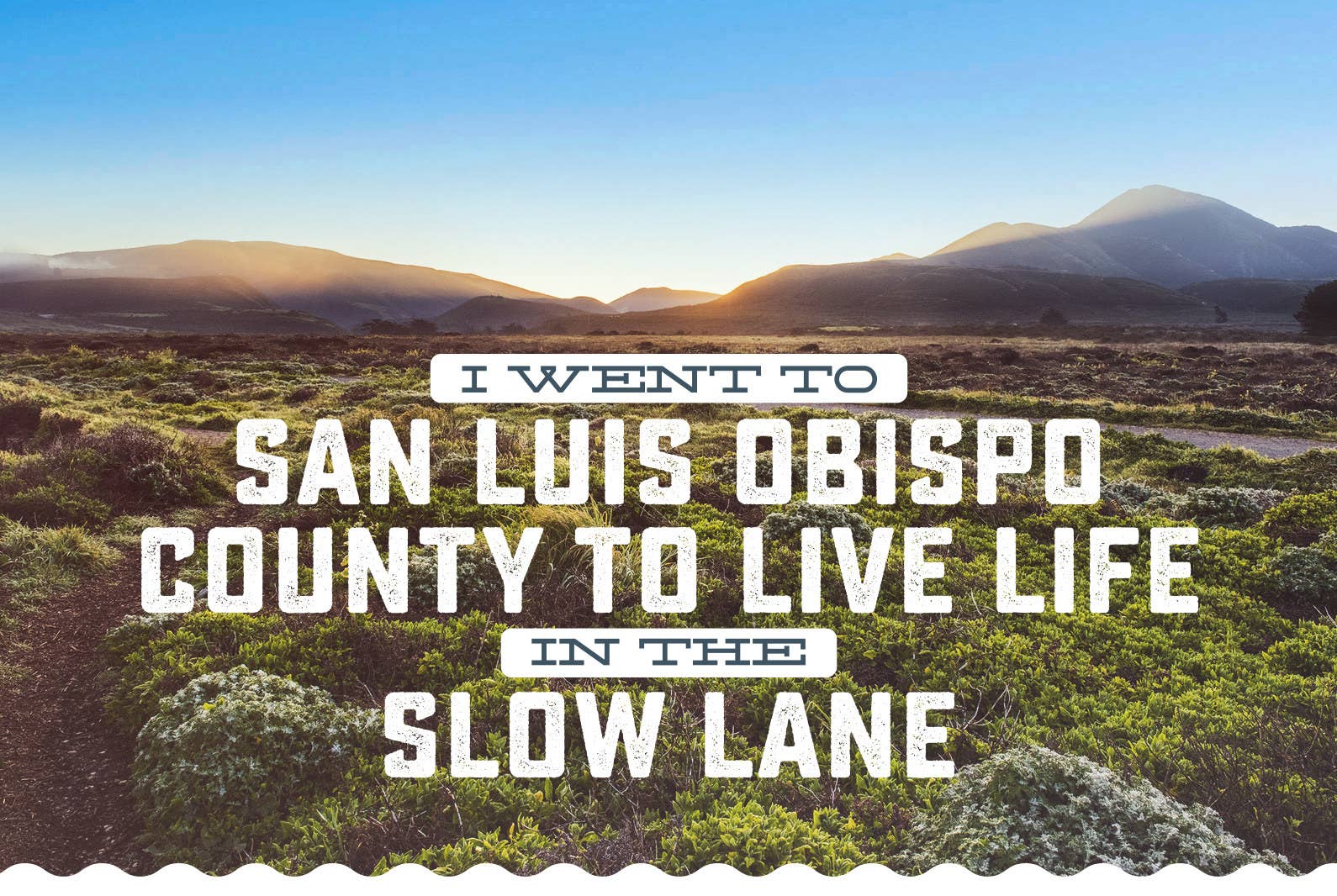 "So, are you from here?" I asked Jonny Ziegler as I alternately writhed and muscled my way into a wetsuit in the parking lot of Pismo Beach. Ziegler, owner of Sandbar Surf School, watched patiently as his coppery tan legs dangled from the open container of his box truck. It was stocked chock-full of surfboards and wetsuits of varying sizes and colors. This one seemed too small for me.
"Born and raised. Where else?" he said matter-of-factly with an amicable grin on his sunglass-clad face, as if there could be no other answer. Jonny's reply seemed odd to me at the time, but I would come to learn that this was a lot of locals' attitude toward San Luis Obispo County, aka SLO CAL. But as a native of NorCal, I couldn't say I felt the same way about California. I moved to loud, buzzing, hectic-would-be-an-understatement New York when I was 18 and only looked back intermittently.
Still, boasting 315 days of sunshine a year, coastal views that rival the Mediterranean, and a bounty of fresh seafood and produce, it's easy to see how the Central Coast of California is a place few can imagine leaving. From Ragged Point and San Simeon in the North, where William Randolph Hearst famously constructed his elaborate estate, to the sandy dunes of Nipomo in the South and stretching just far enough inland to lie against the San Joaquin Valley, San Luis Obispo County is a place tourists flocking to San Francisco and Los Angeles have somehow left largely untouched.
Despite the appeal of dramatic cliffsides plunging into the Pacific and the beach towns sleepily spooning them, unpretentious SLO CAL has managed to preserve its essential Caliness. Its bucolic surfer vibes, old-school vintage stores, coastal wilderness, and nothing-if-not-casual atmosphere all remain intact, rolling along placidly, day by day. It was easy to slip into the effortless speed of San Luis Obispo County, even for a New Yorker. It was as slow as you'd expect, but not once was it boring.
We began our journey in the slow lane with an easy morning hike in Montaña de Oro State Park in Los Osos. With over 50 miles of hiking trails and truly breathtaking coastal vistas, Montaña de Oro is a true haven for nature lovers. We opted for the four-mile-long Bluff Trail, which led us to spectacular ocean views, tide pools, blowholes, and, of course, the jutting bluffs of its namesake.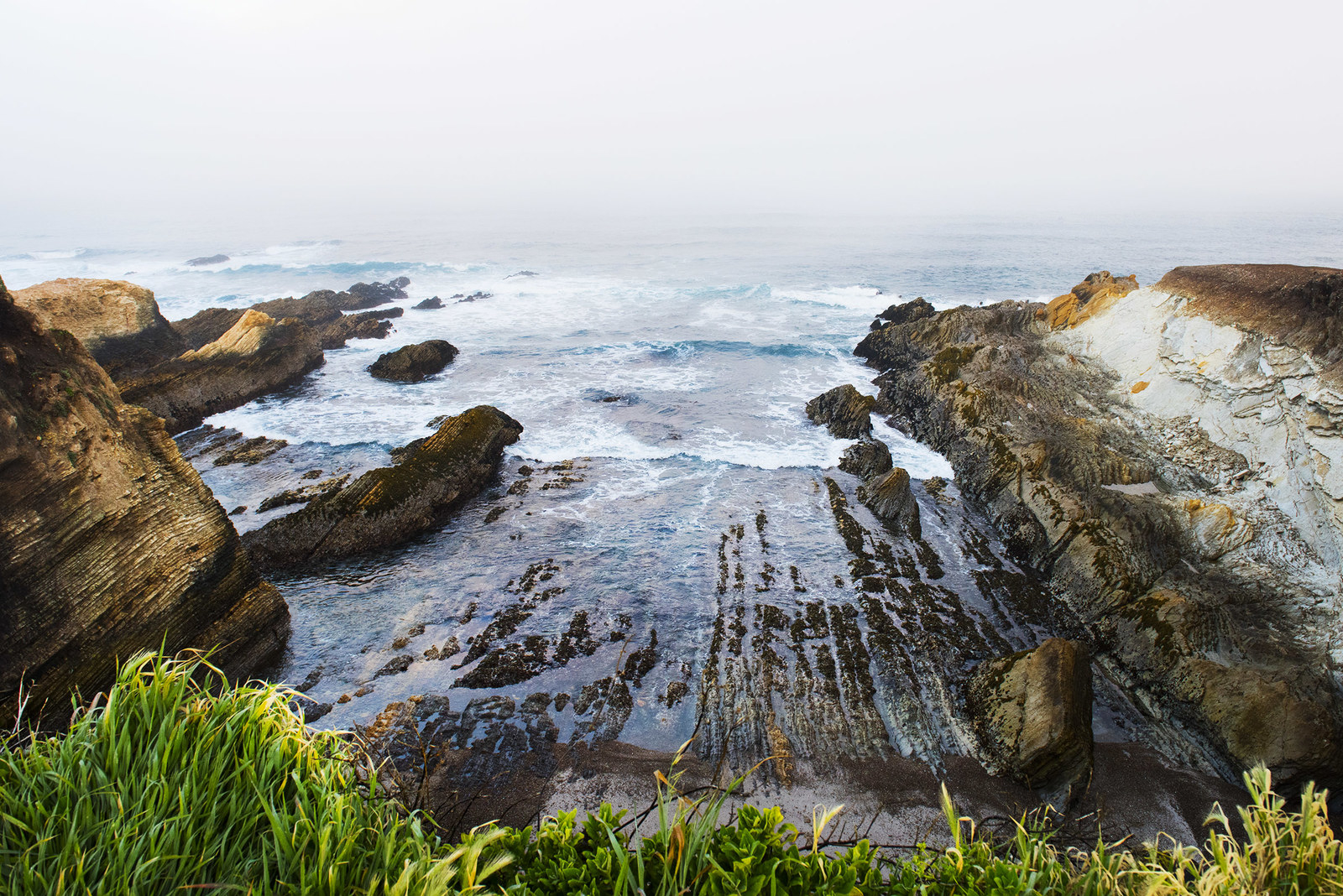 This year was a particularly wet one for California, so we were blessed with green hillsides as we explored the bluffs. We were also lucky enough (or perhaps this is commonplace) to spot a great variety of wildlife: quail, egrets, pelicans, robins, a dazzling hummingbird with a bright red face (possibly Anna's Hummingbird), and more teensy, fist-sized rabbits than we could possibly count.
The Bluff Trail also led us down a short spur to Coralina Cove. This was a particularly nostalgic place for me, as it reminded me of childhood visits to tide pools on field trips. We took our time tiptoeing around crusts of mussel clusters, observing hermit crabs and sea anemones at low tide.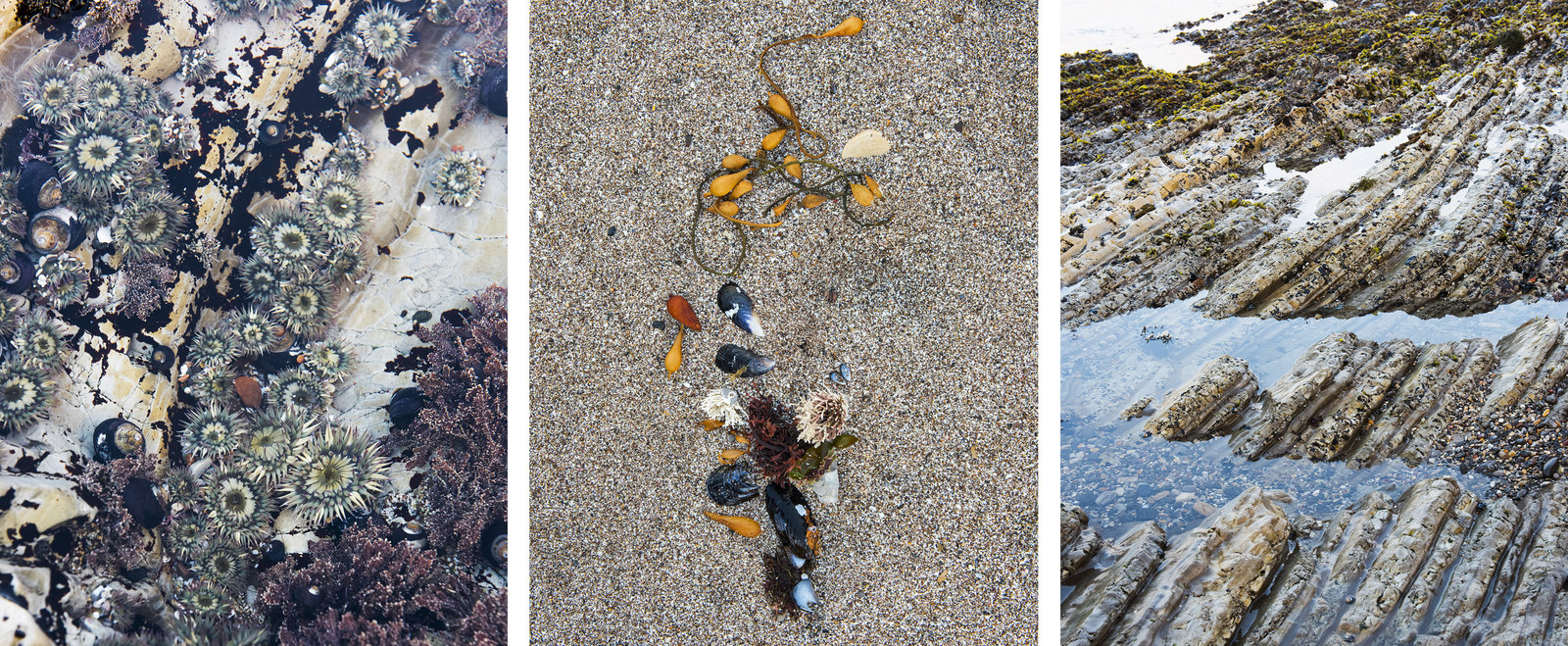 Once we finished the Bluff Trail, we headed north to the nearby Elfin Forest. Here, a boardwalk protecting the 90-acre habitat led us through eight distinct types of environments including brackish marsh, riparian woodland, and coastal dune scrub. Our short, leisurely walk rewarded us with sweeping views of Morro Bay National Estuary from Siena's Point. We spotted kestrels and scrub jays as we read educational panels about the practices of the Chumash Native Americans who settled here in pre-Columbian times.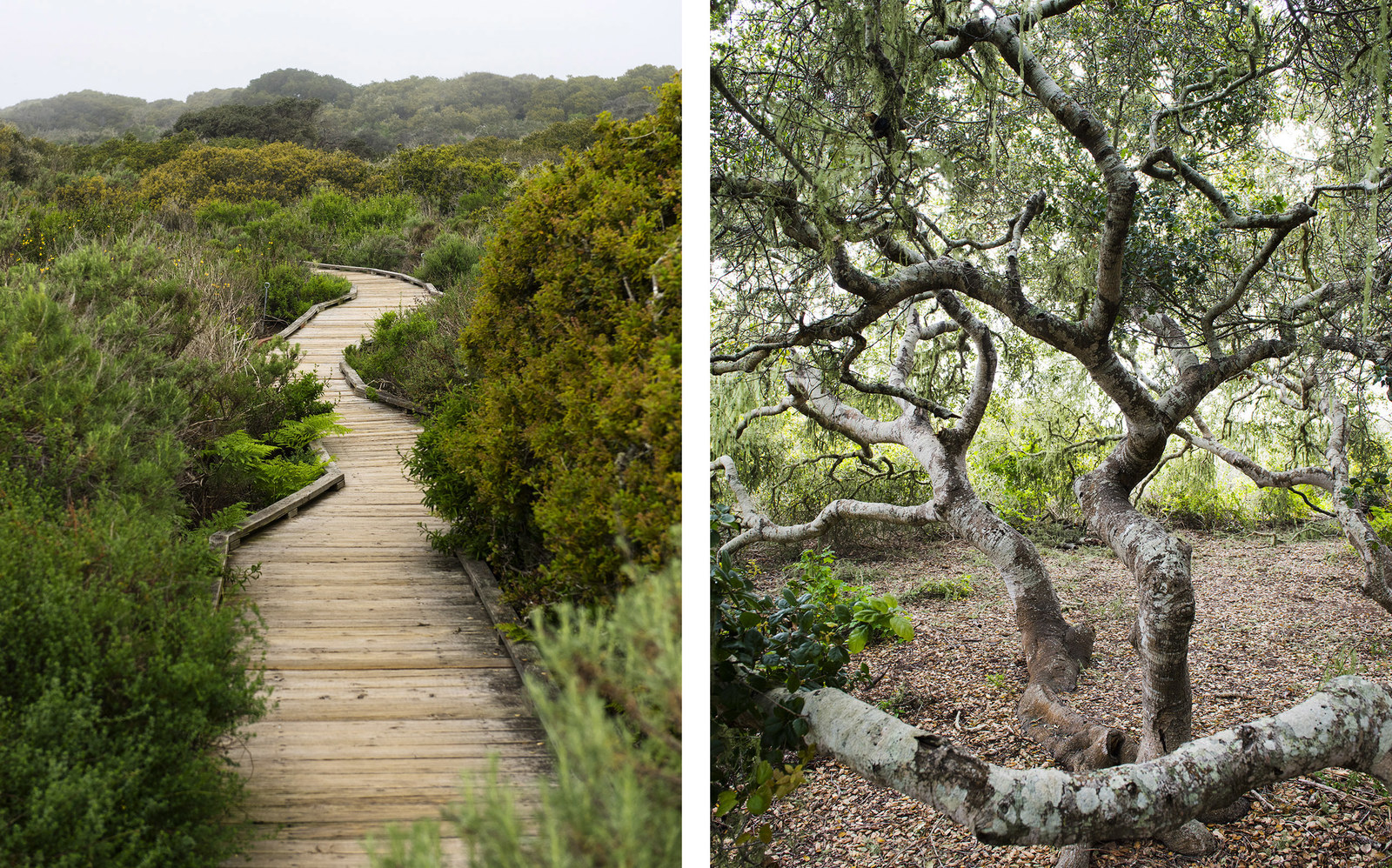 With our appetites compelling us, we continued north up the Highway 1 Discovery Route to the cute little surf town of Cayucos, which is known for being part of the Whale Trail as well as its numerous local festivals. (Hello, sea glass!) We decided on house-smoked fish sandwiches topped with a garlicky local favorite, Cayucos Hot Sauce, at Ruddell's Smokehouse near the historic pier. The smoky chunks of fish were perfectly balanced with a creamy sauce and uniquely refreshing mix of celery, lettuce, and apple, all wrapped in a soft roll. This was the perfect fuel to keep us venturing farther north to the Piedras Blancas elephant seal rookery.
We met John Flaherty of Central Coast Outdoors near the rookery, where he fitted us with bikes and took us cruising down a small stretch of Highway 1, cutting through fog and grassy hills and borders of microclimates. We ended back at the rookery, where John spouted an impressive array of facts about Piedras Blancas.
With over 20,000 elephant seals associated with it, this is the largest colony in all of North America. Most of the animals we saw on the beach were "weaners," babies born in December, still learning to swim, waiting now to leave the beach for the very first time. They were dwarfed by a few massive, lingering males at up to three times their body lengths. Their mothers had already returned to sea.

The rest of our day was spent browsing charming antique stores curated with care by local owners. You could easily spend a weekend combing the antique stores in the quaint town of Cambria alone, but add Cayucos and Morro Bay to the mix, and you'd have a week scouring racks and shelves for a Hawaiian T-shirt in a color you don't already own, a collectible plate commemorating your home state, or a perfect piece of vintage signage.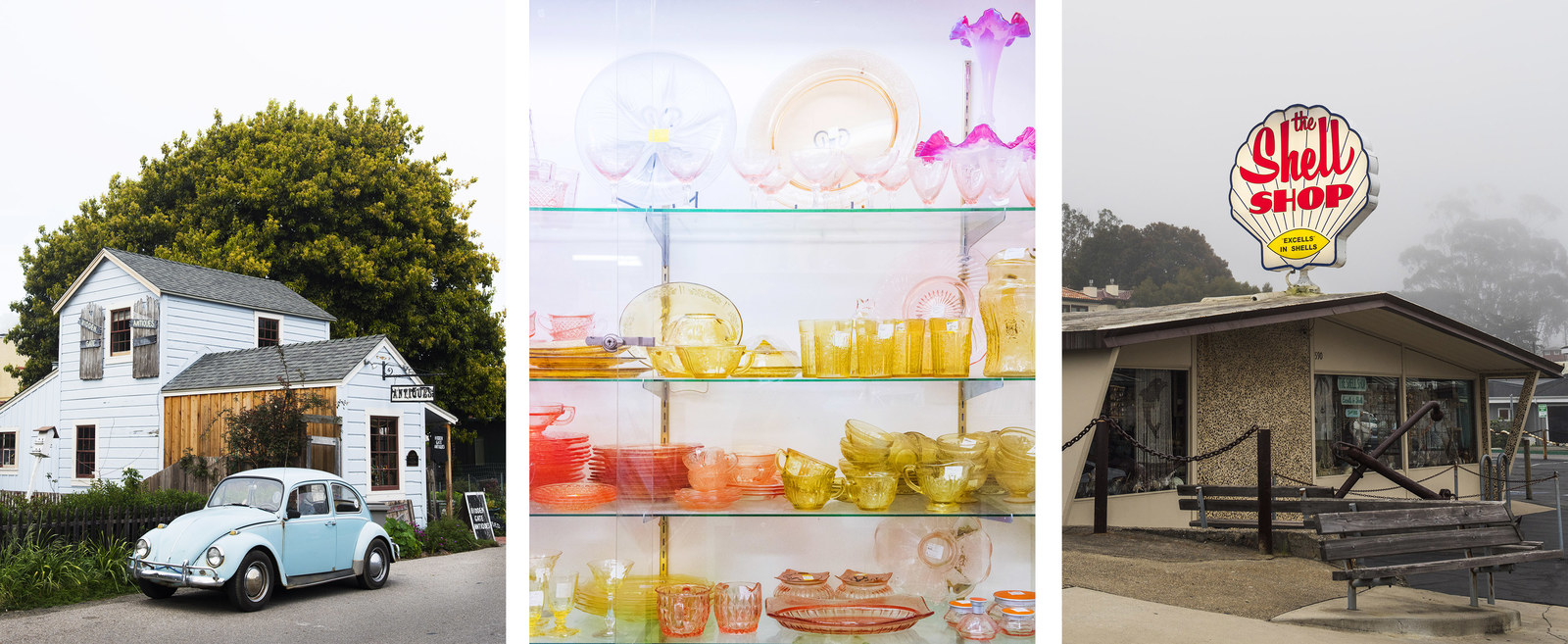 We began the next morning with a tour of the Point San Luis Lighthouse in Avila Beach. Founded in 1890, this Victorian lighthouse has served San Luis Bay for 127 years. Our docent, a retiree with a penchant for physics named Marian, explained how the original lens, designed by Augustin-Jean Fresnel in 1850, once projected a beam with a distance of 18 nautical miles nightly using only strategically placed prisms and magnifying glasses.

Having seen so much of the coast, we now decided to go for a dip in the ocean. We drove a short distance to the quintessentially Californian surf town of Pismo Beach, which is exactly what you'd imagine if you pictured vintage California — surf shops, palm trees, vintage vibes, and a 1,200-foot pier. This is where Jonny comes in. Local, native, all-around good-natured guy, Jonny is the third owner of Sandbar Surf School and an active surfer himself.
After assisting me into the wetsuit, he assigned me to surf instructor Karlie, a Cali girl if you ever knew one. Blonde and tan, a yoga instructor and kinesiology student who learned to surf in San Diego, she gave me many pieces of instruction on what to do with my body in those two hours. But only one piece of general advice stuck with me when it came to standing on a board: "The wave's coming, so you gotta do something." Absurdly simple, and yet it worked.

Wiped out from wiping out (I ended up with a tiny shiner right below my brow bone where the surfboard once bounced off my face underwater), we capped our day with a sumptuous early dinner at SeaVenture. We treated ourselves to a rich surf and turf and wandered out onto the balcony with the other diners to watch the sun set over the Pacific.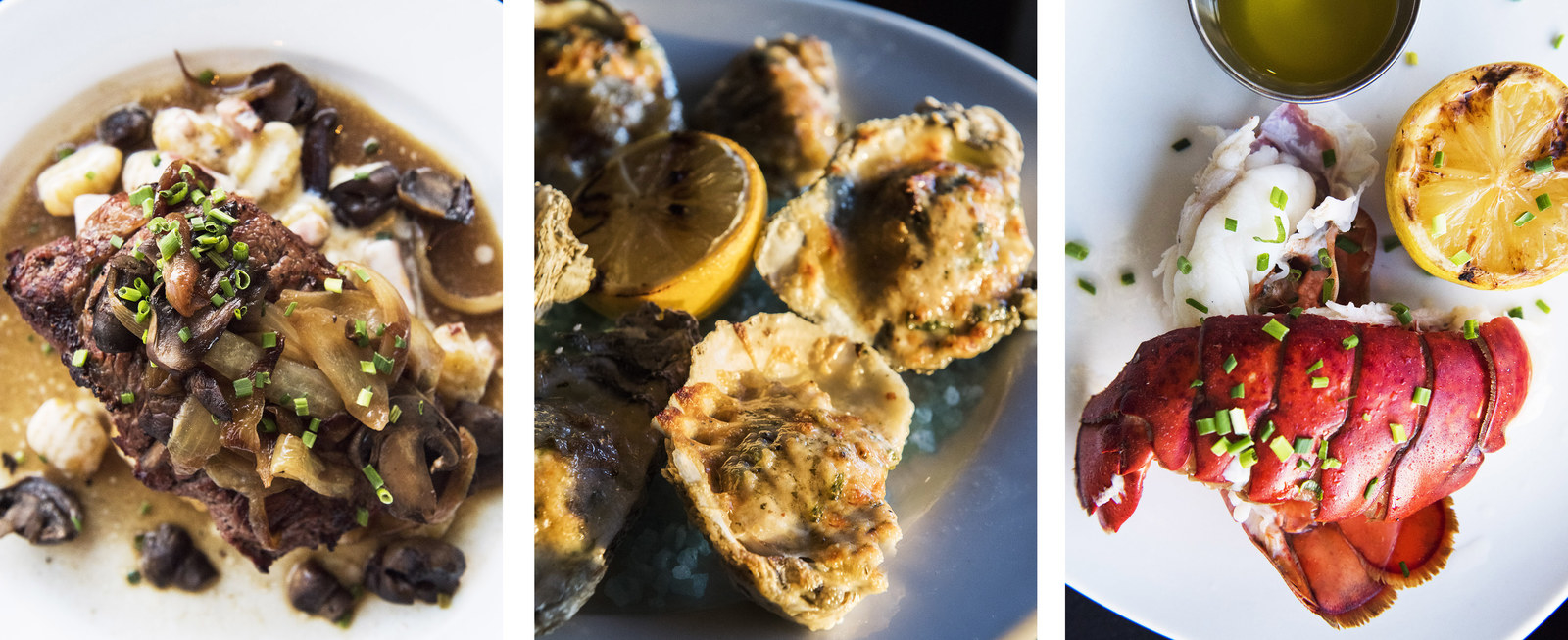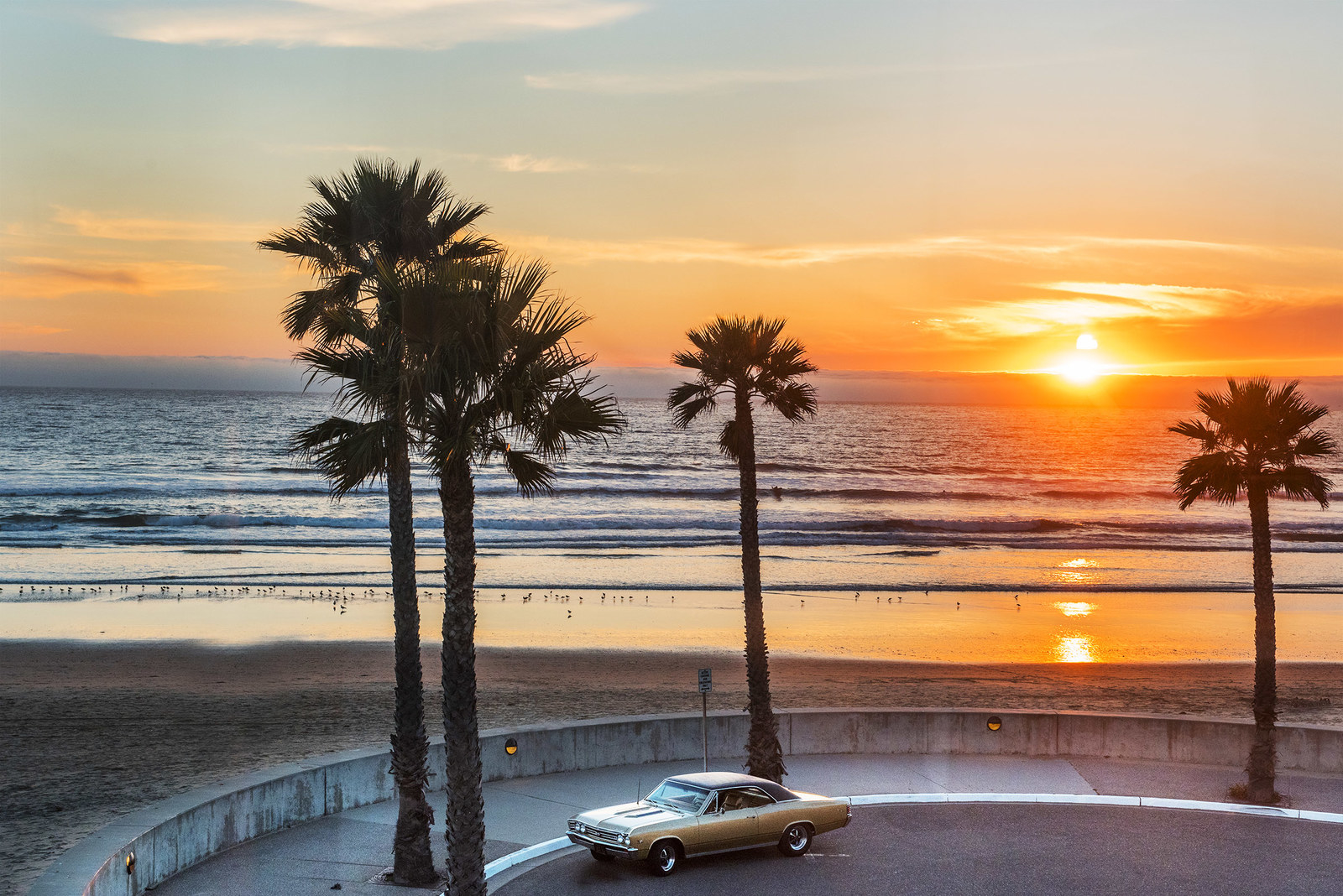 Wanting to take advantage of our last full day, we began bright and early with a kayaking tour in and around the sea caves of Pismo Beach. Our tour guide through Central Coast Kayaks was John, an experienced sea kayaker, whitewater rafter, and competitive surf kayaker. (No, we didn't know that was a thing either.)
Using his extensive experience, he ushered us in and out of the caves, perfectly timing our entries and exits with the rhythm of the ocean so as to keep us both safe from crashing waves. These same waves had created the tuff caves from years of erosion. Soft as sandstone, tuff is made up of volcanic ash, and you could easily scratch away at it with just a pinky nail. It was easy to imagine arches and grottos molded in tuff by the rough hands of the ocean.
Pismo Beach actually gets its name from the Chumash word for tar, pismu, which was visible on the white tuff coastline as we paddled by. And when we weren't engrossed by the breathtaking scenery of the cliffs, we spotted dolphins, harbor seals, otters resting in tangled beds of seaweed, migratory pelicans, and cormorants up close in the water. Often the seals would pop their faces out of the water with their two glassy black eyes, watching us curiously as we passed.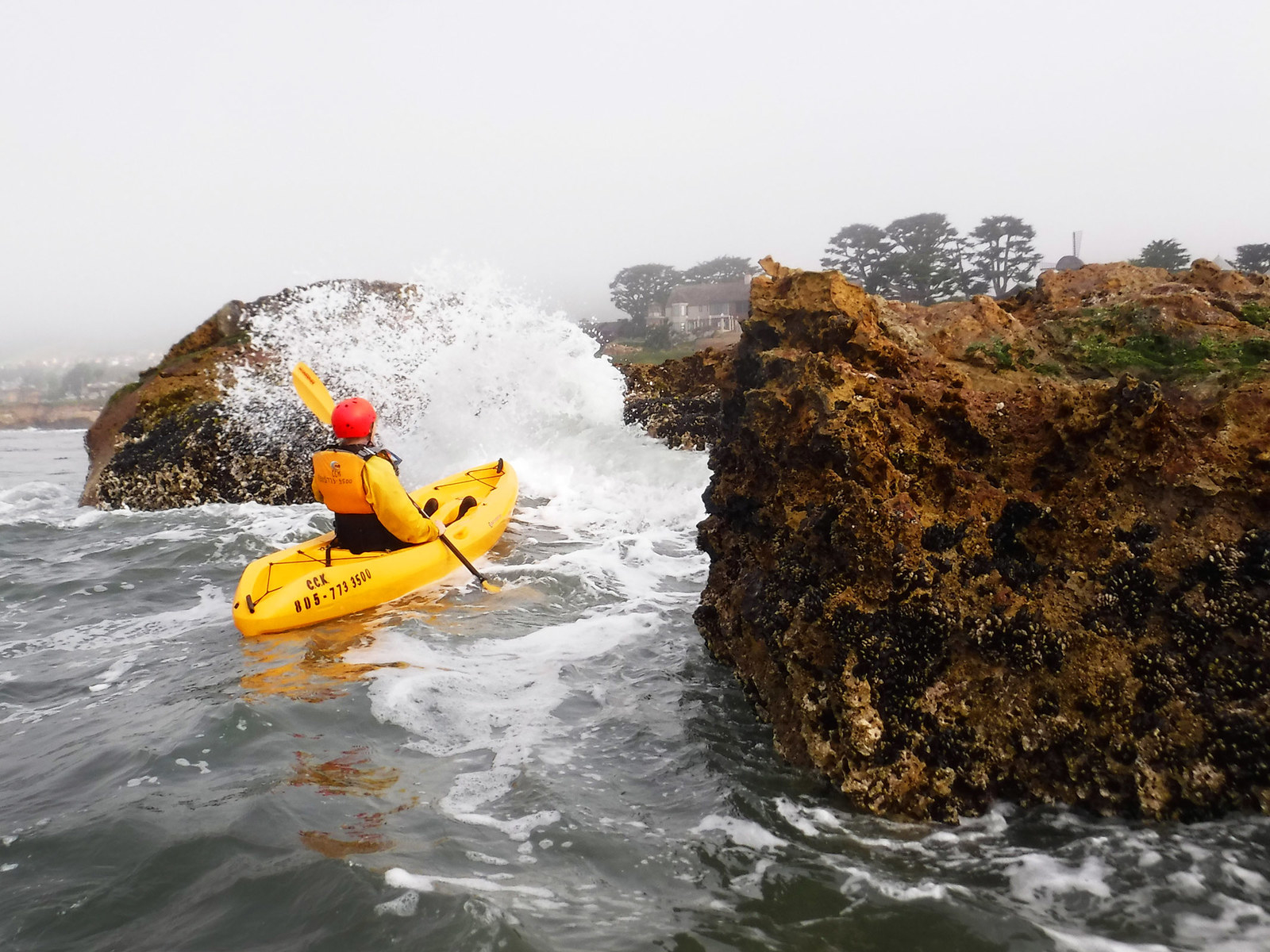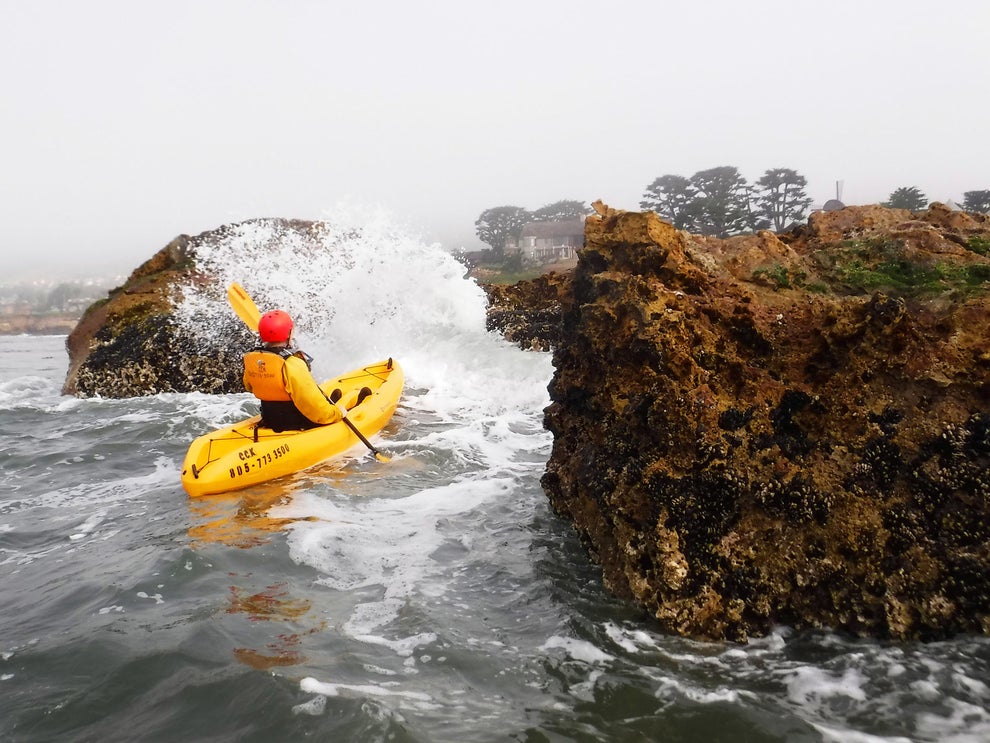 Lunch was yet another seafood meal at the Cracked Crab in downtown Pismo Beach. (When in SLO!) After a short demo on how to use our various tools (accessories resembling hammers, clamps, scalpels, and surgical scissors), we went to work de-shelling our meal and digging into all the shellfish our stomachs could hold.

When we had our fill of crab, we walked a few blocks to Tastes of the Valleys for a wine tasting. With San Luis Obispo County's Napa-like climate and Bordeaux-like soil, the region is a great producer of wine, especially in nearby Edna Valley. Owner Ash Mehta guesses 70% of the 1,200 wines he stocks here are from the Central Coast.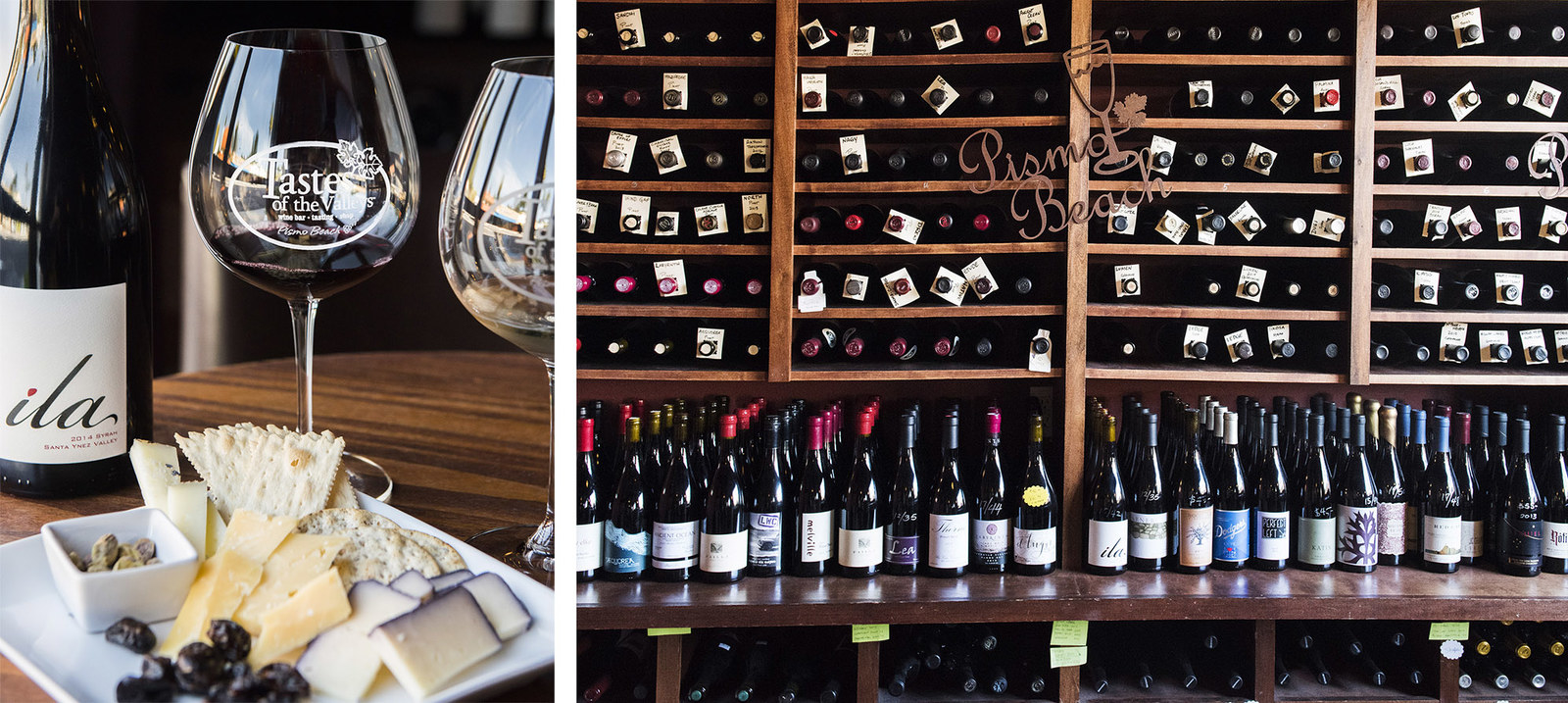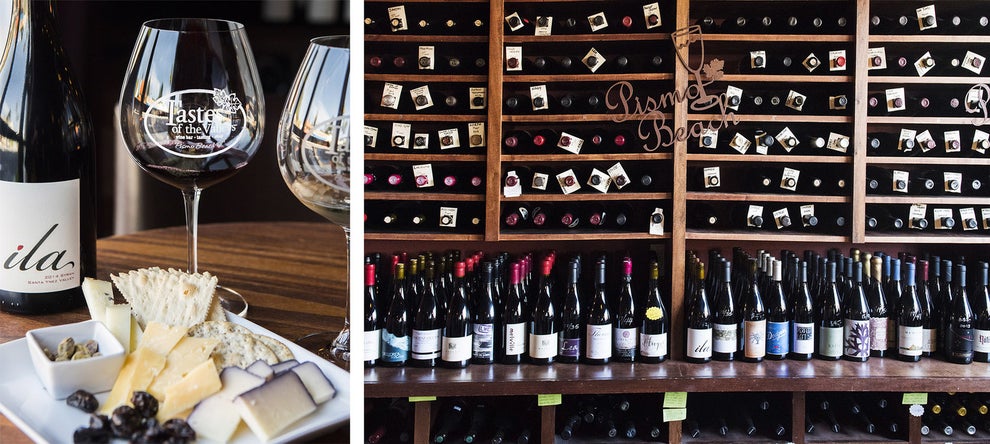 The last thing on our agenda was to exit the slow lane by seeing how SLO CAL does speed: riding dune buggies in the expanse of Oceano and Nipomo's coastal dunes. Having lounged on many beaches, this was actually the first beach I had driven on. Our Sun Buggy rental allowed us to explore the most extensive coastal dunes remaining in California after a quick tutorial and briefing by a Sun Buggy employee named Jessica. She's never left California except to go to Vegas once. "Why?" she said. "You've got everything you need right here." I actually had to agree.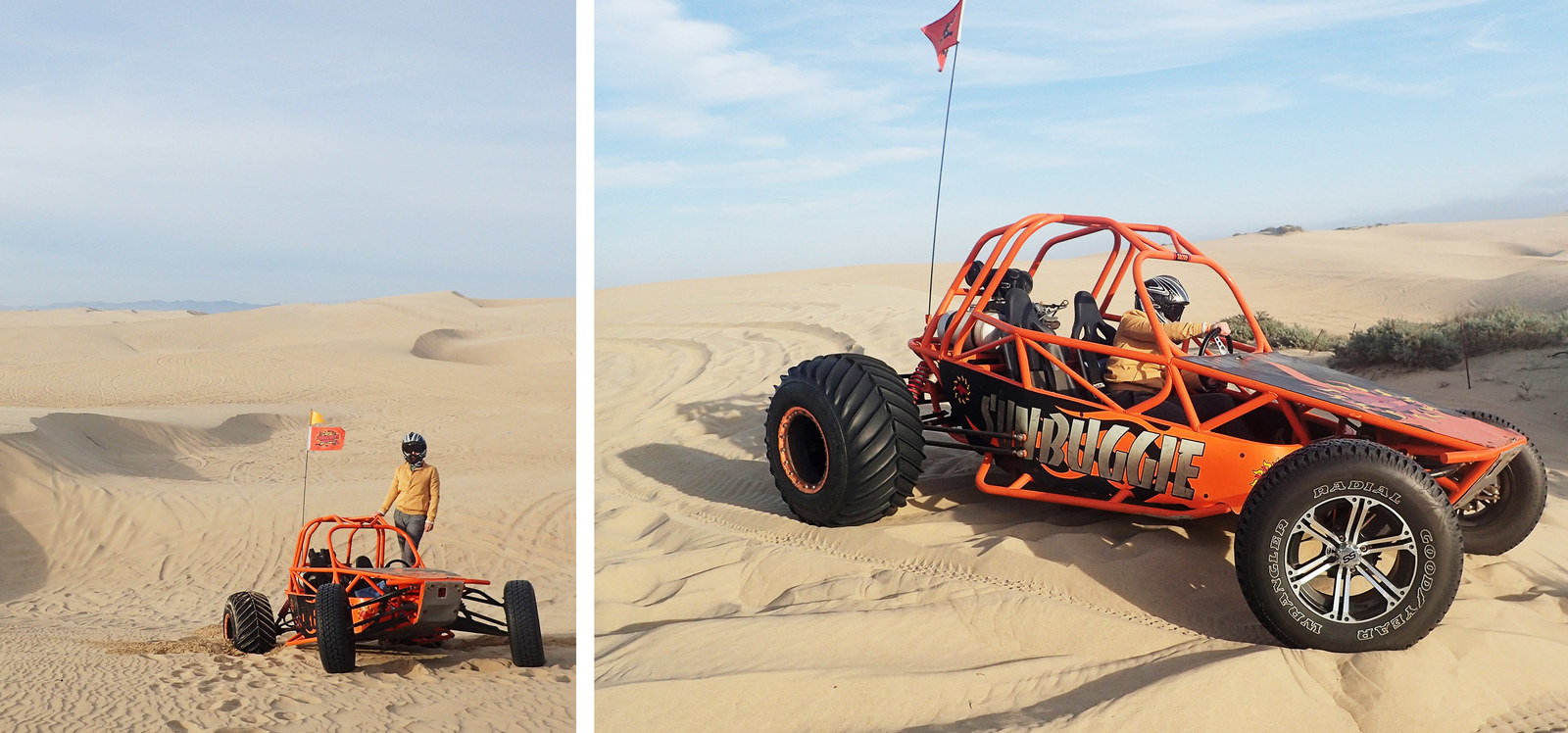 With sand in every pocket of our shirts, jackets, and pants, we decided to head back to our beachfront hotel room at Avila Lighthouse Suites to spend the rest of our Central Californian retreat by the pool. In the span of three days, we had gone from desert to ocean, from seaside cliffs to farmland, from forests to vintage towns, without driving more than an hour at a time. And while doing so, we had really taken our time to explore and discover the seaside communities and the people who were a part of them. They enjoyed their beaches, ocean, and food without hurry, and they enjoyed it a lot. It was easy to see how with so much bounty on their hands. SLO CAL had it all...and in spades.
I understood why the locals never wanted to leave the slow lane; I didn't either.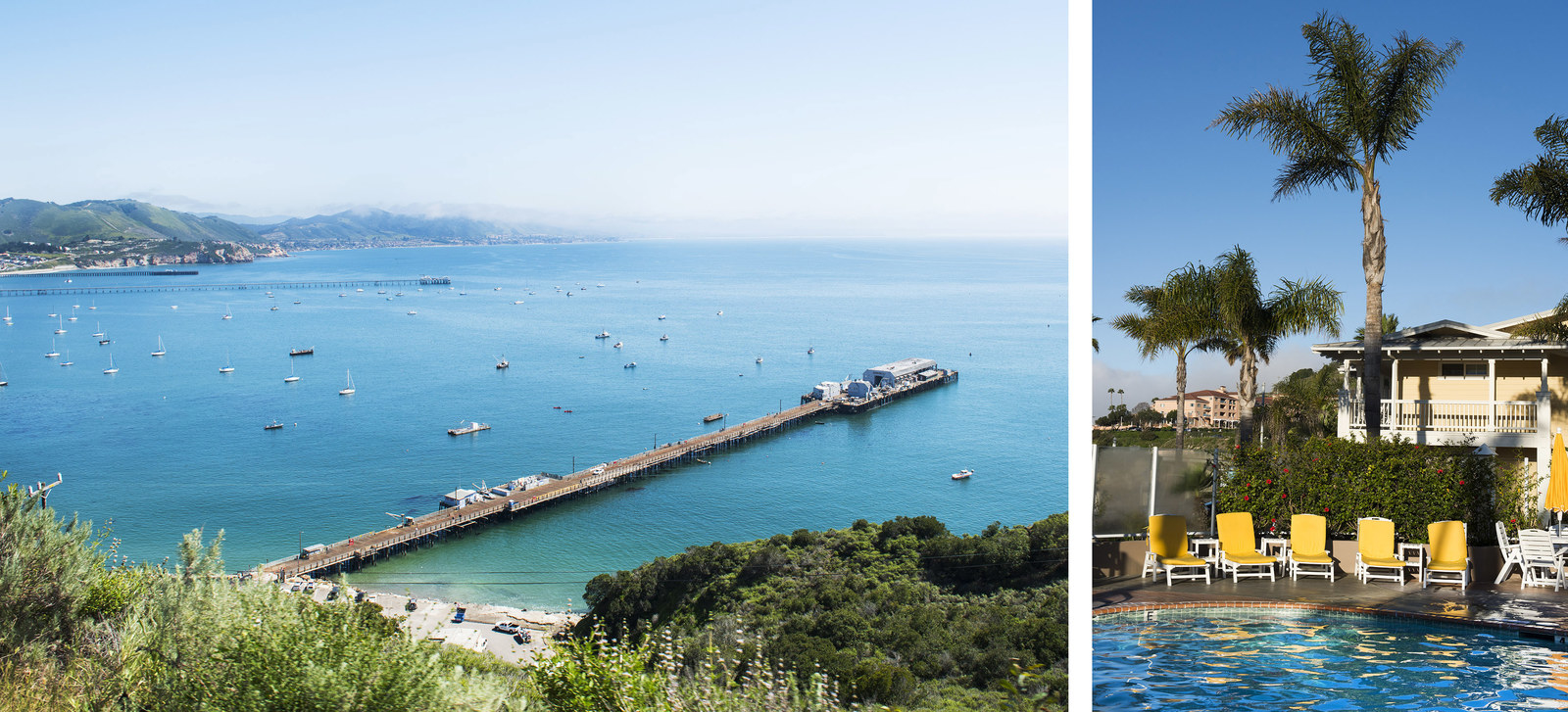 Photographs by Lauren Zaser/© BuzzFeed.
Slow your roll in San Luis Obispo County. Everything you could want is there. Plan your visit to SLO CAL today.