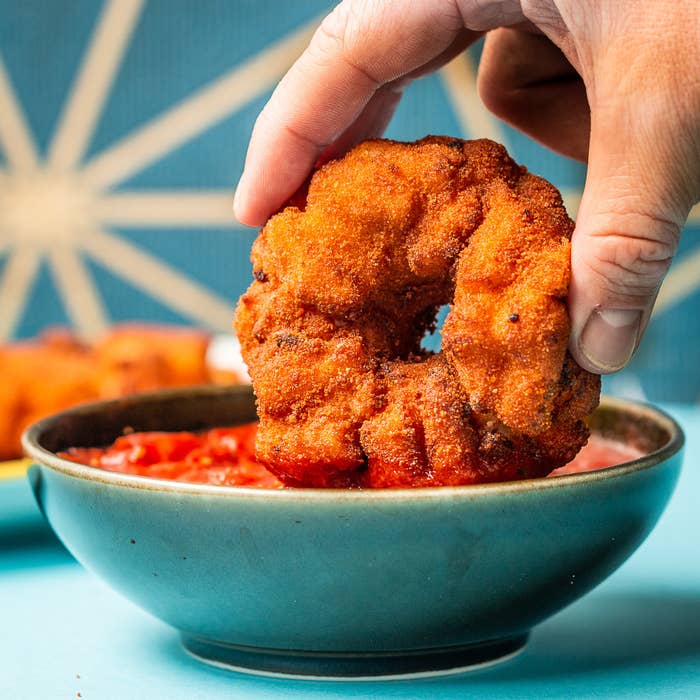 250g macaroni pasta
40g butter
40g plain flour
600ml milk
1 teaspoon mustard powder
½ teaspoon smoked paprika
250g mix grated mozzarella and mature cheddar
Salt and pepper
3 large eggs
3 tablespoons plain flour
6 tablespoons bread crumbs
1. Start by cooking your pasta for 2 minutes less than the packet instructions in a large boiling pot of salted water.


2. In another saucepan, melt 40g butter over a medium heat. Add 40g flour and stir to make a thick paste. Add the milk all at once and then whisk continuously until it becomes a thicker sauce. Add the mustard powder, smoked paprika, and the cheese. Mix well and then taste, adding salt and pepper as necessary.

3. Drain and add your macaroni pasta to the cheese sauce, and stir to coat. Leave to cool to room temperature — don't let it get solid or it will be hard to shape.


4. When the mac 'n' cheese is cool enough to handle, use a wooden spoon to beat in 1 egg and 1 tablespoon plain flour. Then, with wet hands, shape into 8 balls on a baking tray. Flatten them and then add a little hole in the middle of each one to make your donut. Pop the tray in the fridge for 2 hours to firm.

5. Grab 3 bowls and place the remaining 2 eggs in one, beaten. Add the flour to the second and the bread crumbs to the third.

6. When the donuts are cool and firm, carefully coat them in the remaining flour, then the egg, and finally in the bread crumbs. You can repeat the egg and bread crumbs for a thicker crust.

7. In a deep-frying pan, fill up to halfway with vegetable oil over a medium heat. Let it come to 180–190ºC. Add your donuts in gently, frying for around 2 minutes on each side. Serve on a platter with a tomato dipping sauce topped with basil and you're ready to watch Extinct!