In her response, "Dear Men of 'The Breakfast Club': Trans Women Aren't a Prop, Ploy, or Sexual Predators," published on Allure Monday morning, Mock wrote that her goal when she appeared on the show was to "exercise patience" and educate its audience on the "lived realities" of trans women.
I was hopeful that I could use the show's vast platform to speak directly to their predominantly black and Latinx listeners, who are often excluded from the conversations held in mainstream LGBT spaces (which are largely white, moneyed, and concerned with the centering of cis folk). I hoped I could make listeners aware of the lived realities of their trans sisters, and let them know that we deserve to be seen, heard, and acknowledged without the threat of harassment, exclusion, and violence.

My ultimate goal was to be accessible — to not judge, to call in rather than call out, and, above all, to exercise patience as the (straight cis male) hosts processed my existence.
Mock called out the show's hosts for laughing at Duval's comments and using her book "as a literal prop for laughs, vitriol, and a deeper call and justification for violence," only one week after speaking with her.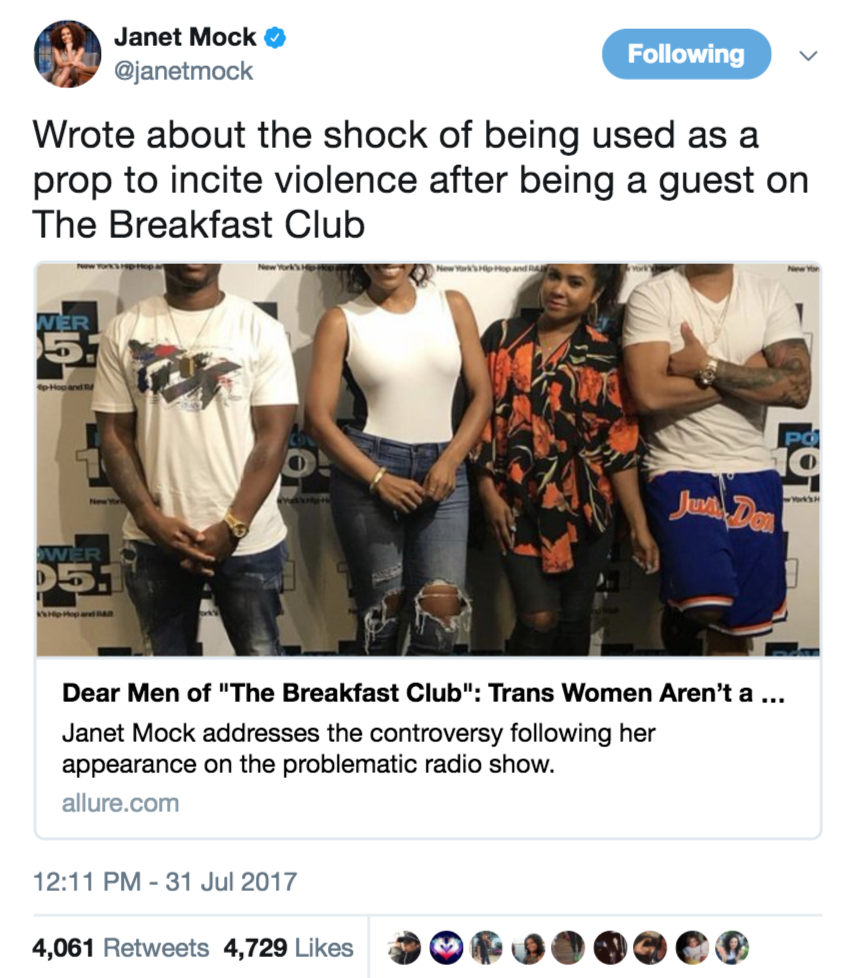 Mock also noted that during her appearance she engaged in a lot of "Trans 101" discussion, something she often resists engaging with. "In fact, I've turned down thousands from colleges and corporations because I refuse to engage in Trans 101," she wrote. "Trans folk, especially of color, should not be obligated to help cis folk play catch-up on our experiences."
In the days before Mock published her response, the video of Duval's interview quickly had already gone viral and spurred a response from the trans community. "I just got teary thinking about all my sisters experiencing violence, beaten, raped, murdered and some folks think it's OK to joke about wanting to kill us," actor and activist Laverne Cox tweeted on Sunday.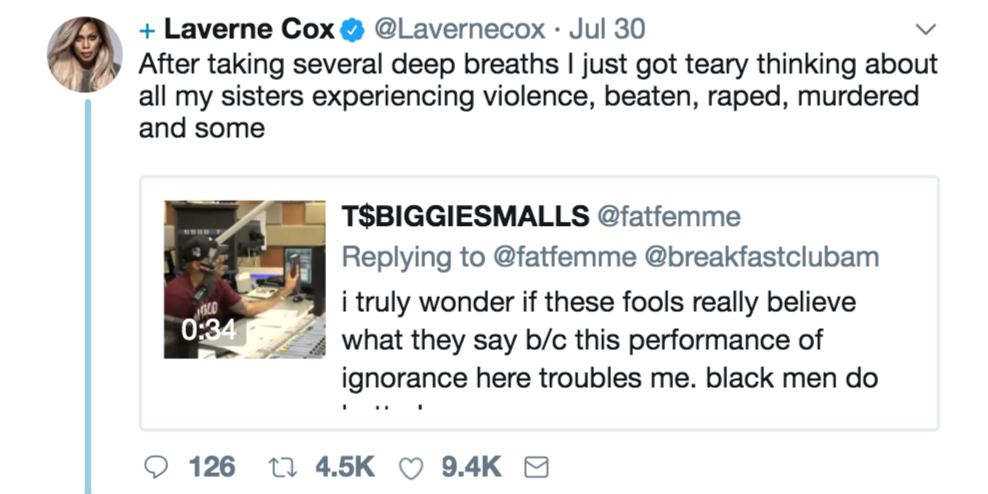 She added that the comments were even more upsetting considering Mock had been on the show giving "trans 101 education" to the show's audience.

"I think the issue is when this kind of violence is expressed publicly and goes unchallenged. This is why I am speaking up to challenge it," she added.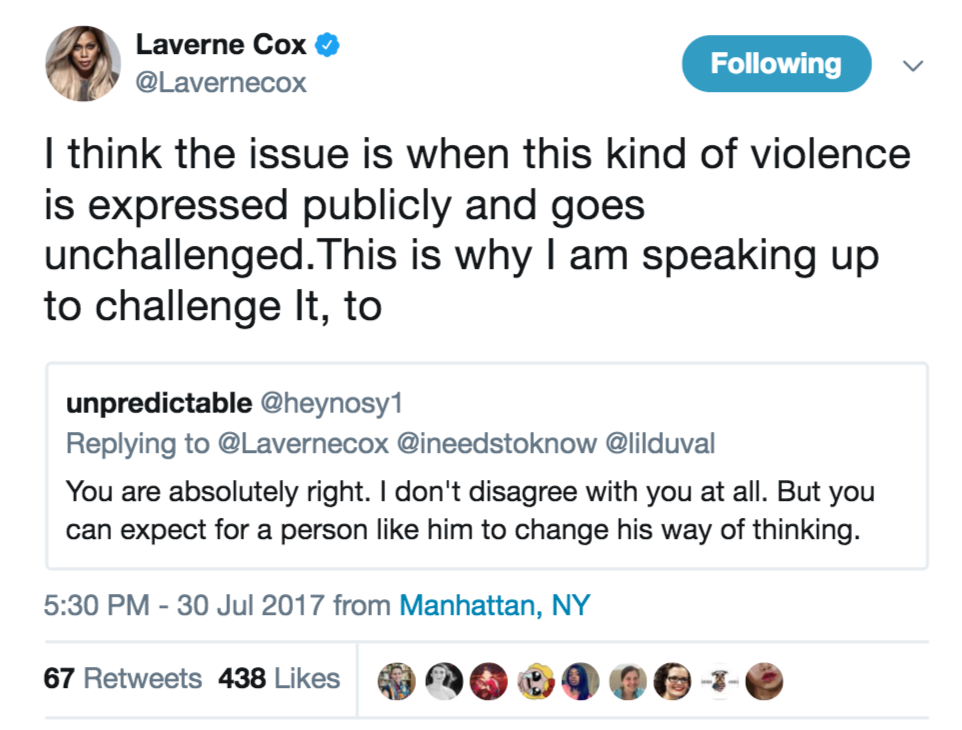 Over the weekend many tweeted their reactions along with the hashtag #BreakfastClubBoycott.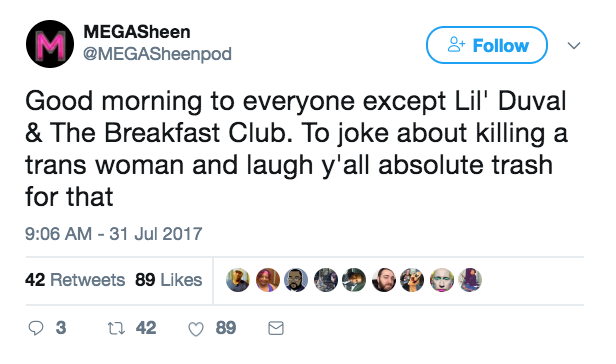 Charlamagne was interrupted during a live interview at Politcon on Sunday by a group of protesters.
"We are not a joke," the protesters chanted.
The internet backlash continued into the week. On Monday, activist Raquel Willis tweeted a video on Monday using #TransFolksAreNotJokes, which soon became another trending hashtag calling for a boycott of the radio show.
"There have been at least 15 reported transgender deaths in our community this year. It is beyond time for everyone, whether you are transgender are not, to show up and say, 'Trans folks are not jokes, and we deserve respect and the ability to live our lives,' to their full potential," Willis said in the video.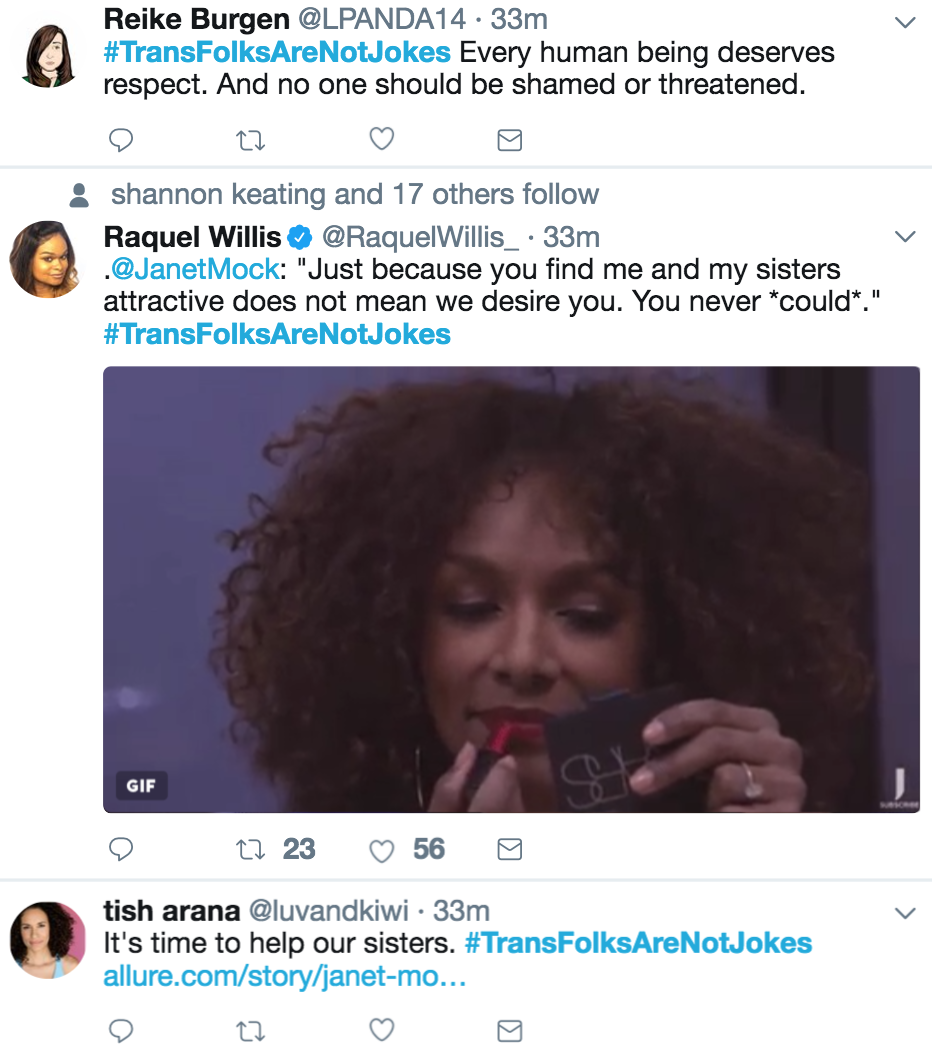 However, many people are also using the hashtag to defend the comedian's comments.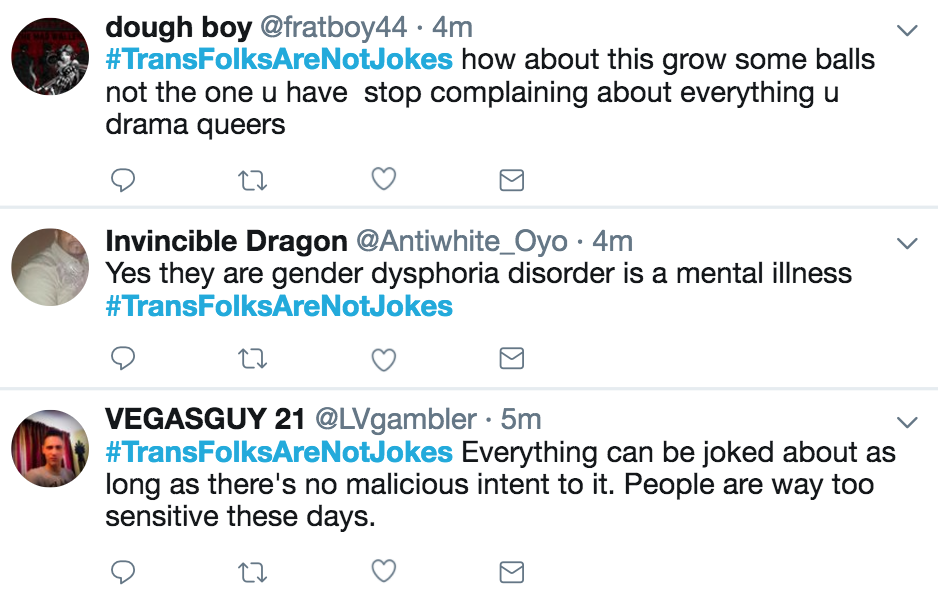 On Monday, the radio host appeared to respond to the controversy via Twitter.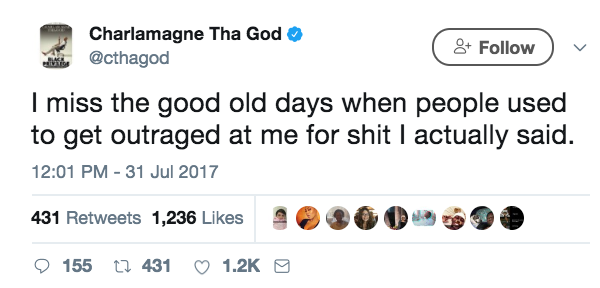 Cohost Angela Yee also offered a vague response on Twitter with one emoji. The Breakfast Club has not yet released a formal statement on the incident.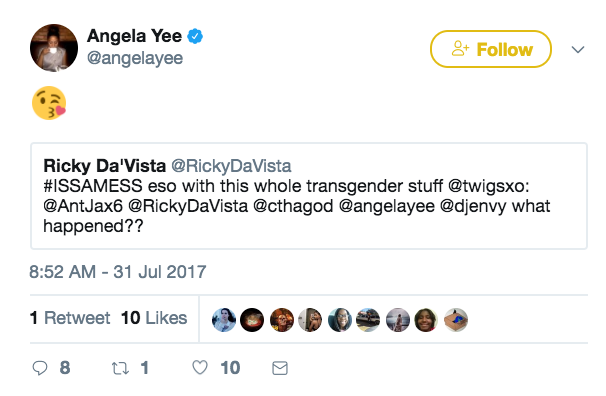 Lil Duval responded via Twitter as well, making it clear that he doesn't have plans to apologize.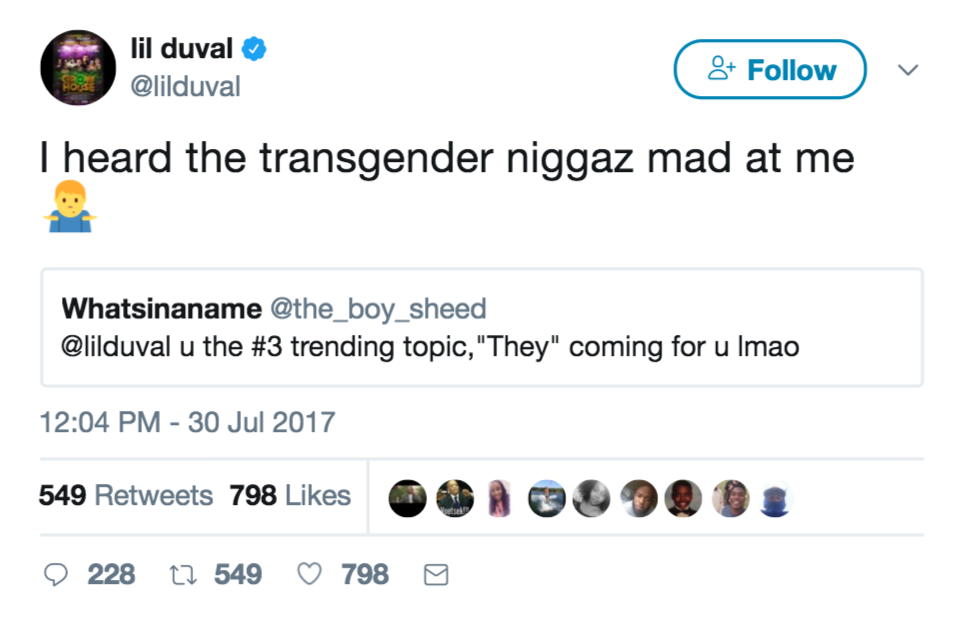 You can read Mock's response in its entirety here.
BuzzFeed News has reached out to the hosts of The Breakfast Club and Lil Duval for comment.