Users attempting to access the OKCupid website through Firefox will now be interrupted with the following message, which calls out Mozilla's new CEO Brendan Eich for being "an opponent of equal rights for gay couples."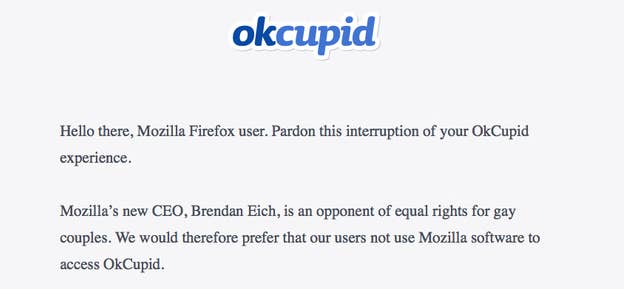 Eich caused controversy in 2012 when it was revealed he had made a personal $1000 donation in support of California's Prop 8 in 2008.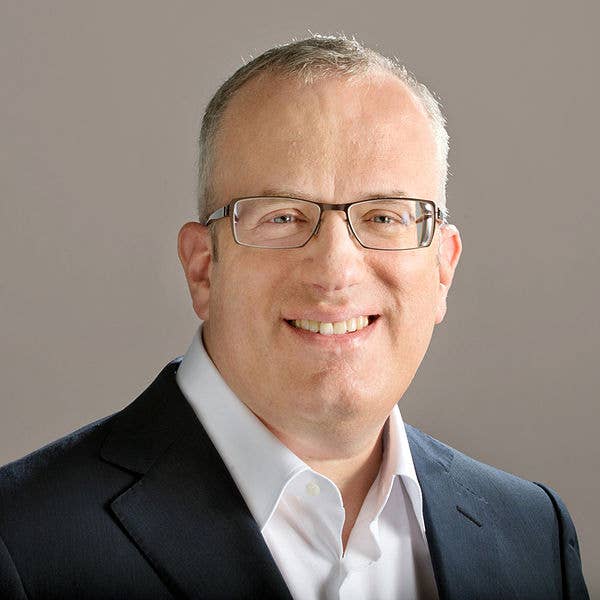 The message urges Firefox users to "consider different software" for accessing their site.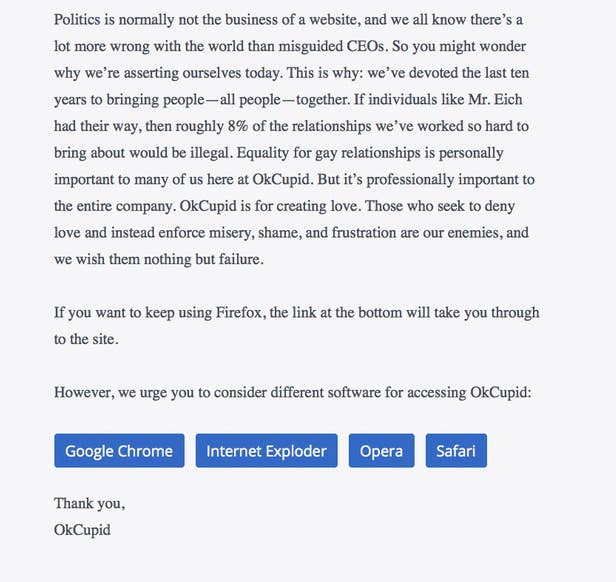 The Mozilla Foundation, which funds the Firefox browser, made the announcement concerning the hiring of Eich as its new CEO on March 24th.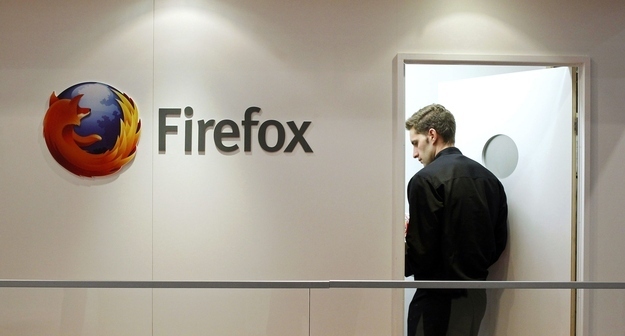 Several employees quickly took to their Twitter accounts to demand the newly appointed CEO step down from this position.
Eich acknowledged the backlash in a personal blog post earlier this week:
I know some will be skeptical about this, and that words alone will not change anything. I can only ask for your support to have the time to "show, not tell"; and in the meantime express my sorrow at having caused pain.

Mozilla is a movement composed of different people around the world, working productively together on a common mission. This is important to our ability to work and grow around the world.

Many Mozillians and others know me as a colleague or a friend. They know that I take people as they come and work with anyone willing to contribute. At the same time, I don't ask for trust free of context, or without a solid structure to support accountability. No leader or person who has a privileged position should. I want to be held accountable for what I do as CEO. I fully expect you all to do so.

I am committed to ensuring that Mozilla is, and will remain, a place that includes and supports everyone, regardless of sexual orientation, gender identity, age, race, ethnicity, economic status, or religion.
OkCupid is offering both pass-through links as well as redirect links for other browsers such as Chome, Opera, and Safari.
UPDATE, April 1st 12:28 p.m. EST: A Mozilla spokesperson released the following statement:
"Mozilla supports equality for all, including marriage equality for LGBT couples. No matter who you are or who you love, everyone deserves the same rights and to be treated equally. OK cupid never reached out to us to let us know of their intentions, nor to confirm facts."