Against Me! singer Laura Jane Grace kicked off her concert in Durham, North Carolina, last night by burning her birth certificate onstage in front of a sold out crowd — an act of protest against the state's discriminatory HB2 Bill.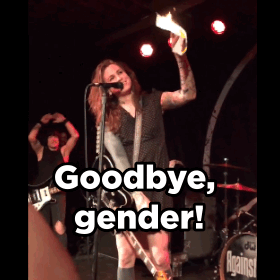 Kathryn Wymer, the North Carolina local who recorded the video that's now being widely circulated, told BuzzFeed News there was a lot of excitement in the air before Grace took the stage. "When Laura came out on stage and announced she would burn her birth certificate, it was unexpected and emotionally cathartic."
The singer, who publicly came out as transgender in 2012, had announced earlier this month she would not cancel her scheduled appearance in North Carolina as a "form of protest."
"I started the show by burning my birth certificate, what better way to get a fire going?" the singer said of her actions in an interview this morning with CBC Radio.
"I may not live in the state of North Carolina, but I definitely work in the state of North Carolina and pay taxes in North Carolina — my band has toured though here at least once a year for the past twenty years," she added.
Toilet paper printed with a creative translation of the House Bill 2 was available for use during the performance in the venue's gender neutral bathrooms.