In Appreciation Of All The Ladies Rocking An Undercut
Warning: You may feel the impulse to grab some clippers after reading this.
Singer Demi Lovato recently joined the "LWU Club": Ladies With Undercuts.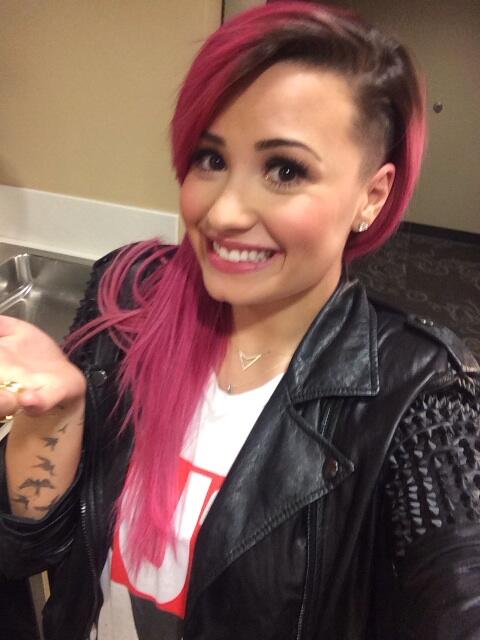 She certainly isn't the first lady to rock the short-buzzed look, and she most certainly won't be the last. For those not in the know : An undercut is when the sides and back sections of your head are buzzed or cut short.
UNDERcut, get it? There are also about one million different takes on this style – there is not right or wrong way!
It's time to take a moment and give it up for all the fearless ladies rockin' half-shaved heads out there. It's pretty much the bravest thing you can do, because cutting a whole chunk of hair off the side of your head sounds frankly terrifying.
But when you do it? Quick, get yourself to a museum – your ENTIRE HEAD just became a work of art. Take a moment to admire Rosario Dawson single-handedly proving this look isn't just edgy – it's glamorous.
*Takes a moment* Natalie Dorman's head is downright breathtaking from every damn angle. Meanwhile, Ellie Goulding's cut seems to transcend both space and time.
Rumor has it that when you get an undercut, Robyn bestows mystical dancing abilities upon you.
Or you could instantly become as fly as the one and only miss Raven-Symoné.
Tilda Swinton's been working on taking the style to impressive new heights. For real. And frankly, Kelly Osbourne's black tresses seem a little too perfect for this world. Much better. Look up "versatility" in the dictionary and you will find Jada Pinkett Smith's locks.
And I'm pretty sure Willow Smith has been taking notes.
A fresh cut can make you feel like an entirely new person. Pink's hair should be considered an architectural wonder.
Basically an undercut makes anyone feel like an instant rock star or supermodel.
In the case of Alice Dellal – it's both.
*Because growing it out sounds like it's going to be a complete nightmare