If You've Ever Had A Crush, You're Going To Have Some Feelings About Hayley Kiyoko's New Single
"I want people to watch the video and have it remind them of that first moment — the butterflies when you first get hooked on somebody."
Earlier today, Hayley Kiyoko fans tuned into MTV's Total Request Live to watch the debut of "Feelings," the first song and video from the singer's upcoming debut album to be released next year.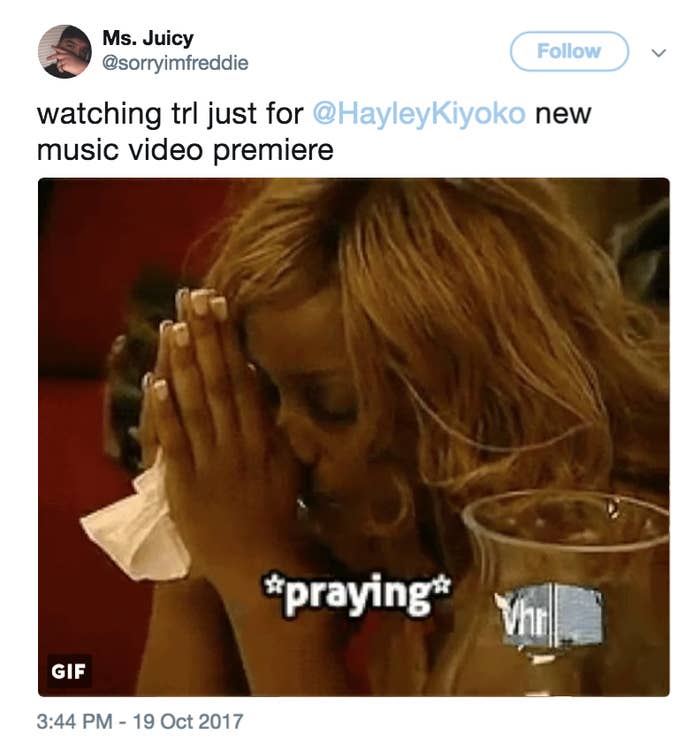 This isn't Kiyoko's directorial debut — she's directed or played a major role in the making of most of her music videos. But "Feelings" was shot in a single take, which proved to be an exciting new challenge.
"It's so challenging. We did a full twelve-hour rehearsal the first day. The second day was a shoot day and we did eight takes, of which I chose the eighth take."
Kiyoko is no stranger to writing lyrics that are inspired by her real, personal experiences as a gay woman. The 26-year-old, who is busy gearing up to play the Voodoo Arts + Experience festival in New Orleans, made it clear that this single is no different.
"The lyrics are so truthful to where I'm at," Kiyoko said of the release. "I'm currently single, and I remember going into the studio and just complaining, 'Why do I have to be so ashamed of feelings? Why is that so bad?' The lyrics are so dead-on with how I feel. I hope people will relate and connect to it as well."
I over communicate and feel too much
I just complicate it when I say too much
I laugh about it, dream about that casual touch 
Sex is fire, sick and tired of acting all tough 
I'm hooked on all these feelins
I know exactly what I'm feelin
And the video, just like the song, is all about — you guessed it — feelings. "I want people to watch the video and have it remind them of that first moment — the butterflies when you first get hooked on somebody," she explained.
Leading up to today's video release, Kiyoko hosted #GayleyKiyokoWeek (a hashtag created by her fans) on her social media platforms, treating fans to new behind-the-scenes looks at past music videos. There were even "takeovers" hosted by the actors who played Kiyoko's former music video love interests.

"You always end up becoming best friends with them," she said of the actors she casts in her music videos. "It's a very intense process and this role specifically was demanding because it's a one-take. I needed someone who could hit their marks and — hit it!"
"She had to act, she had to dance, and I had to be able to trust her to be able to do that," Kiyoko concluded. Safe to say, Rodriguez did that.
With previous singles like "Girls Like Girls" and "Sleepover," Kiyoko has already established herself as an artist unafraid to provide young queer women with songs and videos that reflect who they are.
In short, she's giving all the queer fans out there exactly what they want — unapologetic, real, and honest representation.
And Kiyoko made it clear that providing a safe space for her fans is something she will continue to strive for, though she hopes one day it won't be such a big deal.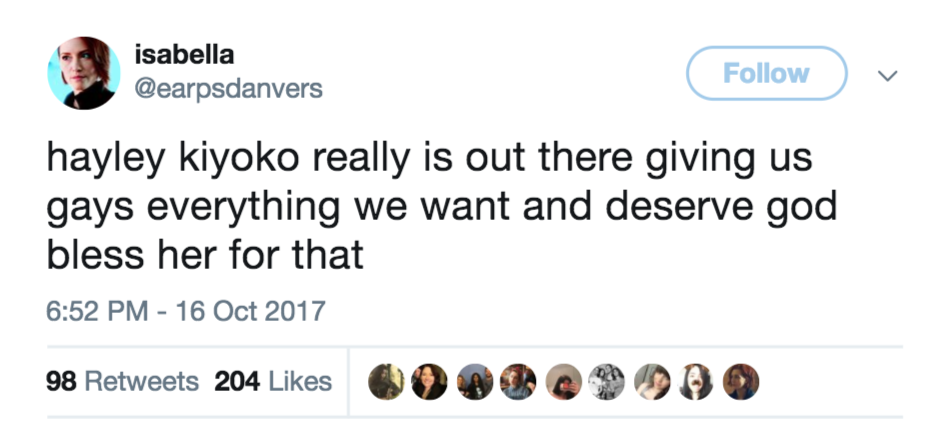 "It's a journey about changing the future for other people and getting people to be more comfortable with who they are and normalizing feelings and stories," Kiyoko explained. "It's bigger than me — it really is."
"It's so important to me," Kiyoko added, speaking about the connection with her fans. "I've only been signed for two years and it's been just me and them. I'm nothing without them."
You can buy the new single right here.