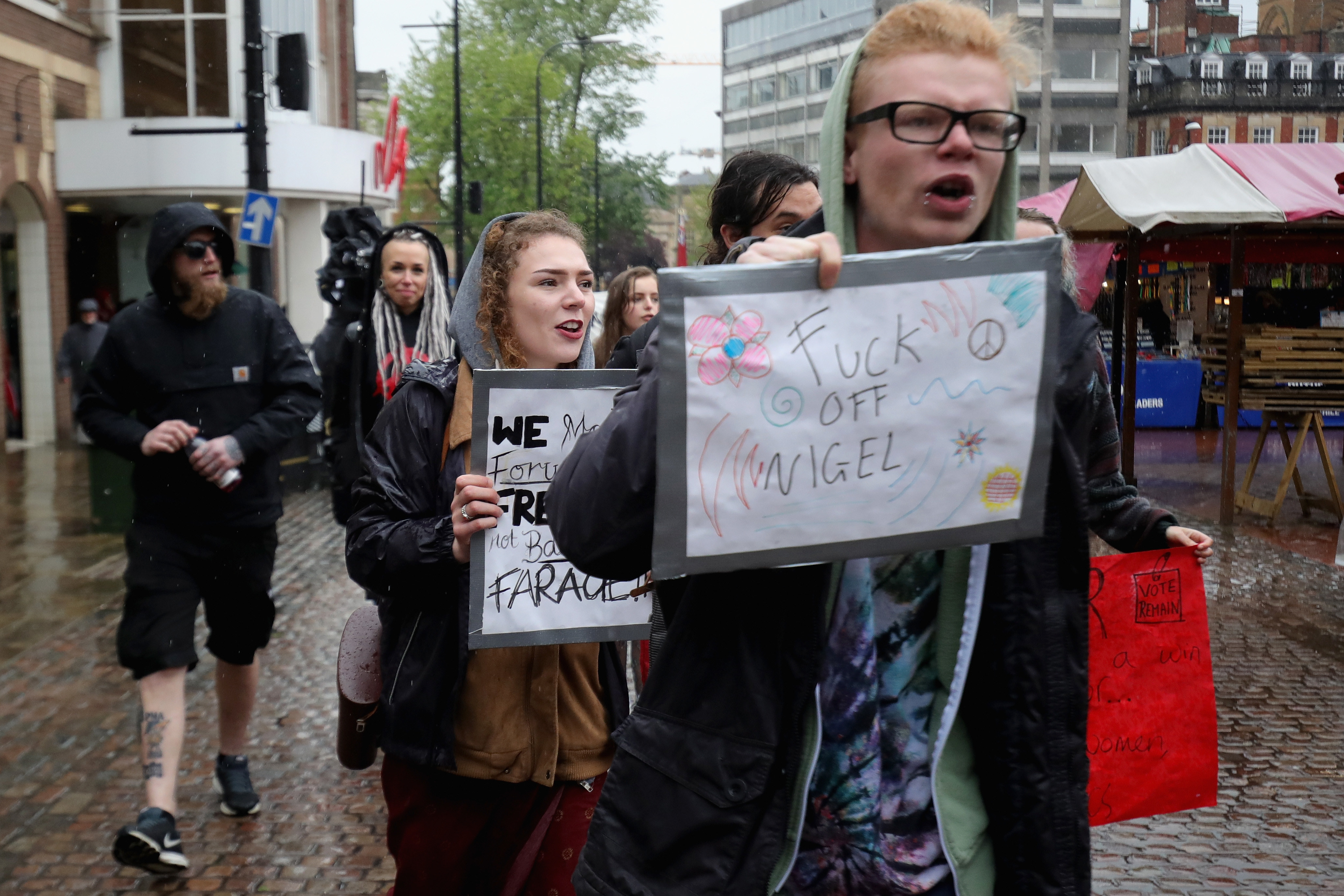 UKIP was forced to cancel an anti-EU campaign event in Northampton today to avoid clashing with protesters.
Party leader Nigel Farage was set to meet supporters in the town's Market Square on Tuesday afternoon as part of UKIP's "Brexit bus tour", but organisers scrapped the event due to safety concerns.

Gawain Towler, a spokesperson for UKIP, told BuzzFeed News the group was worried because there were about 30-40 protesters, half of whom were wearing masks.
"Frankly, a lot of our supporters are over 50," Towler said. "It was rainy, it was wet. Nigel's happy to engage in debate with people, [but] not with people who could push around pensioners.
"Someone will fall, break their leg, and we're not going to have that happen on our watch."
Towler's claims about the protesters contrast with the account from local Northamptonshire police.
A force spokesperson told BuzzFeed News there were about 20 peaceful protesters who were handing out leaflets and said UKIP had not been advised to cancel the event.
But Towler said the party had experienced these types of protesters before and believed security was key: "If people in masks turn up to your event, you take them seriously. You have to."
Farage instead went to a pub to speak to supporters.
People wearing Vote Leave badges, the official group backing Britain's exit from the European Union, appeared particularly frustrated by the protesters' chants calling on Britain to welcome refugees.
Farage is currently taking part in UKIP's "Brexit bus tour" to promote the case for Britain to leave the EU.
He visited Birmingham's Bull Ring shopping district on Tuesday morning, where he tried to win over floating voters. After spending 10 minutes trying to convince Amy, 25, to back his campaign, she remained unsure.
"I still don't know what to do," Amy told The Guardian. "We've been in the EU all my life and the country is totally shit, so I don't know if leaving can make anything much worse."