On Tuesday, it was revealed that the Department for Work and Pensions had made up quotes from individuals explaining how being sanctioned had helped to improve their lives.
In an answer to a freedom of information request Welfare Weekly discovered that a leaflet explaining how sanctions – where claimants are stripped of employment and support allowance worth up to £102.15 a week – had actually benefited them was littered with made-up quotes.
The leaflet referred to sanctions to the work related activity group, who are unable to work right now but the DWP believes will be able to return to work at some point in the future. The department expects them to take steps towards preparing to go back to work, such as attending meetings.
In the leaflet, published in full by Welfare Weekly, the DWP used stock images alongside made-up quotes to create case studies such as the one below.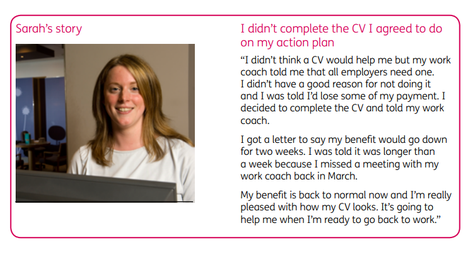 This appears to break the civil service code, which tells civil servants – such as those who work in the department – that they should not "deceive or knowingly mislead ministers, parliament or others".
In a statement, a spokesperson for the department said: "The case studies were used for illustrative purposes to help people understand how the benefit system works. The case studies have now been removed."
It wasn't long before Twitter users started to make their own fake case studies.
Others decided to go down a route that was borderline absurd.
Many also picked out areas for which the department has been criticised. Such as the increase in zero-hour contracts at companies.
Or reports that Atos, who previously completed work assessments, were demanding that benefits claimants could work even when ill or disabled.
Some also mocked the workfare programme, which requires those claiming benefits to work at companies for free in order to apparently make their CV look better and make them more employable.
Some were just good fake stories.
But the award for the top fake DWP story goes to the Huffington Post.
Correction
The DWP leaflet referred to employment and support allowance. An earlier version of this story misstated it was about individuals losing their jobseekers' allowance.