Liz Truss Has Become The UK's First Female Lord Chancellor
Theresa May has made a series of changes to the cabinet, and a number of women have been appointed to key roles.
by
,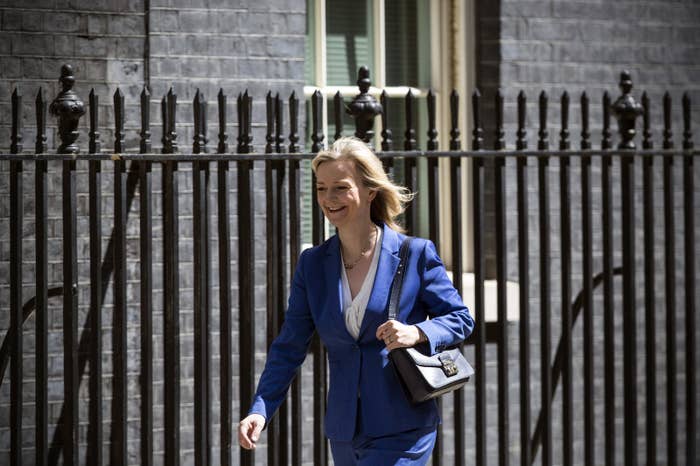 ​Liz Truss was appointed ​Britain's first female lord chancellor and justice secretary on Thursday.
The role of lord chancellor is believed to date back to 1066 in England, making her the first woman to hold the post in 950 years.
The move comes as prime minister Theresa May looked to improve the gender balance in the cabinet as she made a revamp of the team on Thursday.
The appointment means the only cabinet roles never to have never been occupied by women are chancellor of the exchequer and defence secretary.
Truss is well-remembered from her time as environment secretary, although not necessarily for the right reasons.
In particular, a speech she gave at the Conservative party's conference in 2014 often resurfaces whenever she makes a public appearance or speech. This morning was no exception.

She is also often mocked for an overenthusiastic remark when referring to the amount of cheese Britain imports to the UK.
Truss is part of a new-look cabinet that also includes Philip Hammond as chancellor, Boris Johnson as foreign secretary, Amber Rudd as home secretary, and Justine Greening as education secretary.

That makes Greening, formerly the international development secretary, the first education secretary to have attended a comprehensive school. The overwhelming majority of previous education secretaries, even in the New Labour era, were educated at grammar or private school.
The only exceptions are Labour's David Blunkett, who went to a special school for the blind and Labour's George Tomlinson, who received almost no formal education.
Greening, who publicly came out at this year's Pride celebrations, has also been appointed minister for women and equalities.
Patrick McLoughlin, former transport secretary, is now the chair of the Conservative party, and former Northern Ireland secretary Theresa Villiers has left government.
Despite initial reports suggesting that Jeremy Hunt would be sacked from the role of health secretary, he has retained his position.