A man is so unimpressed with the "rubbish being talked about immigration" during the EU referendum debate that he's paid for his own newspaper advert to make a point.
The ad, which appeared in the London edition of Metro on Wednesday, features a fairly basic pie chart comparing the UK population with the number of migrants who come to Britain each year.
Laurence Taylor said he was "fed up" with the rhetoric on immigration and wanted people to vote for either Leave or Remain "based on facts not fear".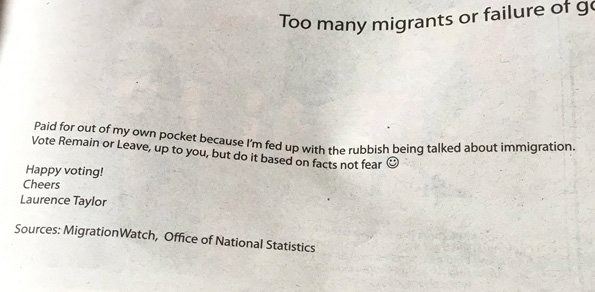 Each of the prominent groups campaigning for Britain to leave the EU – Vote Leave, Leave.EU, and UKIP – have focused on immigration as a key issue, and said the UK can't control its borders while it remains part of the union.
That's because a key principle of the EU is freedom of movement, which means citizens of other EU countries can travel freely between member states.
Taylor also disputed claims Britain will retain access to the EU's single market for trade if the UK votes Leave on Thursday.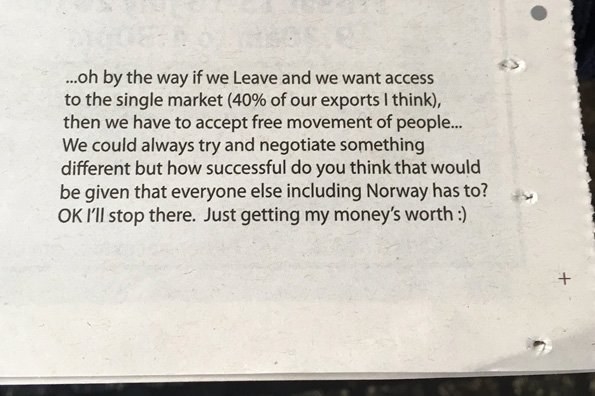 Since the advert was published, on a page opposite the puzzles section, lots of people have heaped praised on Taylor's actions.
They've called him a "hero" and a "don" for taking a stand.
Taylor spoke to Metro after his advert started to go viral and said he took the step because he was "fed up with the lies and scare stories" from both Remain and Leave campaigners.
"It's up to us voters to go and get the facts and work it out for ourselves," he said. "Simple bit of division: 330k migrants = 0.5% of population. Money we send to the EU = 1% of our national budget.
"Suddenly it doesn't seem so much of an issue. So why all the panic?"