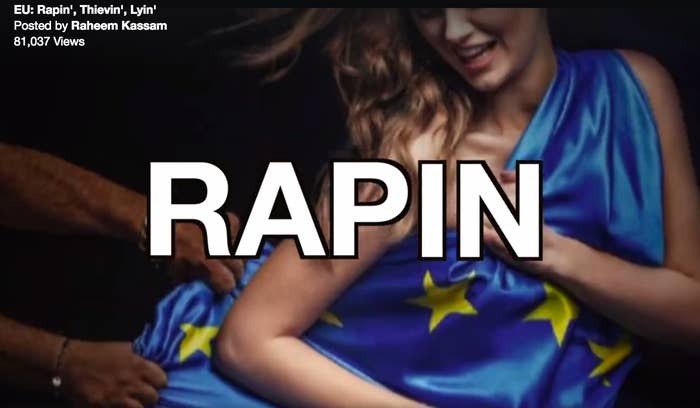 An anti-EU campaign has come under fire for sharing a video on both its social media accounts that featured an image previously used in a Polish magazine article about the "Islamic rape of Europe", which was likened to fascist propaganda.
The video, shared on Leave.EU's Twitter and Facebook accounts, was created by Breitbart London editor-in-chief Raheem Kassam in response to a heavily mocked advert by the Stronger In campaign that told younger voters to keep "ravin", "workin", and "earnin".
The send-up posted by Kassam shows a number of images overlaid with text about how the EU is "stealin", "lyin", and "thievin". Under the section on how the EU is "rapin", it features an image of a woman draped in an EU flag that's being pulled from her body by the arms of dark-skinned men.
The image was previously used by a Polish magazine to illustrate a story about the "Islamic rape of Europe".
The wSieci magazine cover, published in February, came under heavy criticism at the time for depicting a white woman, representing Europe, being attacked by "Islamic" arms.
The image was compared to an Italian fascist propaganda poster from 1943.
Twitter users responded to the video by calling Leave.EU "vile".
Others were simply shocked.
Leave.EU was criticised only a few weeks ago for sharing a video that compared immigrants to a "violent snake".
The campaign also emailed its mailing list earlier this week with mobile numbers for Vote Leave activists, a BBC journalist, and UKIP's only MP, urging activists to complain about UKIP leader Nigel Farage's exclusion from a series of TV debates ahead of the 23 June referendum.

Leave.EU did not respond to a request for comment by the time of publication.