GRIMSBY – In the Lincolnshire port town of Grimsby, fish trimmer Daryll Horsley has had enough of Labour. More to the point, he says, the town has had enough of immigration. And the local population doesn't trust Labour politicians to deal with the issue.
"UKIP could definitely win in the area," the 22-year-old says outside a newly regenerated shopping centre in the town centre. "My dad's going to vote for UKIP, and he'll get my mum to as well.
"I think it's mainly because of work. People here think English jobs should be for English people. I work with a lot of Polish people and Iraqi people – well, not Iraqi but from that inclination – and they come to the UK and send money back home. I'd do the same. But people don't like it."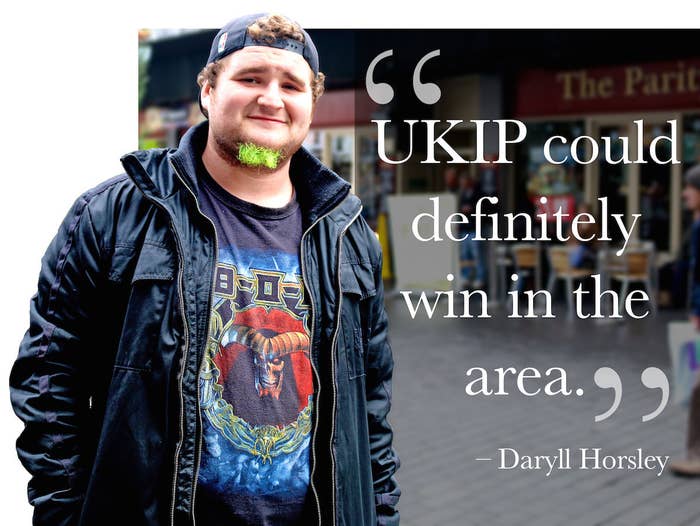 In 1997, Great Grimsby was a super-safe Labour seat, the sort of constituency that formed the bedrock of the party's electoral success that year. But in 2010, following years of decline, it came close to being taken by the Conservatives.
When Lord Ashcroft polled the constituency in May this year, after the Tories' 2010 candidate defected to UKIP, Labour was at 38% and UKIP was in second place at 26%. Since then, if local opinion has followed national polls, the gap has probably closed.
The real threat to Labour is now posed by Nigel Farage's party, which views Great Grimsby as a potential breakthrough seat, aided by fear over immigration and the personal unpopularity of Ed Miliband.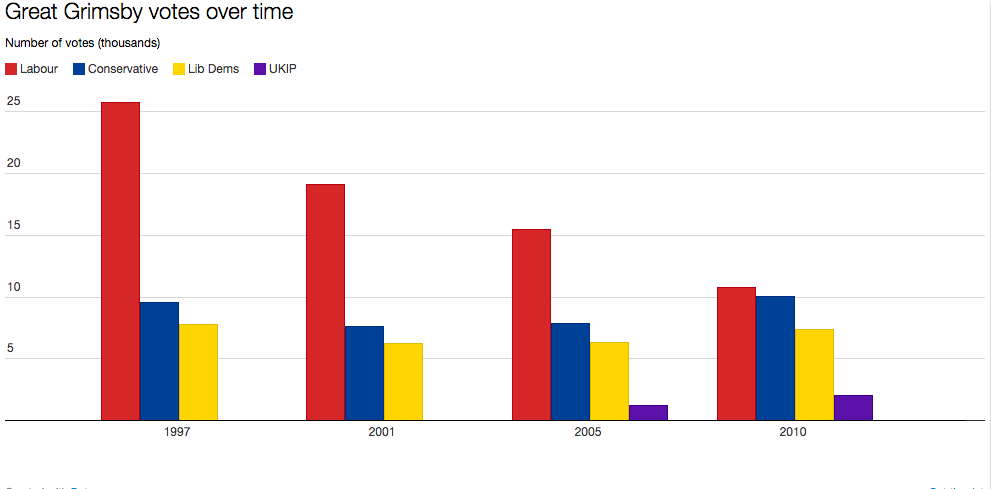 Out on the campaign trail, Labour's parliamentary candidate, former union employee Melanie Onn, admits she's got a challenge on her hands to keep the seat. Are Labour voters defecting to UKIP?
"Obviously," she says. "They don't know what to believe because they get a lot of propaganda from the parties, and they don't think that Labour stands for the same socialist values it used to. ... Everyone's asking me if I'm worried and I am a bit, but not overly so."
Her honesty is surprising, I tell her. "Have I gone against the party line? I don't see a point of denying that we're losing voters. We can only tackle the problems once we admit it. And we have a lot to say. We can't ignore the elephant in the room, for example, which is the economy."
Onn, 35, was selected as the party's candidate in July this year to replace the incumbent Labour MP, Austin Mitchell, who is stepping down after 38 years in the job.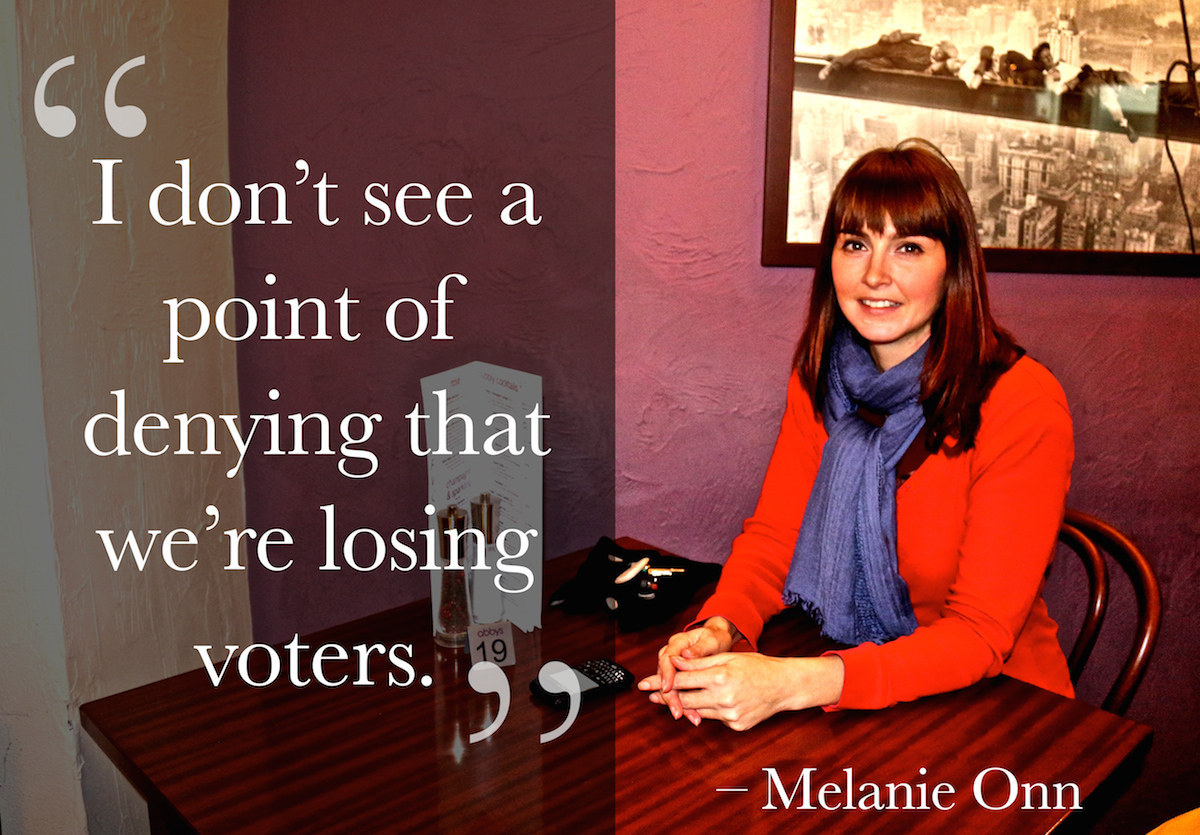 Mitchell, a former TV presenter who once changed his name to Austin Haddock by deed poll to promote the local fishing industry, has repeatedly flirted with UKIP. He's not been the most enthusiastic backer of his replacement, who was selected through an all-woman shortlist of potential candidates, which to Mitchell's mind was imposed upon the local party "by the metropolitan elite" who run Labour.
In next year's elections, Great Grimsby will be UKIP's most favourable northern constituency.
When I ask Onn if Labour will definitely win Great Grimsby in six months' time, she takes a moment to think. Seven seconds later she replies, but doesn't say yes.
"I feel very positive about the way the campaign's going at the moment," she tells me eventually. "I trust the people of Grimsby will make the right choice and I think that the right choice is Labour in the next election."
But Labour's candidate believes immigration should not be a fundamental concern in Grimsby.
"I think I've made the mistake in the past of asking voters if immigration [is a problem]," Onn says. "I will never do that again, because it's been in the media so much that they say, 'Yes, yes it is!' There are obviously impacts of immigration, but there is a reality in Grimsby that we are 96% indigenous white."
She pauses for a moment when asked how the party should stop voters moving to UKIP, and says: "What I refuse to do is move to the right on immigration, because I feel incredibly uncomfortable about it."
But in recent weeks, Onn has been forced to watch as Labour has been accused of trying to "out-UKIP UKIP", as shadow ministers Yvette Cooper and Rachel Reeves announced party plans to increase the number of border guards and stop EU migrants from claiming benefits for two years after they enter the UK.
On the doorstep, many voters agree with Horsley. They say promises have been broken and that it's not worth voting. Outside a Greggs in the town centre, Alan Wright, 78, says he's a Labour voter who believes "most politicians are going to line their pockets". And he doesn't like Miliband. "I don't know why," he says, "but I'm not happy with him." Tina Smith, 69, a former Labour voter waiting for her bus, agrees, saying: "Miliband is smarmy. He's like everyone else and won't keep to his word."
She thinks the party should be focusing on the real reasons why schools are full, or why there are long queues when waiting for an appointment at the hospital. It's "convenient to blame that on immigration", but in reality, she says, coalition policies are to blame.
Such as the deficit, I ask, hinting at Ed Miliband's blunder during his party conference speech in September when, during a 65-minute notes-free speech, he forgot a key section on the economy. "Yes, like the deficit," she says.

"There's a question to ask," Onn continues. "Should it [the section Miliband forgot] just be a line? We have to have real answers to the questions that people have. Do we accept that countries operate with a deficit or will we reduce it? … We must be seen to be tackling the deficit in an extremely strong way."
Onn passionately believes that more regeneration is possible, but after years of unfulfilled promises, many locals have become disillusioned with politics.
And it's clear that the area is suffering. While there has been some regeneration in the town centre, it hasn't gone much further than that. Barely a mile away, the local Labour party office lies in an area formerly known by locals as a quasi red-light district. Now, among the boarded-up shops, there's a quaint deli selling chutneys and homemade jams that would probably fit in well in east London. But the massage parlour a few doors down is still there.
Although Grimsby locals don't seem to have much time for Miliband, Onn says "people are much more concerned with what happens closer to home", although she's admits she occasionally had voters saying "Ed looks a bit funny" after the bacon sandwich incident.
And unlike the Labour leader, who sacked shadow attorney general Emily Thornberry after she tweeted about white vans, Onn doesn't have many emotions towards the vehicles: "No, I don't feel respect towards a white van."
She adds: "I think I can't bloody well see past you and your driving's crappy but… no, I don't really think that. I don't think anything. I just think there's someone going to work, as are most of the people that are driving but in different vehicles."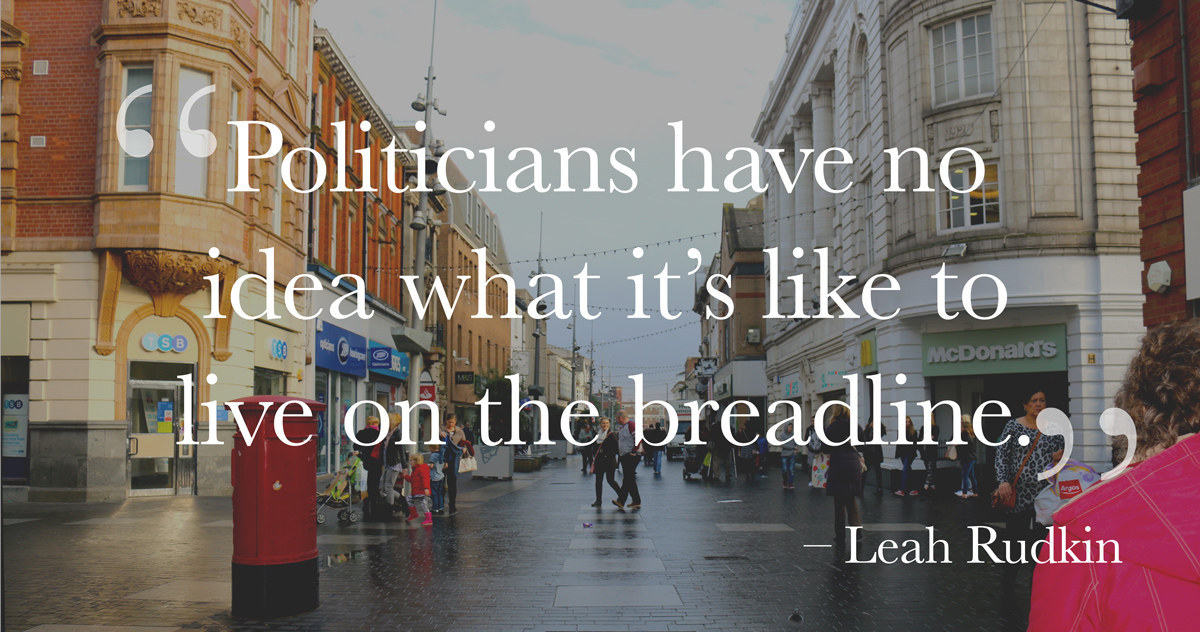 But even though there's disillusionment with the Labour leadership and support for UKIP, it seems Farage's party is still struggling to be trusted by most Grimsby voters. On the doorstep, a twentysomething resident tells Onn she hasn't decided who has her vote, but knows she won't vote for UKIP.
"Some of the agendas are quite frightening," the woman says. "Demonising people, blaming these things on Islam – it's a dangerous road to go down."
Another UKIP sceptic is 17-year-old Leah Rudkin, who works at a jewellery store. She pretty much agrees with all of the party's policies and says it could win in the area because it addresses issues a lot of people in Grimsby care about, such as immigration, jobs, and foreign aid. But she's concerned Farage will "mess things up. Don't they want to legalise handguns?" (They do.)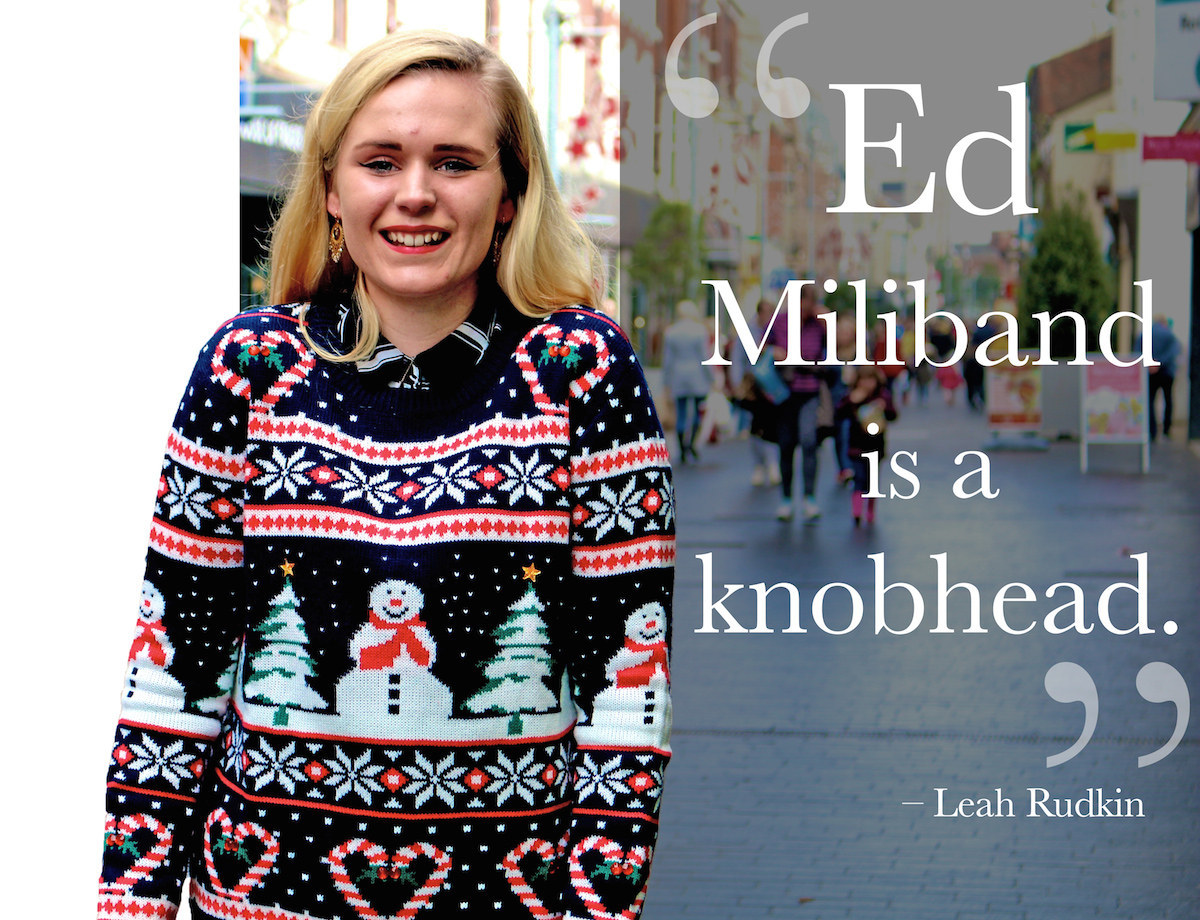 Rudkin says immigration has even affected the way she thinks about her future. She still wants to join the RAF and fight for Britain, but now she's not so sure. "I've seen comments like 'It's not your England any more' from the Muslims and that. I don't want to fight for people who are going to mess my country up."
She doesn't yet know which party will get her vote next year, but she does have strong views on some of the party leaders. Miliband? "Knobhead. He comes across as arrogant." Cameron? "He's the same. I don't think people who've gone to private school should be allowed to become politicians. They have no idea what it's like to live on the breadline."
More than anything, the deep disillusionment with all politicians could mean even UKIP's candidates are considered to be part of the problem by Grimsby voters. As Daryll Horsley, the fish trimmer, says: "It doesn't make a difference who you vote for. They're all the same. They want to take money away from poor people and give it to rich people."
Labour has to convince potential UKIP voters voters in places such as Grimsby that it can, and will, make a difference for them. Only then does the party stand a chance of forming the next government.