Jeremy Corbyn Spent His Saturday In A Santa Hat Raising Money For Refugees
He also roped a Game of Thrones star into singing "Silent Night" with him.
Jeremy Corbyn was spotted in Islington on Saturday wearing a Santa hat and collecting money for refugees.
As shoppers walked out of Morrisons in the Nag's Head shopping centre, they were surprised to encounter a familiar face.
While a traditional PR stunt for MPs typically involves going to a construction site somewhere in a hard hat and, most importantly, pointing at something, the Labour leader was spotted quietly singing and raising money for Oxfam.
Media were not informed of Corbyn's trip in advance. Instead the Labour leader decided to join his local Labour branch in Islington as they went out carol singing and raised money for refugees.
Corbyn has previously demonstrated that he believes the government should welcome more refugees to the UK. Hours after becoming Labour leader, he attended a "Refugees Welcome" rally in central London.
While out carol singing, he bumped into Finn Jones, who plays the role of Ser Loras Tyrell in Game of Thrones. Corbyn apparently roped Jones into singing with the group.
Sharing the picture, Jones said:
Just popped down to the local supermarket to pick up some washing powder and I get recruited into singing Silent Night with Jeremy Corbyn, he was out raising money for refugees with @oxfamgb ..Surreal and Hilarious. Great to meet the man and pledge my support for his claim to the throne! ✌🏼️💫
But if all you care about is seeing Jeremy Corbyn in a Santa hat, here's a close-up: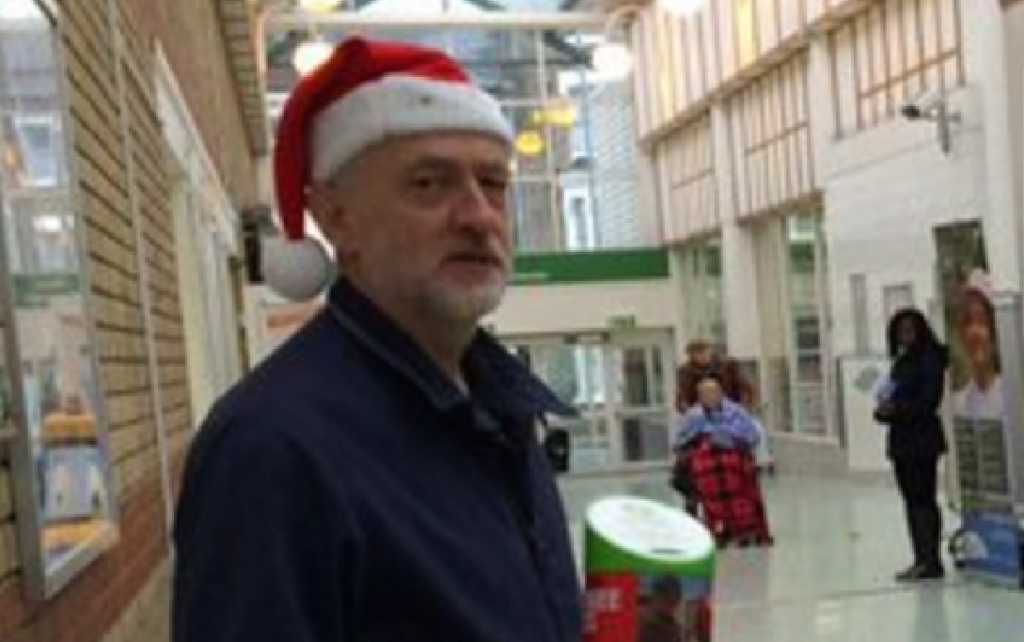 And actually, it looks like Santa Corbyn is an annual tradition.