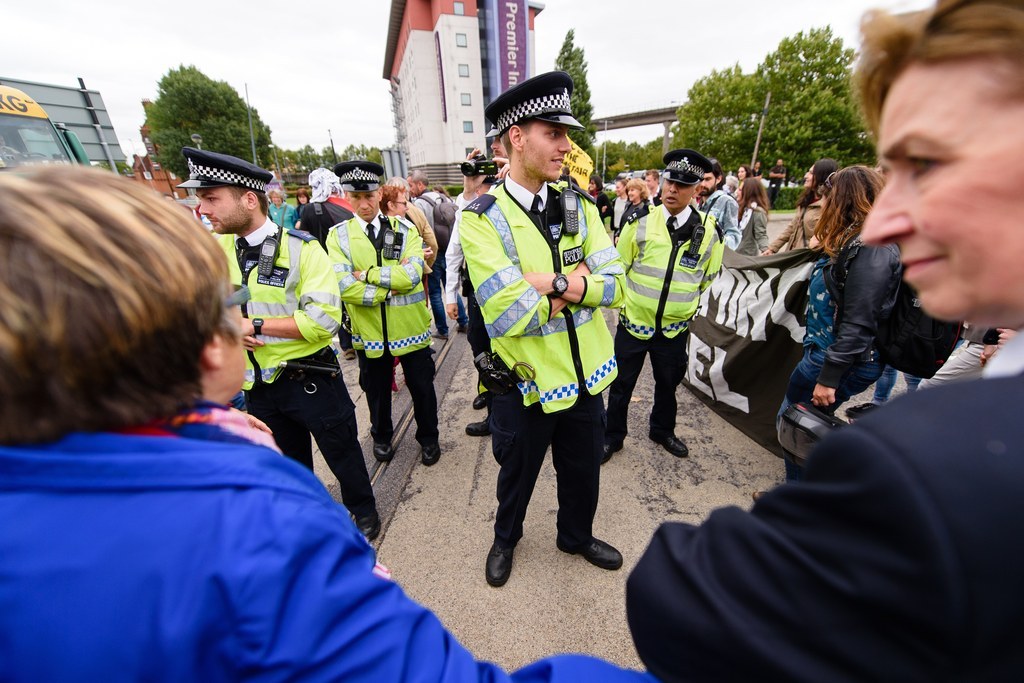 Police in England and Wales recorded a 43% increase in religious hate crimes in the last year, according to figures released on Tuesday by the Home Office.
A similar report released last October revealed that religious hate crimes had also dramatically increased in the previous year, by 45%.
This seems to suggest police forces have either become better at recording hate crime, victims may feel more confident to come forward and speak to police or, more simply, that there has been an actual increase in the number of hate crimes targeting people for their religion.
Under a table separating hate crimes by ethnic groups, the Home Office report says that "Muslim adults or those whose religion was coded as 'other' were more likely to be a victim of racially motivated hate crime (1.2%) than other adults (for example, 0.1% of Christian adults with no religion)".
The new figures are released as the prime minister is set to announce that Islamophobic, or anti-Muslim, hate crime will be recorded by police under a separate category, in line with the way that anti-semitism is recorded.
Police in England and Wales recorded 52,528 hate crimes in 2014/15, an overall increase of 18% compared with the previous year.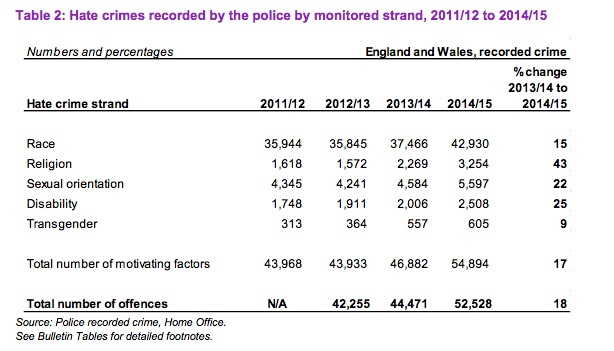 Recorded hate crime has continued to grow in recent years, with an increase in all strands. While religious hate crime has gone up by 43% in the last year, hate crimes motivated by disability factors went up 25%.
There was also a 22% increase in crimes motivated by victims' sexual orientation, a 15% increase in race hate crimes, and a 9% increase in the number of hate crimes motivated by transphobia.
The reason that the "total number of motivating factors" in the above chart is higher than the total number of offences is because certain crimes may have been motivated by more than one reason.
Race is still by far the main motivating factor behind hate crime, with a total of 42,930 race-related crimes in 2014/15.
The Home Office report suggests that the increase in racial and religious hate crimes could have been triggered by specific events.
Looks like there are no comments yet.
Be the first to comment!