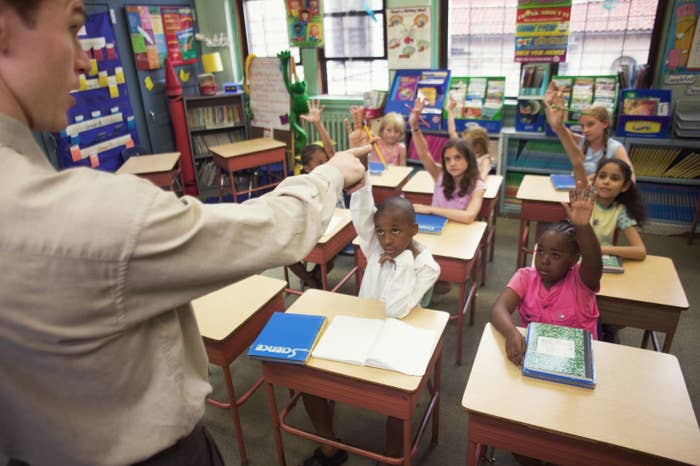 The government's controversial counter-terror strategy is violating the human rights of children in the UK and should be abandoned, a new report has warned.
Preventing Education: Human Rights and UK Counter-Terrorism Policy in Schools, published on Wednesday, said the policy has had a "chilling effect ... on inquiry and discussion" among young people, with Muslim students in particular concerned about freely expressing themselves.
The findings, which come from civil liberties group Rights Watch UK, are based on interviews with students, parents, school governors, and police officers as well as MPs and councillors.
The government's policy requires teachers, hospital officials, professors, and local authorities to report individuals they think are vulnerable to radicalisation. It has been criticised following a number of incorrect referrals.
The strategy is formed of two elements: Prevent, which is about preventing radicalism, and Channel, which is used to identify children at risk of being drawn into terrorism and develop a support plan.

The report reveals fresh cases of young people being referred under circumstances Rights Watch UK says are dubious and "on an entirely spurious basis".
In one incident, an 8-year-old boy from east London was referred to social services for wearing a T-shirt that said: "I want to be like Abu Bakr al-Siddique".
While Abu Bakr al-Baghdadi is considered to be the leader of ISIS, Abu Bakr al-Siddique – also known as The Truthful – is a historical figure believed to be a disciple of the Prophet Muhammad and an early convert to Islam.

The child was also reported for telling girls in his class that his dad has a "secret job" selling nail polish. His mother told Rights Watch UK her son made the claim because his father sells the cosmetic products on eBay.
Following the incidents, which took place in 2015–16, the schoolboy was questioned by social services about whether his T-shirt referred to ISIS. The report suggests staff asked him about the terrorist group "presumably on the basis of a misreading on the name on on the T-shirt".
The child's mother also told Rights Watch UK social services noted that her "children were exposed to an unusual amount of religious instruction as they went to Islamic classes after school and their grandmother taught them to read the Quran". The 8-year-old is now "reluctant to return to school", the report said.
In another case, a 16-year-old was flagged to Prevent staff after borrowing a book on terrorism from his school library last year.
His special needs teacher took the book out of his bag without his knowledge, according to the report, and his mother was later asked by anti-terror officers if he was being radicalised.
She questioned why the school stocked a book if children who wanted to read it were referred to counter-terror staff. "If a child isn't allowed to take out a book and read it, what do they have it for?" the mother asked in an interview with Rights Watch UK researchers.
The report also reveals more details about an incident in which a 17-year-old was referred under the Prevent duty for wearing pro-Palestine items, including a scarf and badge, to school.
Rahmaan Mohammadi, from Luton, also handed out leaflets about water shortages in Gaza and was told by teachers that his dress went against the school's uniform policy.
When police officers questioned him last summer, he translated the questions for his mother, who doesn't have a strong grasp of English, and was told to stop speaking in a language they didn't understand, the report noted.
He was then told that a large file which they had collected about him would be "brought up again" in case he did anything similar.
Rights Watch UK said this went against a series of human rights and said the collection of his data, without his consent, was an "interference with his right to privacy". The fact he was questioned after wearing pro-Palestinian clothing, the report said, was a "violation of his right to freedom of expression".
In its conclusions, the report stated that a series of freedoms, as enshrined by law, have been violated and recommends that Prevent and Channel are "repealed and abandoned".
"Fundamental rights to freedom of expression, freedom of thought, conscience, and religion, the right to education, the right to privacy, the freedom from discrimination, and the principle that decisions made with respect to children must afford their best interests primary importance, have all been violated one way or another," the report said.
The criticism comes less than three months after a UN special investigator warned that Prevent "could end up promoting extremism, rather than countering it".
The strategy has also been blighted by a series of incidents where children appear to have been incorrectly referred to anti-terror officers.
In one example last year, a nursery informed the deradicalisation programme about an incident in which a 3-year-old drew a picture of his father cutting a cucumber. Staff at the nursery misunderstood the child's description and thought he said "cooker bomb".
A government spokesperson said its counter-terror programme was about protecting children.
"Schools should be a safe place where young people can discuss any issue and develop the knowledge to see extremist ideologies for what they are and challenge them," the spokesperson said. "The Prevent duty is about safeguarding children from extremist ideologies, not about shutting down that debate — to suggest otherwise is just wrong.
"Our recent teachers' omnibus survey shows the impact of that with 83% of school leaders confident in how they should implement the Prevent duty. We have also published a range of advice and resource materials via our Educate Against Hate website."