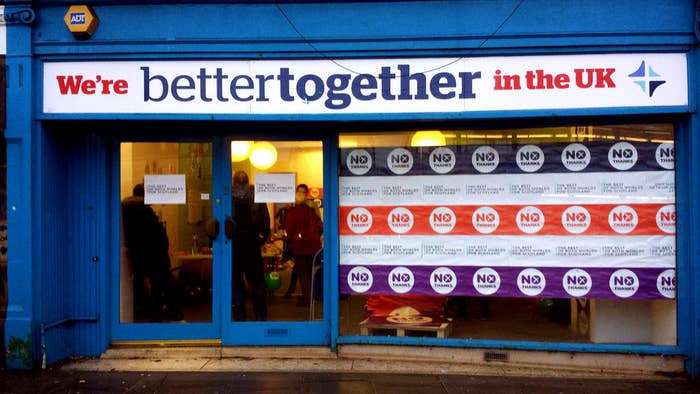 EDINBURGH – In the final hours of campaigning before Thursday's independence referendum, there was a quietly confident mood at Better Together's colourful Edinburgh-based headquarters. One volunteer even whispered to a colleague, "You know, I sometimes think it could be a right romp."
It marked a dramatic shift from only two weeks ago, when a poll showed that No had surrendered an incredible lead and was now only two percentage points ahead of the Yes campaign.
"I think we all know now that we got complacent," said Daniel, a 15-year-old who's been campaigning with Better Together since the start of the year. "Three months ago there would have been only three of us canvassing in Edinburgh. Last week there were 70."
And on this trip there were eight more who volunteered to go out in a last-ditch attempt to secure voters as the day's rain refused to budge. By the end of the night, each campaigner was entirely soaked, their trousers stuck to their legs, and their shoes leaking water.
But what makes a person leave the comfort of their home to knock on doors in the face an unrelenting downpour? Sixty-four-year-old Elspeth McClean, the only woman in the group, pointed to her family: "My father was in the army. I'm very Scottish but I'm pro-union. It's not just the negative stuff – I think we're better as part of the UK."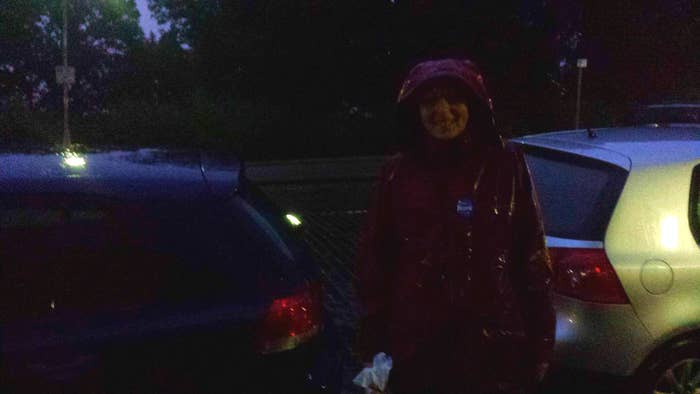 As Elspeth walked towards the next house she was set to target, Oliver, who was leading the group for the evening, looked into his binder, rain dripping down his round, Harry Potter-esque glasses on to his cheeks. Oliver was there to motivate, organise, and then thank everybody who turned up.
But his real task was to note down the data he was fed back from the volunteers: Was this family still voting No? What time would they be voting (so volunteers could go and remind them on the day if they forget)? And did they have a car they would mind using on the day to help ferry others around to polling booths? The data from all those canvassing in the day was collated by volunteers back at HQ between 9pm and 10:30pm.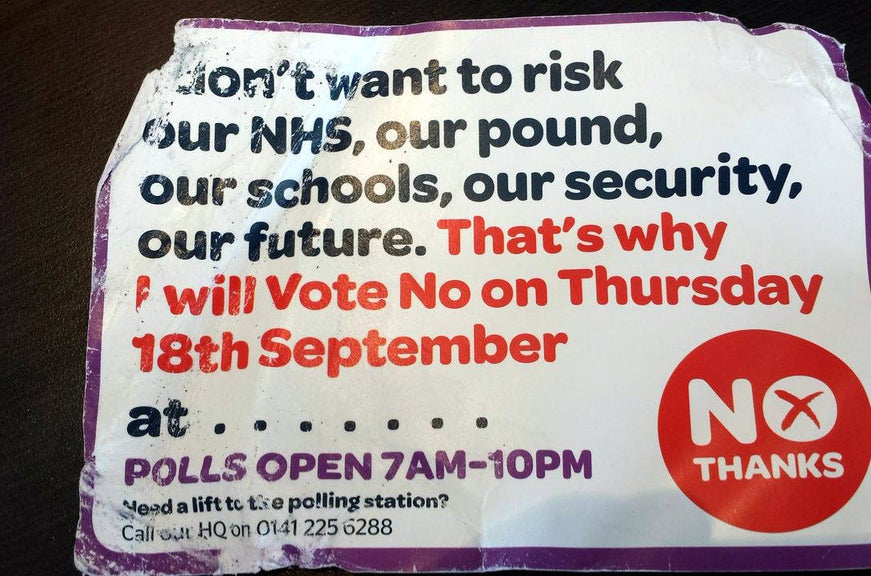 Better Together leaflets, slightly damaged by the rain, which campaigners hoped would be stuck on fridges across Scotland.
But even though he admitted to the campaign having become a little too cocky, Daniel said Labour had also failed to deliver. "We were counting on the Central Belt (an area between Glasgow and Edinburgh), where it's mostly Labour supporters. But it's them who're swinging across to Yes," he said, somewhat despondently.
"That's become a a real worry for us."
As we sheltered under a bus stop, a man wearing a Yes badge walked past. What's that like? "Awkward," piped up an activist wearing a striped, collared shirt, a red, gold, and green tie, and a tweed jacket adorned with medals. "We nod politely to one another on the street but this campaign isn't like any political campaign. There's a lot of bitterness on both sides."
He added: "I wear my former army uniform to show that I served my country. I fought alongside people from England, Wales, and Northern Ireland. Why would Scotland want to surrender its position to be in the periphery of Europe?"
A few voters were asked about their views before the group moved on. A couple behind us were snuggling while walking, as they tried to huddle under one umbrella. "I hate Scotland, I hate Scotland, I hate Scotland," the woman said in a Scandinavian accent. Someone in the group chuckled.
Back at HQ, there was a palpable awareness that Scotland will soon become a very different country. The volunteers knew nothing would ever be the same, whichever way the vote swings. Hours earlier, the local organiser gave a motivational speech to the canvassing activists: "Go out, meet people, and convince voters. Some haven't decided which way they're going to vote...after two years."
Tomorrow they'll find out.