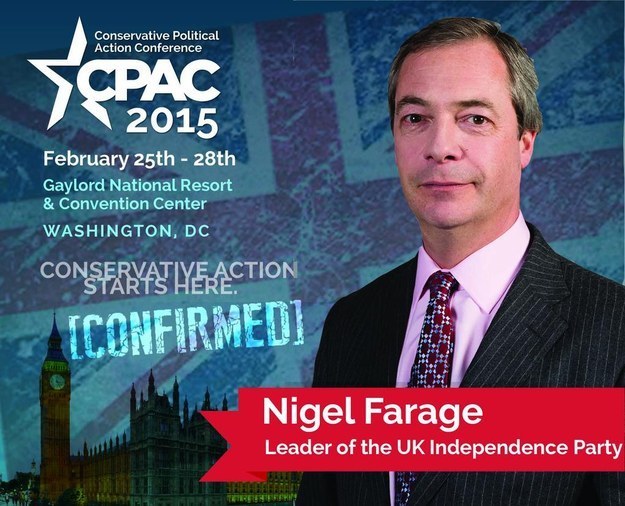 Nigel Farage will appear at a gathering US right-wingers near Washington, D.C., next week, where he will speak alongside such prominent Republicans as Jeb Bush, Sarah Palin, Ted Cruz, and Donald Trump.
The UKIP leader has been confirmed to speak at the Conservative Political Action Conference (CPAC), an annual gathering for right-wing conservatives, which is being held at the Gaylord National Resort & Convention Center in Maryland.
His appearance at the event comes despite Farage's recent insistence that UKIP is neither right-wing or left-wing but "radical" as it looks win over disaffected Labour voters. The UKIP leader has a dedicated following among US right-wingers and has regularly appeared on Fox News.
Matt Schlapp, the chair of the American Conservative Union, which hosts the event, told Breitbart News that Farage's message would "resonate with the activists and students attending this year's CPAC".
"As the incumbent leader of the Independence Party of the United Kingdom," Schlapp added, "Farage has been one of the most influential voices in the fight for a free democracy, promotion of free market capitalism, and defending the right of every citizen to support himself and his family."
Farage told Breitbart he was "excited" to speak at CPAC and meet the attendees:
I am very excited to be coming to speak to so many freedom-loving individuals at CPAC this year – and I consider it an honour to do so.

In Britain, we are fighting against the creation of a client-state, against rampant corporatism, against a career political class that services vested interests and has forgotten about the world outside of their cosy, Westminster bubble. I understand that in the United States, the fight isn't all that different.

I look forward to meeting attendees and guests, and discussing how together, we can refuse to simply 'manage decline' and how we can alter the trajectory of our once great nations.
There are a number of potential presidential candidates speaking at CPAC.
Others confirmed include Rand Paul, Rick Santorum, and Fox News host Sean Hannity.
In September, Farage visited the US and told Breitbart that conservatives needed to "reclaim our [Republican] party".