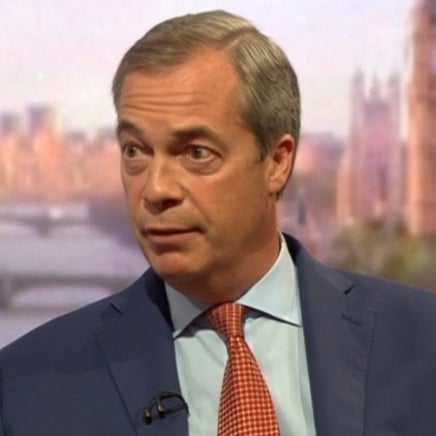 UKIP leader and leading Brexit campaigner Nigel Farage was today accused of being "reckless" after he said he wasn't worried if the value of the pound fell if Britain votes to leave the European Union.
Farage has also come under criticism after he refused to back down on a policy to ban migrants who have been diagnosed with HIV from coming to the UK.

Speaking on BBC1's Andrew Marr Show on Sunday, Farage hit back at arguments that the British currency would take a hit if Britain withdrew from the EU, and said he wasn't concerned about a weaker pound because it would help British exports.
"Sterling is up since March," Farage said. "Since Brexit became a possibility, sterling is up and the FTSE is exactly the same level it was in March.
"Even if sterling were to fall a few percentage points after Brexit, so what? The point is we have a floating currency and it would be good for exports."

Farage's comments come shortly after a team of independent economic analysts warned that the value of the pound could fall as much as 30% if the UK were to leave the EU.
MPs campaigning for Britain to remain in the EU immediately criticised Farage. Labour MP Rachel Reeves, a member of the Treasury select committee, said: "The reckless Leave campaign are relaxed about the pound falling, which would mean prices rising and jobs lost.
"Nigel Farage's Leave campaign does not have working people's interests at heart. They are complacent about another recession and the pain that brings for working families."
The official Stronger In campaign also responded by creating a new online poster within an hour of the remarks.
Speaking on the same programme, David Cameron slammed Farage's comments. "I'll tell you 'so what'," the prime minister said. "If the pound falls, that means the prices in our shops go up, the weekly shop costs people more, the family holiday costs people more.
"Outside the single market, the air fares will cost more. These are all risks we should avoid."
But it wasn't just Farage's comments about currency that caused a stir. The UKIP leader also defended comments he made in advance of last year's general election, when he said it would be a "good start" if the UK banned migrants with HIV from entering the country.
Responding to a question about his previous remarks, Farage said he wanted the UK to be a "normal country", adding that what he called "normal" countries "don't allow people to come into the country who would be a huge burden on the health service or anything else."

He added: "It's a national health service, not an international health service."
Farage said migrants should bring health insurance with them and that he backed a similar system to Australia, where migrants are forced to have medical checks before they receive visas.
Chris Bryant, Labour's shadow leader of the House of Commons, accused the UKIP leader of being an "odious dog whistler".