Nicola Sturgeon Becomes First Female First Minister Of Scotland
She was voted in as First Minister in the Scottish Parliament today.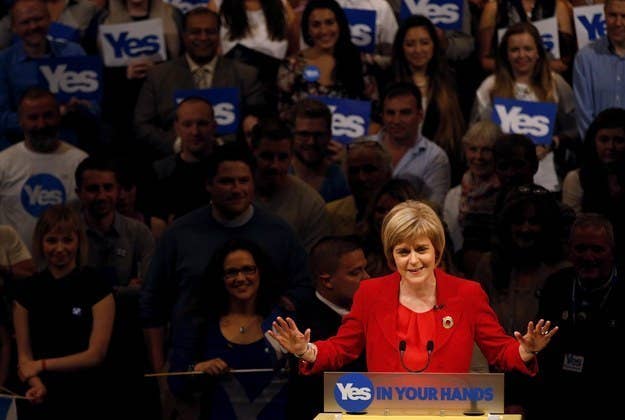 SNP leader Nicola Sturgeon was today officially voted in as the first female First Minister of Scotland.
Sturgeon, who last week replaced Alex Salmond as leader of the SNP, was elected first minister with the backing of 66 MSPs.
Although Sturgeon's election was a formality due to the SNP's majority in the parliament, Scottish Conservative leader Ruth Davison stood in order to force a vote on the matter. She received just 15 votes, while a further 39 MSPs abstained from the vote.
She promised to be "a first minister who will always have big ambitions for this country and a first minister who, day in and day out, will apply herself to the job of protecting our public services, supporting our businesses and tackling inequality."
"I am ready and willing to take on these responsibilities. There is a job to be done - a big job to be done, adding: "I look forward now to getting on and doing it," she added.
The position became vacant after former First Minister Salmond announced he would step down after the SNP-backed Yes campaign failed to win the independence referendum in September.
Salmond celebrated his last evening as first minister at the Scotland vs England football match in Celtic Park, although his night may have been ruined by a victory for the England.
The referendum campaign in Scotland has led to a surge in support for the SNP with the party seeing a huge number of people signing up to be members of the party.
It became the third largest party in the UK, by membership, in September. Membership of the party now stands at 85,000.