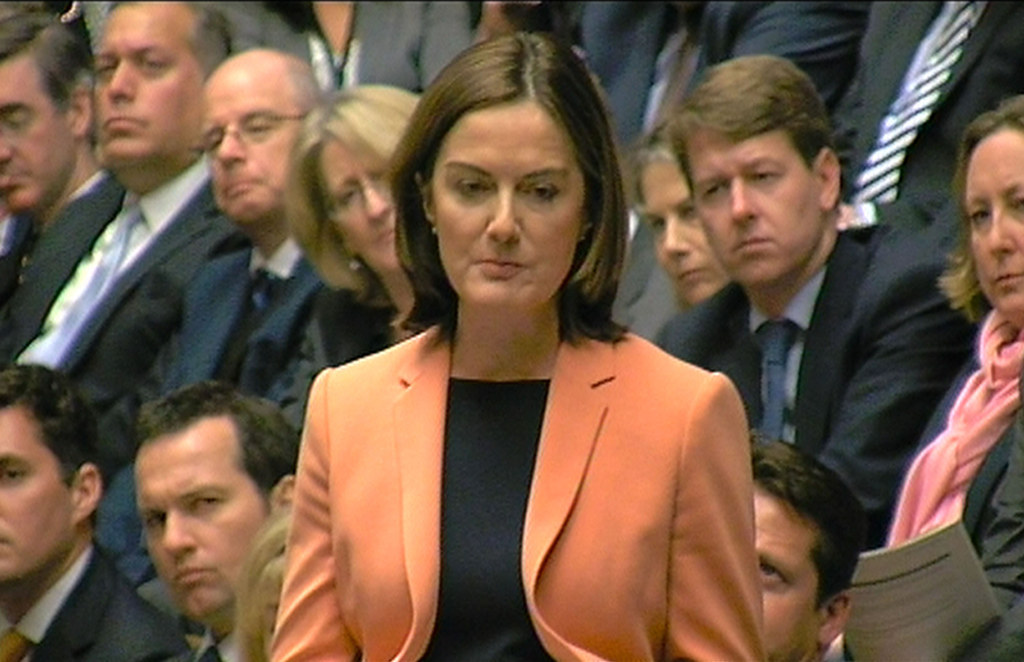 A Conservative MP has insisted that she "acted responsibly" after she added a death threat to a letter from a constituent in an attempt to showcase so-called abuse she had received in the wake of parliament's vote to launch airstrikes in Syria.
Lucy Allan, MP for Telford, published an email she received from a constituent on her Facebook page two weeks ago as a warning to others not to send her abuse.
In the Facebook status – which was later deleted – she said she received an email from a constituent who she referred to as "Rusty from Dawley". She said he ended his email saying that if she voted for war, "there is no hope. Unless you die."
But Allan has faced heavy criticism and was forced to apologise after it emerged that she doctored the email and added in the last sentence.
Now the Telford MP has defended her actions in another Facebook post, insisting "I have acted responsibly and within my duties as an MP and my rights as a citizen."
She used the post to deny claims that she had "invented fake death threats", although she admitted to "misleading" the public about exactly what happened. She simply "drew upon two anonymous communications", she said.
Allan said that while she did alter the email, her constituency office had received a death threat. West Mercia police confirmed to BuzzFeed News that it is currently investigating a "report of threats to kill ... left on a voicemail message".
The MP defended her actions and said that MPs and their staff are now getting abuse regularly, something that could dissuade people from getting involved in politics.
Without specifying which one, she said members of a political party were targeting MPs and said that "vicious cyber bullying seems to have become the stock-in-trade of certain elements of political parties and some campaigners apparently acting on their behalf."
The harassment of MPs has been a hot topic in Westminster this month: Labour leader Jeremy Corbyn and deputy leader Tom Watson wrote to members warning them that bullying was not acceptable within the party.
Allan defended her actions and said she responded in the same way anyone else would have reacted. "In reporting what I can only believe was a genuine death threat plus an unacceptable level of social media harassment to the police, I believe I have acted responsibly and within my duties as an MP and my rights as a citizen," she said.
This is the original Facebook post that Allan published on 30 November. Rusty Shackleford was quick to respond to her status and commented underneath her status to say that she added the last sentence.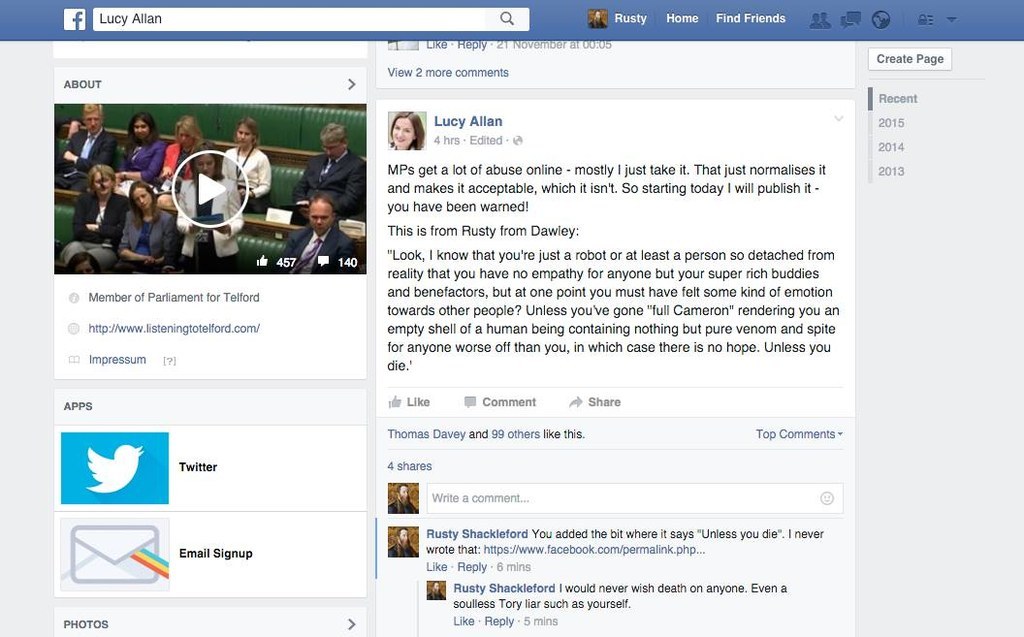 Shackleford also published the email he sent her and in a Facebook group said she "took a large chunk of my e-mail out of context and edited it herself to make it abusive".