Jewish Labour Members Furious That Momentum Will Hold An Anti-Semitism Debate On Shabbat
Labour MP Wes Streeting told BuzzFeed News it was a "complete disgrace" the group decided to hold the event on a day when many Jews would be unable to attend. Update: Momentum has now decided to start the event an hour earlier in the hope that observant Jews will be able to attend.
Jewish Labour members are furious that a Momentum branch has planned a debate on anti-Semitism on a Friday evening – during Shabbat – which means that many observant Jews would be unable to attend.

The event, hosted by the Haringey branch of the pro-Jeremy Corbyn group, also lists Jackie Walker – who was suspended by Labour for alleged anti-Semitic remarks only last month – as one of the speakers.
The irony of the debate being hosted on a Friday evening was not lost on Jewish Labour members.
Labour MP Wes Streeting told BuzzFeed News he was shocked that the Momentum branch decided to hold the event on Friday evening. He said: "Only Momentum could organise a debate on anti-Semitism on the left during Shabbat, when many observant Jews are unable to attend.

"It's a complete disgrace."

A spokesperson for the Jewish Labour Movement called the decision "insensitive".
"We would simply say that it's clearly insensitive for part of the Labour movement to hold a contentious debate on anti-Semitism on a Friday night, especially in an area like Haringey where many Labour members are orthodox Jews," they said.
The spokesperson added: "Nobody's saying that the debate shouldn't happen, but there are issues of good practice when it comes to dealing with minority groups, and holding an event in a way that disenfranchises a large group isn't a desperately sensitive thing to do."
A spokesperson for Haringey Momentum said: "We apologise for this oversight and are collectively discussing the possibility of rearranging the event."

Mike James wrote on the event page that the the decision to hold the event on Friday evening was "classic" – but Phil Rose, who is likely to chair the meeting, said the group did think about the fact it fell on Shabbat but said there were "limited time slots".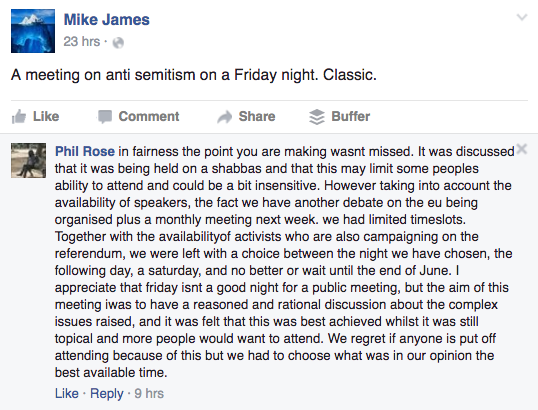 "It was discussed that it was being held on a shabbas and that this may limit some peoples ability to attend and could be a bit insensitive," Rose said under James' comment.
"However taking into account the availability of speakers, the fact we have another debate on the EU being organised, plus a monthly meeting next week, we had limited time slots."

He added: "We regret if anyone is put off attending because of this but we had to choose what was in our opinion the best available time."
Streeting has called on the party's leadership to do more to tackle anti-Semitism in the party, and the event comes after Labour suspended a series of prominent figures following controversial comments.
The whip was withdrawn from MP Naz Shah after a series of remarks she made before she became an MP were made public, and former London Mayor Ken Livingston was suspended after he made comments that appeared to suggest that Hitler was a Zionist.
The Facebook page for Haringey Momentum's anti-Semitism debate says the group wanted to hold the event to debate "whether anti-Semitism is a widespread problem amongst the left, whether this is an attempt to discredit Jeremy Corbyn and anti-Zionism, or if the truth lies somewhere in between".
Three speakers are listed as speaking at the event, one of which is Walker. A former vice chair of Momentum, Walker was suspended by the party after writing about the "African holocaust" in a conservation on Facebook. She also said Jews were "chief financiers of the sugar and slave trade".
The other speakers are Annie Cohen, an activist for Jewdas, a non-Zionist Jewish organisation, and Labour councillor Emine Ibrahim. According to Ibrahim's Facebook page, she called on Labour leader Jeremy Corbyn to suspend MP John Mann from the party after he called Ken Livingstone a "Nazi apologist" in a public spat.
UPDATE
The Haringey Momentum group has posted an update on Facebook and said it would move the event an hour earlier in the hope that any observant Jews who attend can be home before Shabbat.
Although a spokesperson said Friday is "the only workable date within a reasonable timeframe", it will now start the event at 6.30pm.
The group added: "We apologise if anybody felt excluded by the previous scheduling. That was certainly not our intention, since we would absolutely encourage people of all faiths and ethnicities to attend."