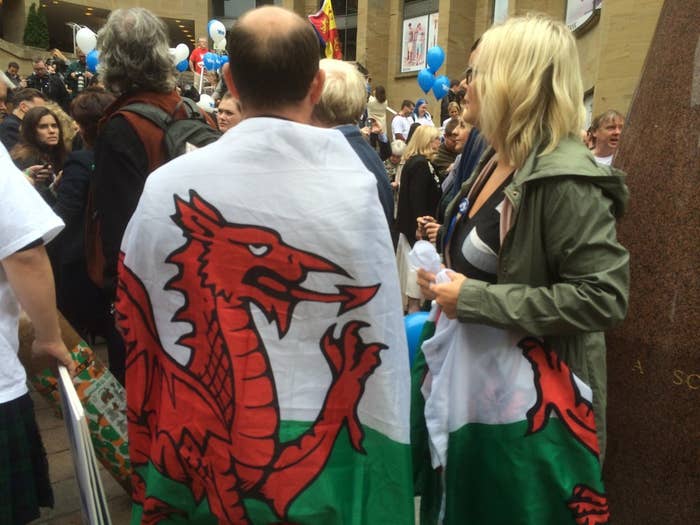 GLASGOW – Among the Scottish accents at today's pro-independence rally in central Glasgow there was a small group who would sound more at home in Cardiff than Coatbridge. These were some of the Plaid Cymru activists who've spent the last few weeks campaigning for independence in solidarity with the SNP.
"There's about a hundred of us up here," said Owen John Thomas, a former Plaid Cymru politician wandering around the crowd and handing out Yes stickers.
He and his fellow Welsh activists reckon if Scotland goes independent and gets more powers then they'll have a better chance of securing greater autonomy for Wales.
Next to him, draped in a Welsh flag, was Plaid's deputy chair Nerys Evans who had spent last week canvassing in the Govan area of Glasgow. She's gleeful at the extra powers Wales will be able to demand regardless of the result: "There's a movement and momentum in Scotland that, will changes Wales and the UK forever.
Meanwhile, Plaid Cymru MEP Jill Evans said she would be rejoining the Yes Scotland campaign this afternoon, after opening an office for the campaign in Edinburgh last week.
"There have been many, many people who have come up from Wales. We were there to support the campaign if the campaign wanted us to support it, and they did."
Evans said that it was not just politicians who had gone to Scotland to help in the campaign: "[Welsh individuals were] told we were welcome and we could help. For me, I work closely with colleagues in the SNP and so I heard from them that many Welsh people have gone up."