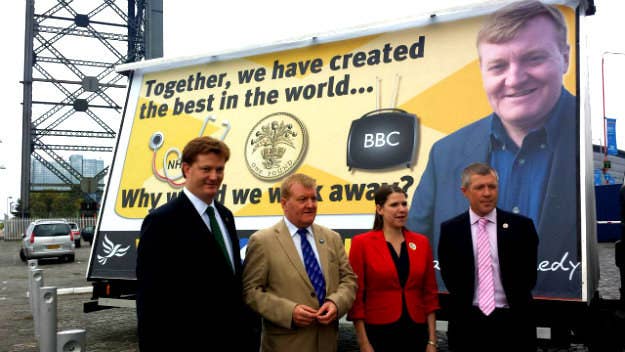 GLASGOW – The leader of the Scottish Lib Dems today accused SNP leader Alex Salmond of presiding over a "culture of intimidation" on the Yes campaign, and appealed to him to end such tactics.
Speaking to BuzzFeed News, Willie Rennie said: "There's an intimidation around [the Yes campaign] and we have been trying to appeal to Alex Salmond to clamp down on that. He'll have limited control over some of it but he's not even bothered to say to people to stop, and that is, I think, regrettable. We've condemned people who do it on our side."
Rennie said that many No voters have refused to publicly announce their political stance because of fears over the potential repercussions, adding: "There are sufficient numbers and sufficient experience for people to be much more reluctant to put posters up. But more are doing it now, because the UK matters to them and they're stepping out."
He was speaking to BuzzFeed News after appearing alongside fellow Scottish Lib Dem MPs Danny Alexander, Jo Swinson, and former party leader Charles Kennedy as Kennedy introduced a new poster van designed to encourage No voters in Thursday's referendum. The van will tour around Scotland in the lead up to the vote.
Speaking to a small pack of journalists, Kennedy said the things listed on the van – the pound sterling, the NHS, and the BBC – are achievements Britain can be proud of. "What do they have in common?" he said. "They were built without borders. And to put down artificial borders in this day and age, in the 21st century, is absurd."
However, Kennedy admitted later to BuzzFeed News that many pro-union Scots are worried about their future. "I quite understand, because the only thing that can be certain about a future if Yes wins is that the future is uncertain," he said. "And therefore that's going to cause anxiety amongst people."