Kirkcaldy may be the hometown of Gordon Brown, but the queue was around the block. It didn't quite reach the sea.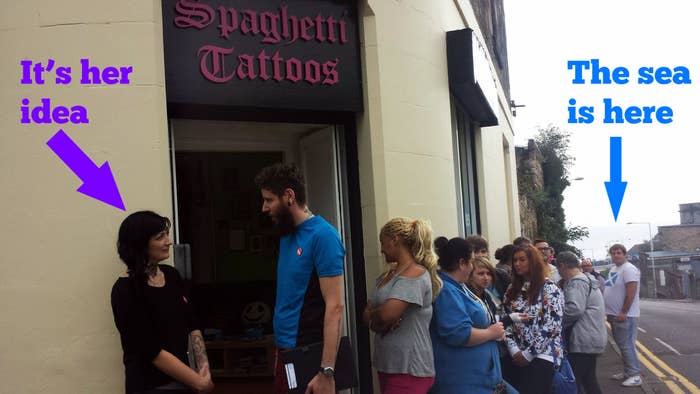 Wilson's a pretty staunch Yes supporter. There were Yes posters on the shopfront.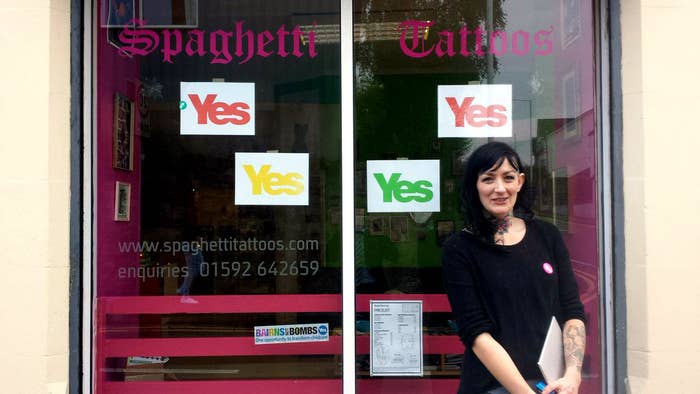 And behind the receptionist.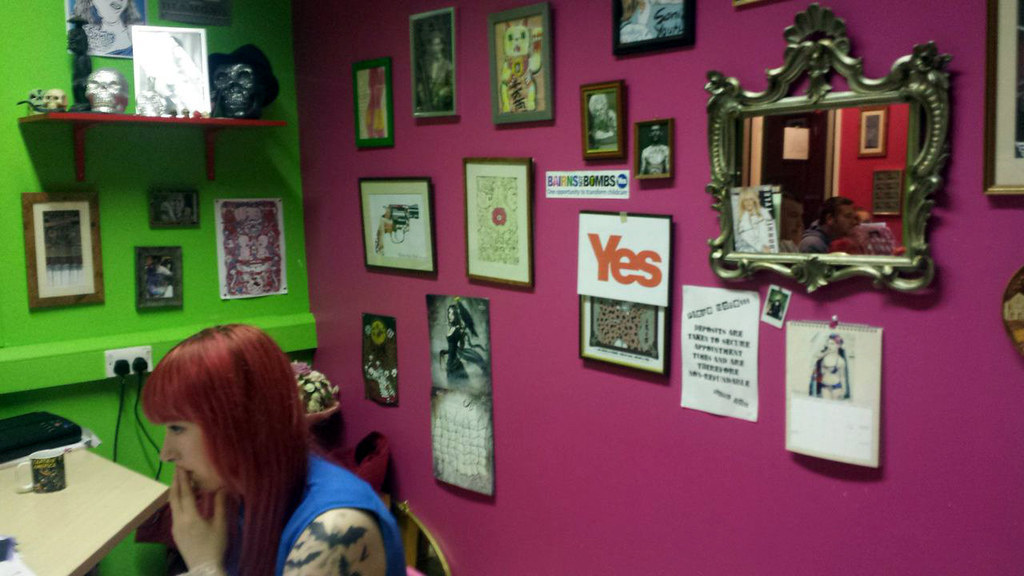 And you could only use the toilet if you were a Yes supporter.*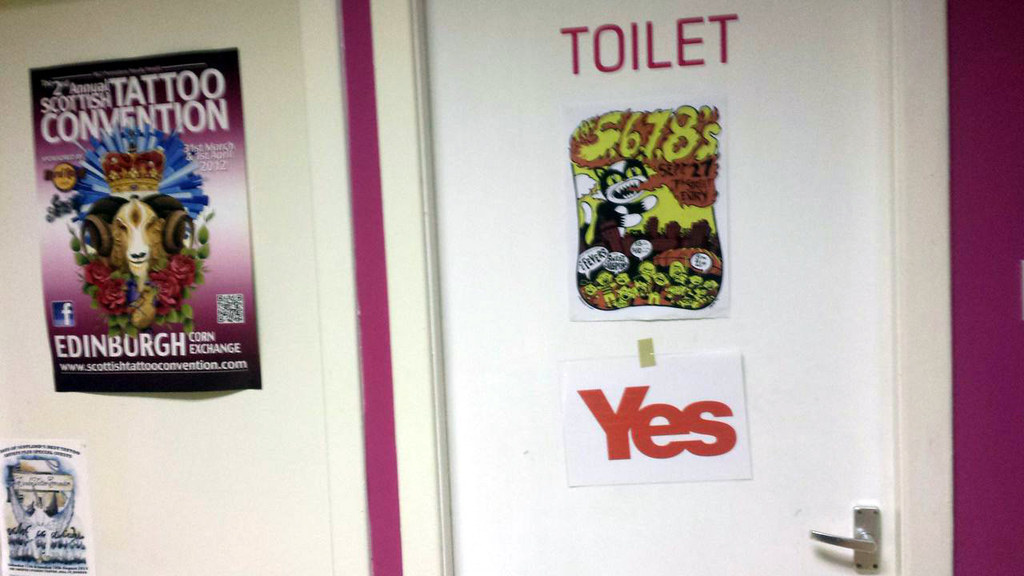 I nearly wasn't allowed in because a few people thought I was from the BBC when I started to take pictures while wearing a suit. They don't like the BBC round here.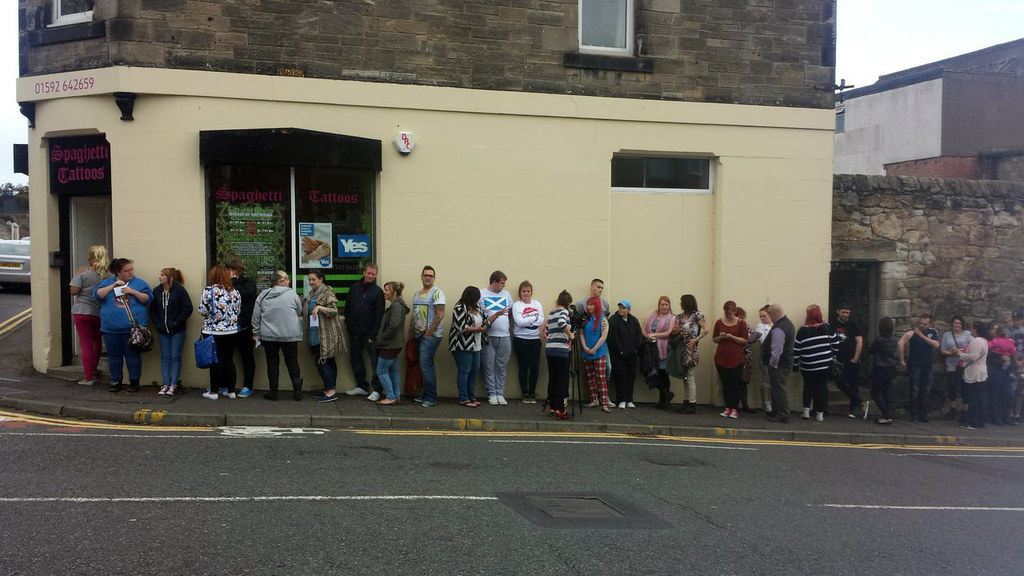 Her dad's from Belfast and thinks Scotland should be part of the UK. "He would probably disown me," she giggled to a chap who accompanied her. She had zero plans to tell her family about the tattoo. "We just don't talk about the referendum," she said.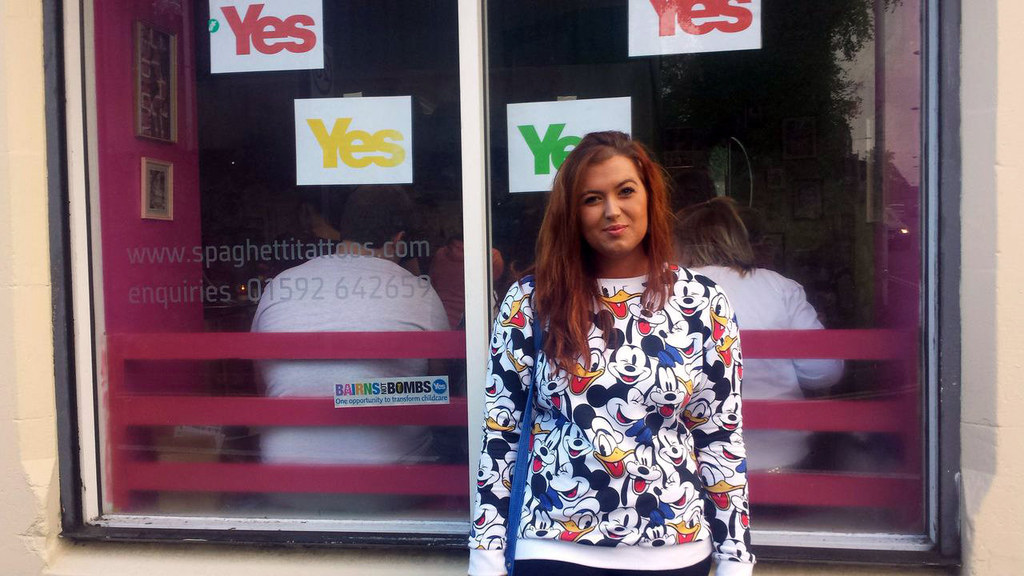 In fact, his entire family came in to get tattoos. Only his stepdaughter didn't get one. "I don't like the idea of getting the same tattoo as everyone else," she said. She initially lied to Alasdair and told him he was getting a birthday meal at McDonald's.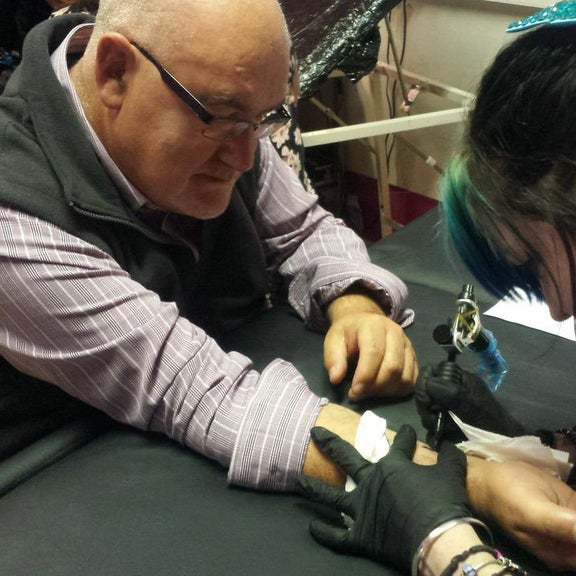 His wasn't the only family to come to the tattoo parlour together. Tracy Cunningham, 36, brought her two kids for a family outing to get inked together. FYI she's Scottish.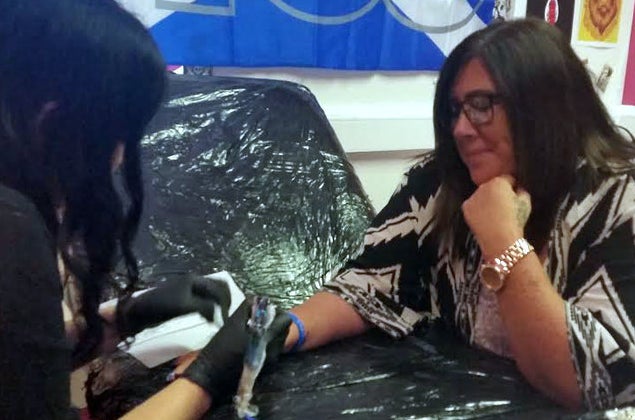 Then there's Wayne, who got an "Aye" tattoo. Meanwhile, you see that woman lying down behind him?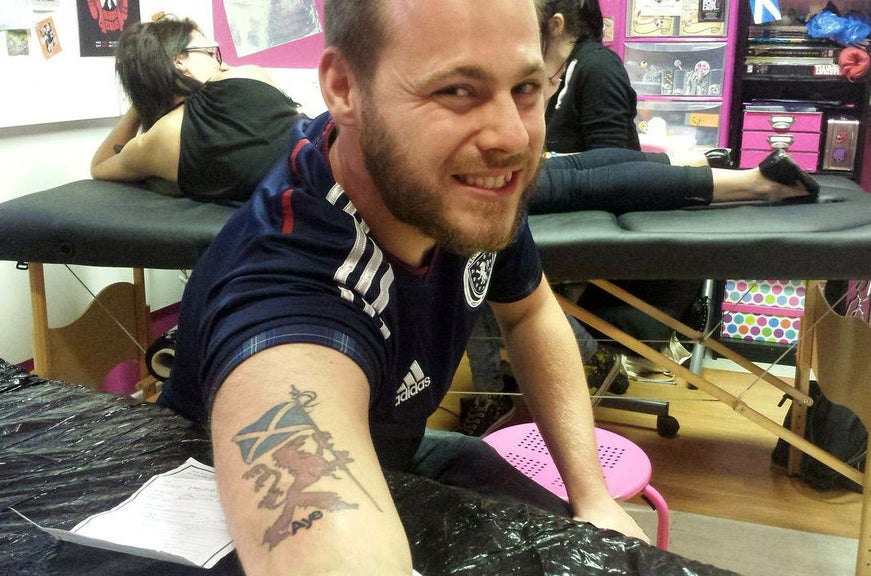 Well, this is the tattoo she got, on the bottom of her leg.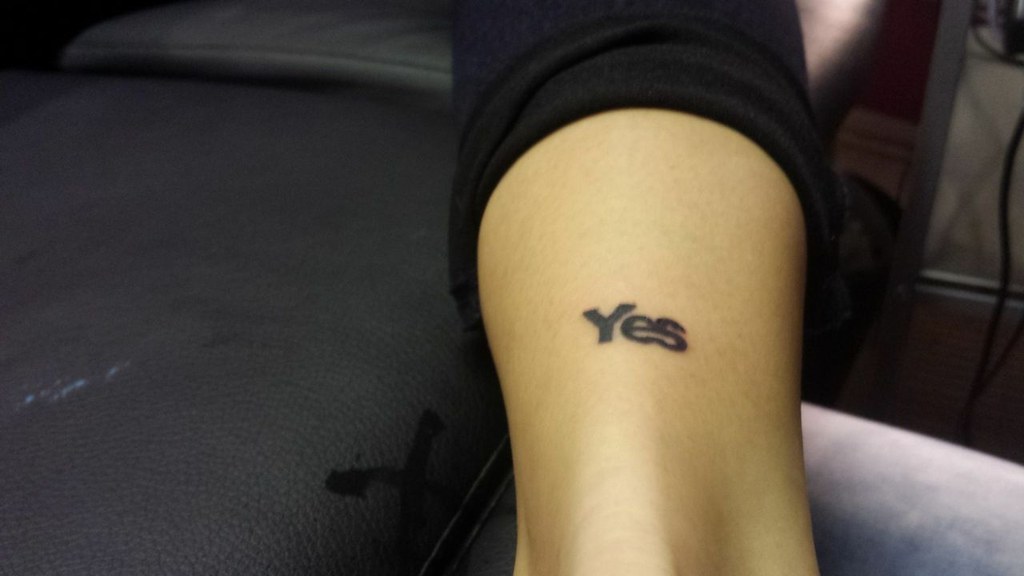 And here's Amy. Was she really passionate about an independent Scotland? "A wee bit," she said, without a hint of sarcasm.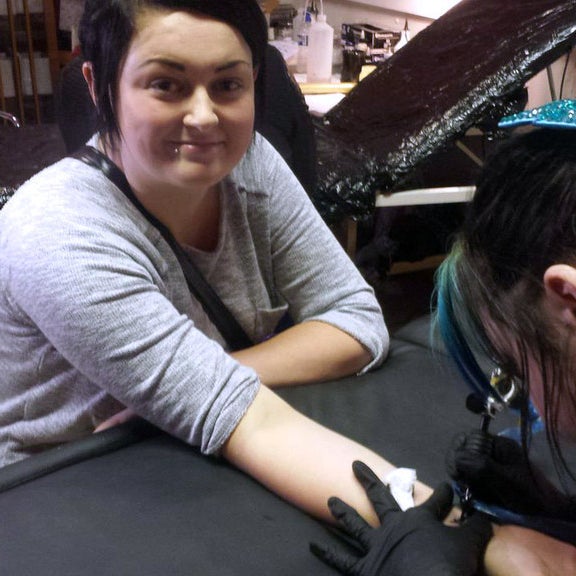 At one point things started to get really weird after a SECOND German news agency with a crew of basically a billion people* turned up to record the event. If you watched German TV last night you probably just saw Yes Scotland tattoos.
*The crew was actually five people but felt like a billion in the small room.
And a guy with this tattoo started hovering around the tattooing room too. Since he already had a very prominent tattoo showing his allegiance, he was just there to support the campaign.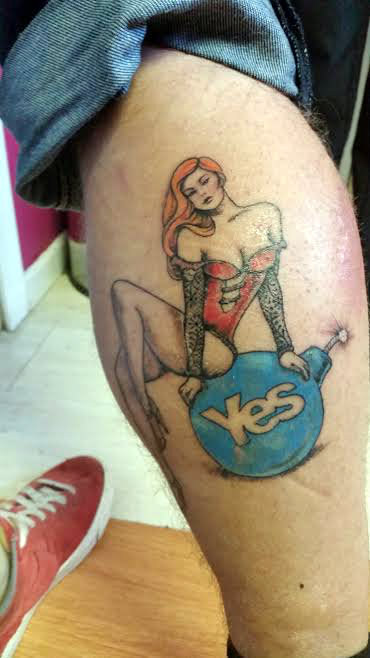 Ann Gillon, 23, is voting Yes because she's upset that Britain's Trident nuclear programme is based in Scotland and thinks the Scottish people should have a choice in the matter. She got the saltire butterfly tattoo.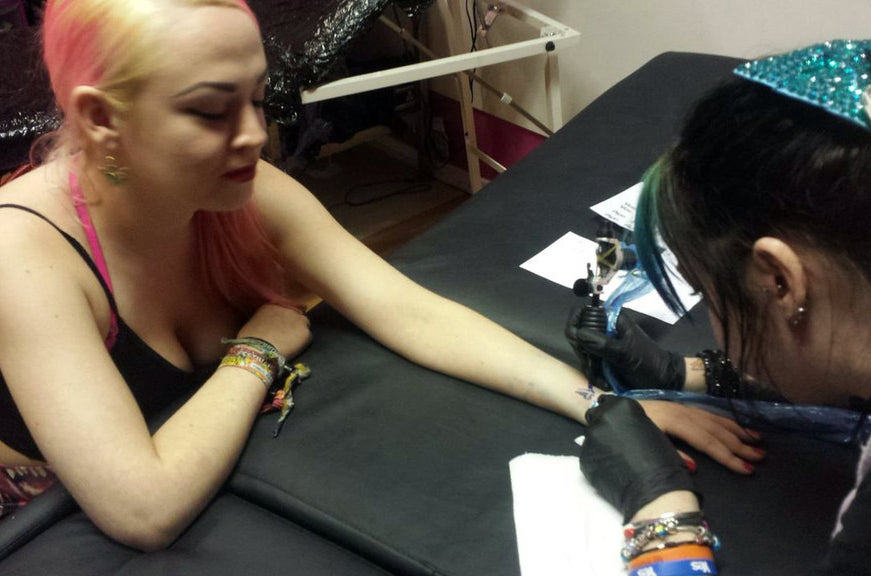 As did her boyfriend, Peter Anderson. They've both spent time at the Faslane Peace Camp, which campaigns for nuclear disarmament (although Ann had to remind him of that).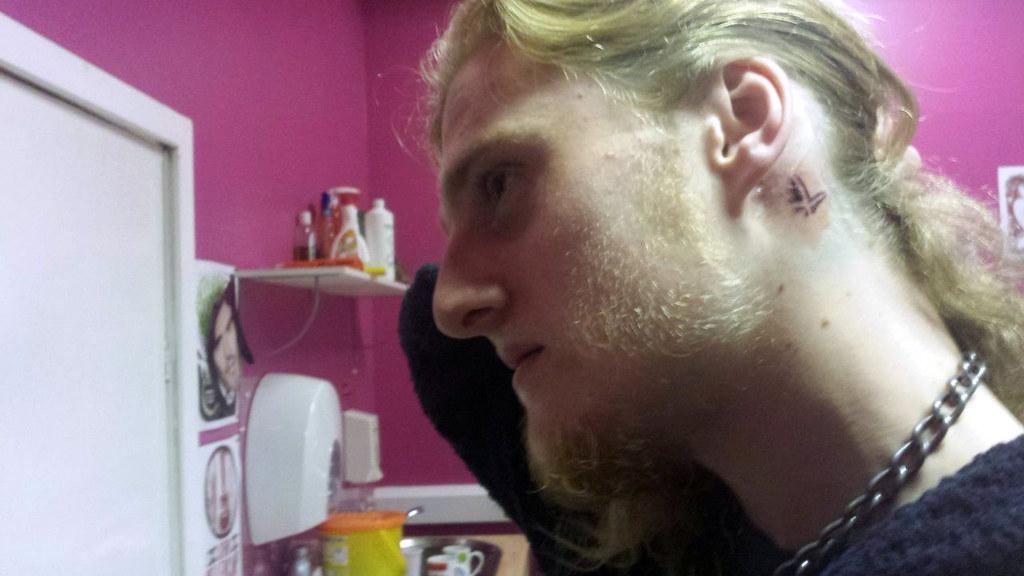 Rhiannon Kennedy, 24, who was helping out on the night, got her third pro-independence tattoo. She's had one tattoo each time the store held a similar event. She was nervous about Friday but pretty confident Yes would come out on top.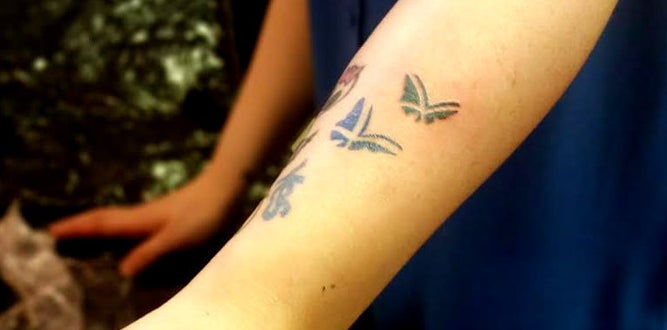 This was Julie's first ever tattoo: a plain and simple "Yes" to show support for the campaign.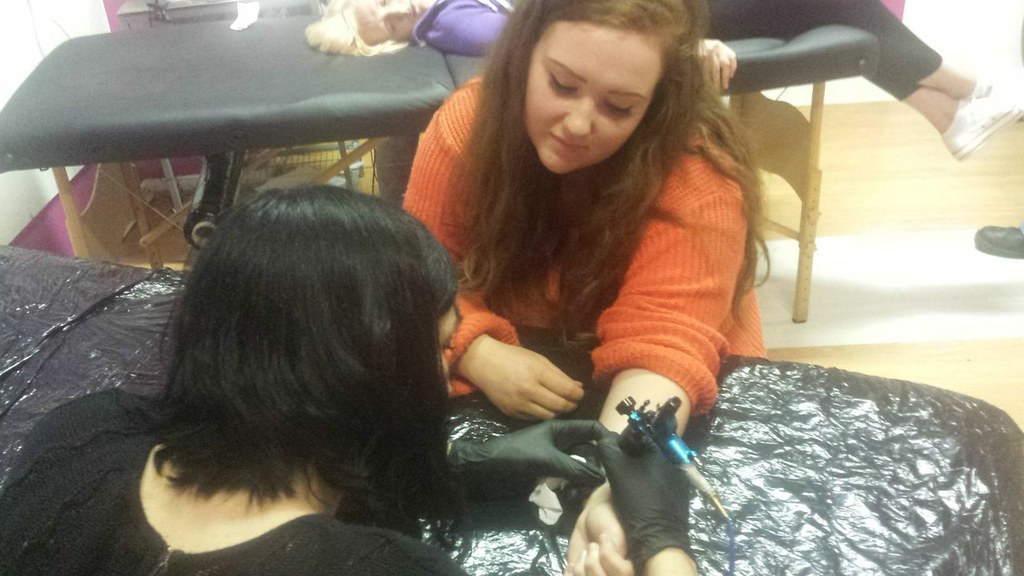 But while women were advised against tattoos that would have required them to remove their trousers or tops, men were more nonchalant about it all.
One guy, who didn't want his photo taken, got an "Aye or Die" tattoo on his chest, which is certain never to cause a problem.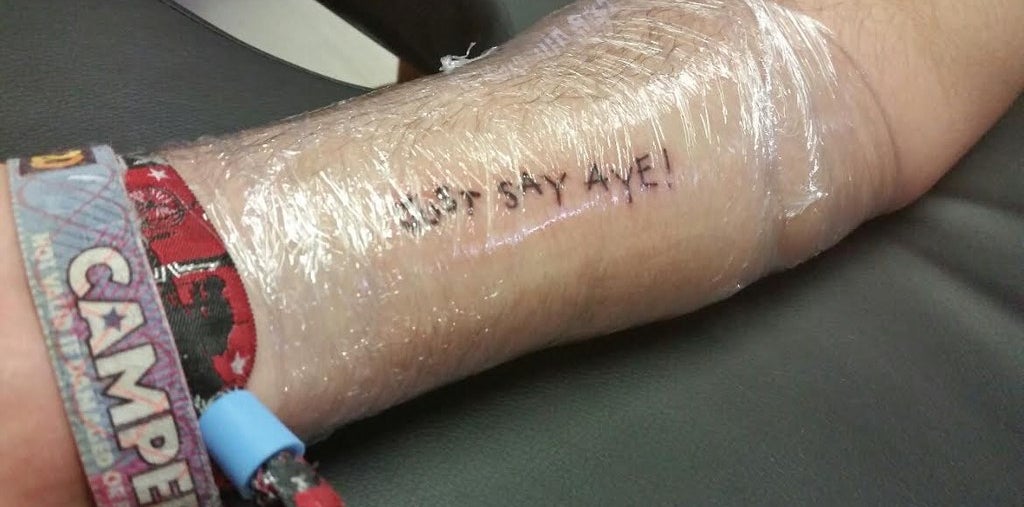 Kenny Karr, 42, reckoned the media is lying to the public and that polls he'd conducted in Dunfermline show the Yes campaign well ahead at 75%.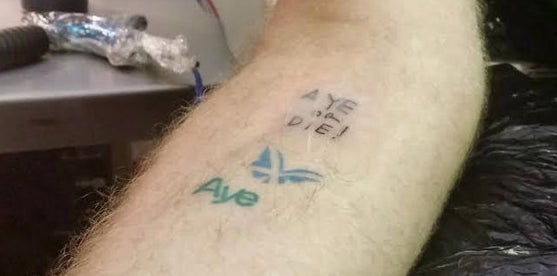 Three hours later, this is what a tattoo parlour where the staff have just inked Yes Scotland tattoos on to 77 different people looks like.