How Jeremy Corbyn's Allies Are Looking To Bernie Sanders To Inspire Their Pro-EU Campaign
The group will officially launch its pro-EU campaign tomorrow.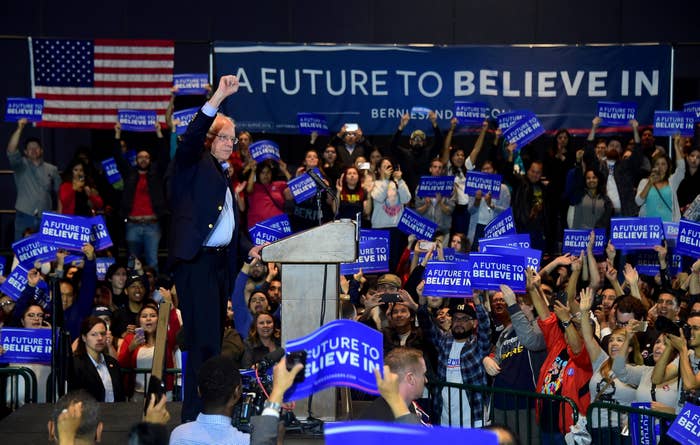 Momentum, the grassroots organisation that backs Jeremy Corbyn, will look for inspiration from Bernie Sanders as it seeks to mobilise its base of more than 100,000 activists to support the launch its pro-EU campaign.
The group will unashamedly look to Sanders' US presidential campaign with the aim of encouraging local supporters to take responsibility for projects in their area, a senior Momentum source told BuzzFeed News.
The Sanders campaign says it has seen great success in encouraging activist participation through face-to-face events, with a strategy of having local people talk to their neighbours.
"The wanky way of describing it is 'distributed organising'," the Momentum source said.
Under the plan, Momentum activists will hold an event in a town somewhere, perhaps a debate to discuss the referendum, and guests will be asked at the end about how to get involved. "If you have an event and then ask," according to the source, "they will be much more likely to do things: 'Yes, I will book a room for an event', or, 'Yes, I will be a canvassing coordinator to knock on doors here.'"
Both Remain and Leave have struggled to appeal to young voters. Only 21% of 18- to 24-year-olds said they were "very interested" in the upcoming referendum In a recent poll conducted for the Electoral Commission. That's against 47% of over-65s who said they were "very interested" when asked the same question.
The same poll said 59% of young voters were still willing to listen and would be more comfortable with voting if they had more information.
Ahead of officially launching its pro-EU campaign on Saturday, Momentum thinks it has a solution – at least as far as left-leaning voters are concerned.
"We're trying to take the debate away from Westminster and TV studios and give people tools to organise their own bits of the campaign," according to the source.

"That includes phone banks, debates, house parties, canvassing sessions, door-knocking, and street parties, so that they can reach other people and talk about the referendum and their own interest in ways that aren't defined by the Stronger In or Leave campaigns."

Momentum supporters around the country will also be able to download templates such as the one below for organising local events through a #YourReferendum website.
Although it will be fairly "rudimentary" at first, Momentum hopes individuals will "feed into and take from" the website so it becomes an essential campaign source.

With less than 30 days to go until the vote, there are three stages to its campaign. The first will last for about 10 days and will focus on two key areas: encouraging students to register, and mobilising activists in 120 local groups and among the 120,000 people on its mailing list to start organising events.
The next stage will rely on encouraging increased canvassing and leafleting with the aim of reaching groups beyond core Momentum supporters. The aim here, however, will still involve target left-leaning voters such as those who aren't impressed with the anti-immigration rhetoric on the Leave side. The final effort will largely revolve around relying on voters to make sure they vote on 23 June.
Momentum remained neutral on the EU referendum until last week, but that changed after delegates voted to back Remain at a meeting on Saturday.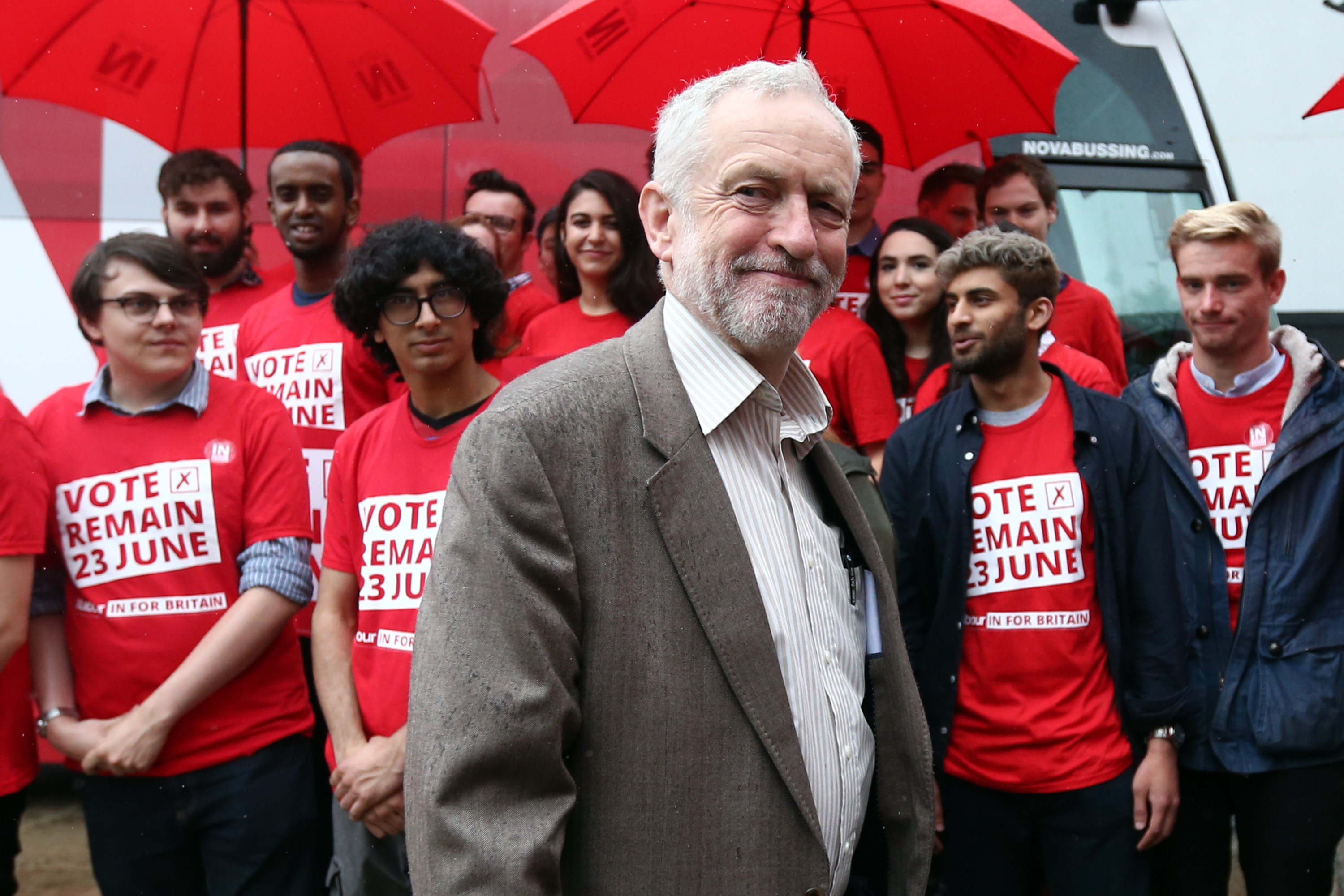 The group's active involvement in the campaign could prove to be frustrating for the Leave campaign, which is losing out to Remain in the ground battle, according to academics at the University of Kent. (Their methodology has been disputed by Vote Leave's campaign director, Dominic Cummings.)

Campaigners on both sides have made efforts to engage young people already.
Labour politicians have made trips to meet university students, while recent efforts by the official In campaign to get people "Votin" have been mocked. On the Leave side, students have been given condoms warning them that it's "riskier to stay in". But according to the polls, students remain disengaged.
In a recent interview with BuzzFeed News, Labour MP Alan Johnson, 66, admitted that young people will be "persuaded by fellow students" rather than people in suits. That's despite the fact that the youngest panellist on a BBC debate he took part in on Thursday targeting voters aged between 18-29 was a 54-year-old politician.
Unlike Momentum's campaign to support Corbyn's leadership of the Labour party last year, its EU campaign will look to stay clear of politicians and large events.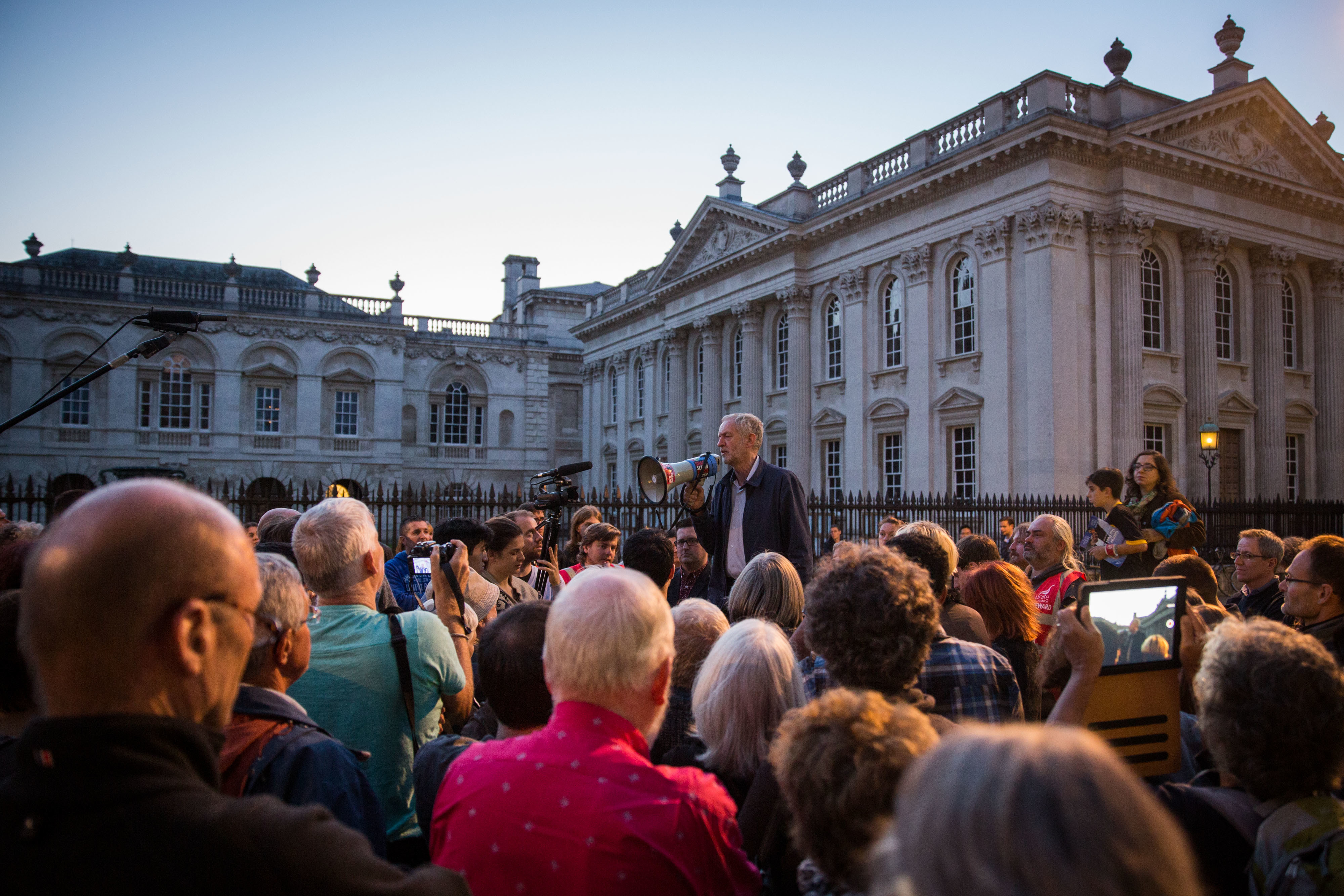 Instead, it will back an umbrella group for leftwing activists called Another Europe is Possible (AEP), which will host more formal events.
AEP will hold a rally tomorrow with shadow chancellor John McDonnell, Green party MP Caroline Lucas, and former Greek finance minister Yanis Varoufakis. Although the venue seats 930 people, almost 2,000 people have registered and will be forced to watch a live stream from breakout rooms, according to another source familiar with the proceedings.
The Labour party has no formal plans to work with Momentum but is unofficially backing the group's efforts. A Labour source said: "In another world, there would definitely be discussions about Momentum's involvement," but on this occasion, "it's helpful if they're targeting different groups or reaching groups we aren't."