George Galloway Is In Brighton And Wants His Labour Membership Back
The former Labour MP told BuzzFeed News that he wanted the party, under Jeremy Corbyn, to "rescind [his] unjust expulsion".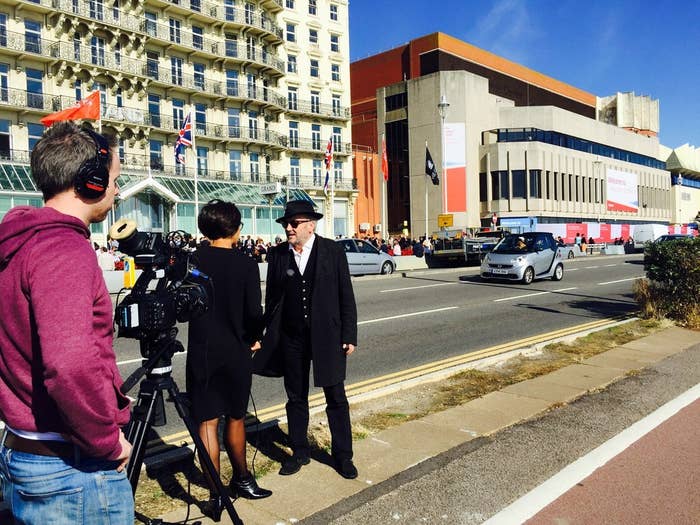 George Galloway would happily be a Labour party member again, the London mayoral candidate – and former Labour MP – has said.
On the beach opposite the Brighton Centre, where Labour is holding its annual conference, Galloway told BuzzFeed News that he wants the party to reinstate his membership.
"The Labour party must rescind my unjust expulsion, which was made during the [Iraq] war and which was opposed by Mr [Michael] Foot, by Mr [Tony] Benn, and by Mr [Jeremy] Corbyn, so they have to rescind my expulsion," Galloway said.
He believes that if his expulsion were rescinded, he would become a member again and would not need to formally reapply.
Galloway was expelled from the Labour party after his opposition to the Iraq war became increasingly vocal and he said that George Bush and Tony Blair had "attacked like wolves". He also said British army officers should not follow "illegal orders".
He subsequently joined the Respect party. In 2013 he was elected MP for Bradford West, but he was unseated in May after being defeated by Labour's Naz Shah, who accused him of running a "misogynistic, vitriolic, very dangerous" campaign.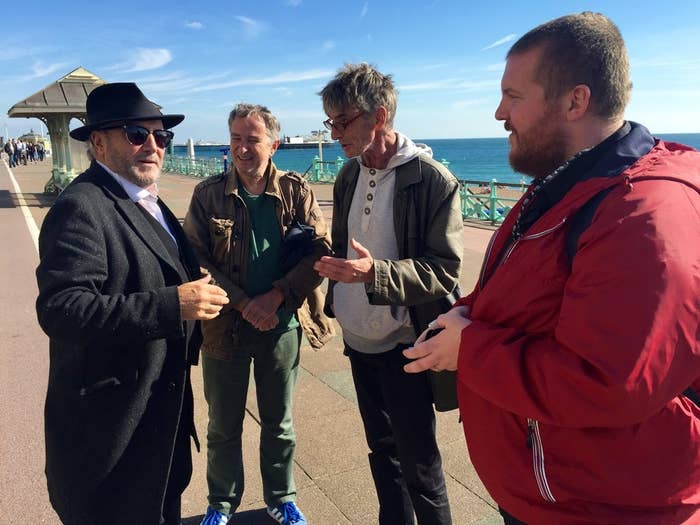 On the beach on Monday, Galloway was filming the final scene of a documentary about Tony Blair, although he kept having to hold his hat down because of the wind. The film's previous ending had "Blair killing the Labour party, so I had to rewrite it", the 61-year-old remarked.
A passer-by stopped Galloway, who is now running as a candidate in next year's London mayoral election, and said: "It's great someone's saying the things you say, because even if you agree or disagree, there's a whole parliament and they're two shades of the same blue."
Galloway said he wouldn't be attending any fringe events at the party conference although he would be having dinner in Brighton with cartoonist Steve Bell, who drew illustrations for the film.
The former MP is hoping to win over voters on the left who supported Labour candidate Sadiq Khan during the party's mayoral selection. He told BuzzFeed News that he saw the London mayoral role as his last political role.
"It would be a tremendous last job for me," he said. "It would give the opportunity to really make a difference in how London is run and how London is seen and interacts with the world. If I was the mayor, London would become the peace capital of the earth."