Former Lib Dem MP: "Same-Sex Marriage Was All My Idea"
"Neither Labour nor Tory have the grace to admit that same-sex marriage came from me...from my head to becoming the law," Lynne Featherstone said.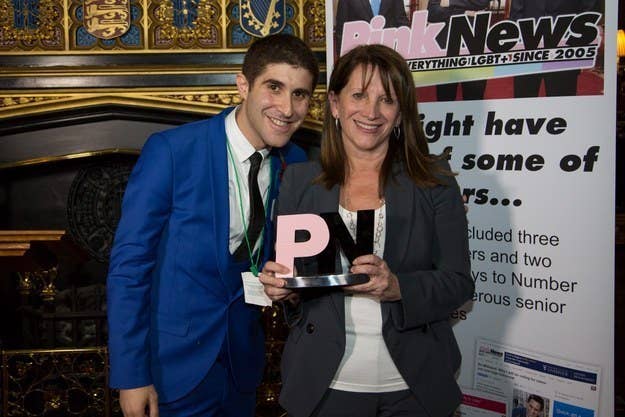 A former Lib Dem MP has been criticised for suggesting that same-sex marriage was entirely her idea, saying it went "from my head to becoming the law."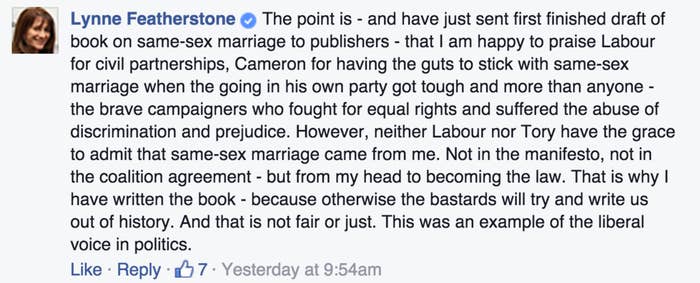 Same-sex marriage was legalised in the UK in March last year after the coalition government introduced a marriage bill that was backed by a majority of MPs.
But now Lynne Featherstone, who lost her north London seat in May and is now a Lib Dem peer, has said that David Cameron took "credit for [her] initiative on same-sex marriage" and called him "shameless".
She made the comments in a Facebook post that also referred to the Tory and Labour parties as "bastards" for not giving her proper credit. You can read the full comments here:
The point is – and have just sent first finished draft of book on same-sex marriage to publishers – that I am happy to praise Labour for civil partnerships, Cameron for having the guts to stick with same-sex marriage when the going in his own party got tough and more than anyone – the brave campaigners who fought for equal rights and suffered the abuse of discrimination and prejudice.

However, neither Labour nor Tory have the grace to admit that same-sex marriage came from me. Not in the manifesto, not in the coalition agreement – but from my head to becoming the law.

That is why I have written the book – because otherwise the bastards will try and write us out of history. And that is not fair or just. This was an example of the liberal voice in politics.
On social media, some people were unconvinced by Featherstone's claim.
One person suggested that Featherstone could take credit for other inventions, too.
But a Lib Dem spokesperson described Featherstone's comments as "100% accurate", adding: "It was in neither party's manifesto. She came up with the idea."
The spokesperson said that she passed on her idea to former Lib Dem leader and deputy prime minister Nick Clegg, who spoke to home secretary Theresa May before it was taken on by the prime minister. "Internally and externally, it's clear that it started from an idea that Lynne floated in the Home Office," the spokesperson said.
When pressed on whether they understood why some may be criticising Featherstone for claiming that same-sex marriage was from her head, the spokesperson clarified that it was probably not her aim.
"I really doubt that Lynne would ever have the idea that she was the first person to ever come up with the idea of same-sex marriage worldwide," the spokesperson said.