Donald Trump Says The UK Wouldn't Be At The "Back Of The Queue" Outside The EU
The presumed Republican presidential nominee's comments come a month after Barack Obama said the US would rather trade with a larger bloc of nations.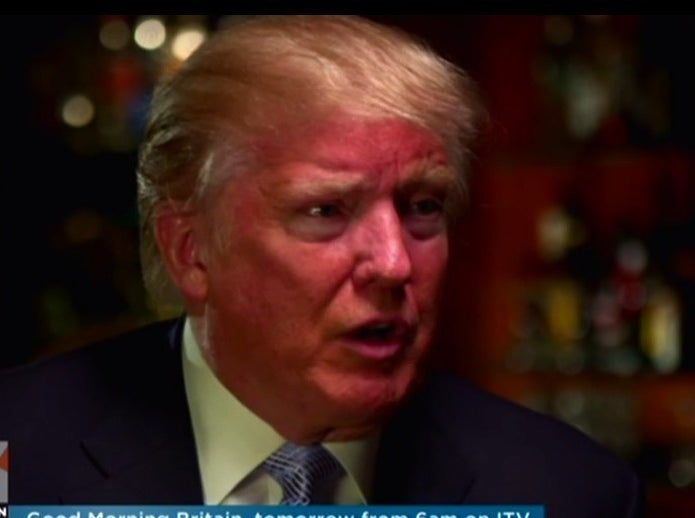 The UK wouldn't be at the "back of the queue" if it voted to leave the European Union, Donald Trump has said.

In an interview with ITV's Good Morning Britain, the Republican presidential hopeful rebuffed President Barack Obama's warning last month that a Leave vote would bring negative consequences for Britain's trading arrangement with the US.
Obama said that, given the option between trading with a large bloc of nations and an individual country, the US would rather negotiate the larger deal first.
But Trump, wading into the Brexit debate for the first time since becoming the Republican party's presumptive nominee, said he has "no preference" for whether Britain remains in the EU or votes to leave.
"It wouldn't make any different to me whether they were in the EU or not," the Republican said. "You would certainly not be back of the queue."
Trump also said: "I think if I were from Britain I would probably want to go back to a different system."
UKIP leader Nigel Farage was shown the footage of the interview on Peston on Sunday and praised Trump's "measured" response.
"It just goes to show Donald Trump is measured, neutral, doesn't want to get stuck into the punch-up," Farage said. "He's given a very diplomatic answer."

The UKIP leader said he had some concerns about Trump but added that he wouldn't vote for Democratic presidential candidate Hillary Clinton "even if you paid me".
He said: "If you put me up against a wall it would be [Trump] not Hillary, but I have reservations. Encouraging people to beat up protesters, one or two things like that bother me, but look, I tell you what, I think he's going to win."