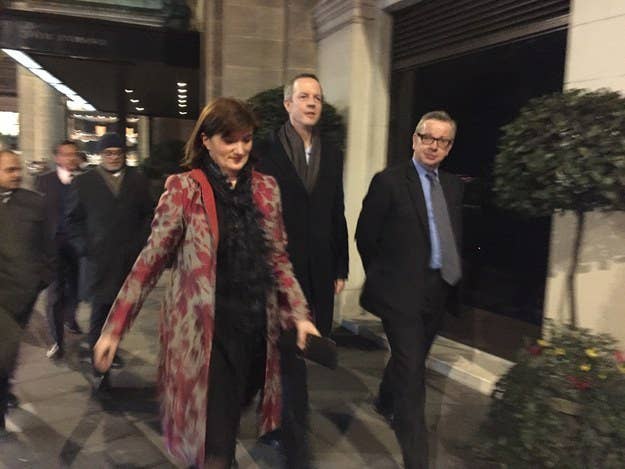 Conservative party donors at a fundraising dinner last night spent £220,000 for a week-long stay in a 17th-century fortress in Spain and another £210,000 for a statue of Margaret Thatcher.
Guests paid up to £15,000 for a table at the secretive gala dinner, which was hosted by the Tories at the five-star Grosvenor House Hotel in Mayfair.
In a bid to raise millions of pounds for the upcoming general election campaign, the party auctioned off a host of items, including a shoe-shopping session with home secretary Theresa May, a roast chicken dinner at home with chief whip Michael Gove, and a cup of tea with London mayor Boris Johnson, who promised to "enlighten and delight" guests.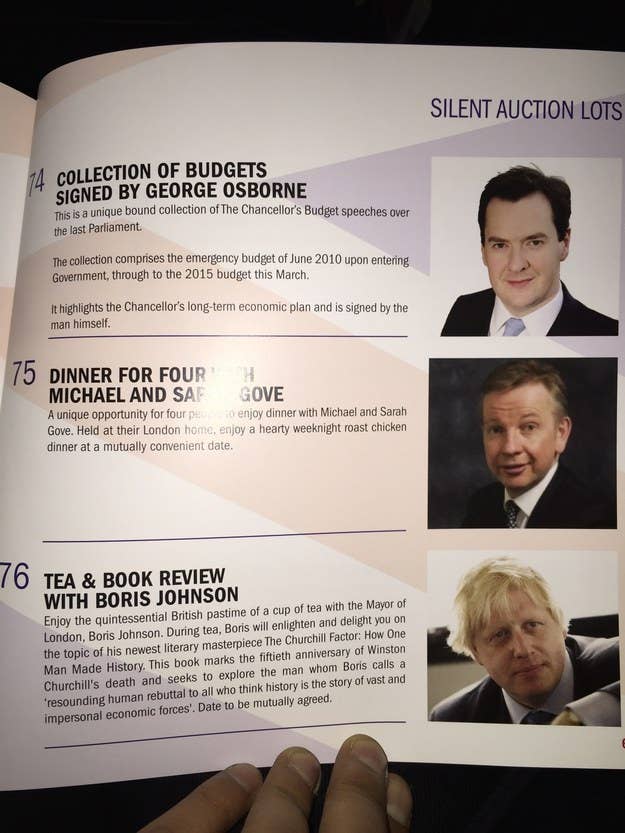 The guests could bid to dine at the Carlton Club with culture secretary Sajid Javid and his wife. The prime minister also offered to sign a copy of the party's 2015 manifesto once it was published.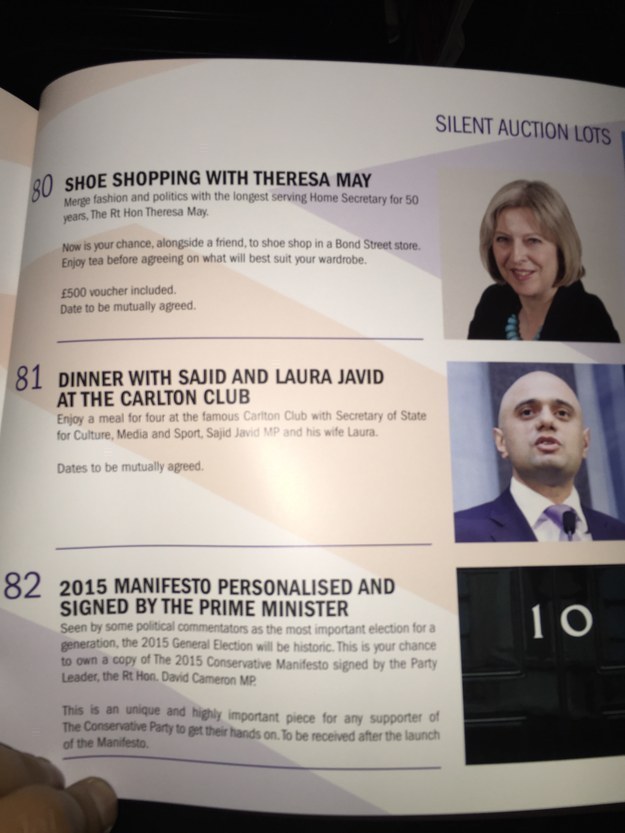 Those in attendance were also encouraged to bid for the right to compete with welfare secretary Iain Duncan Smith in a 10km "Endeavour" course — an Iron Man-style cross-country run.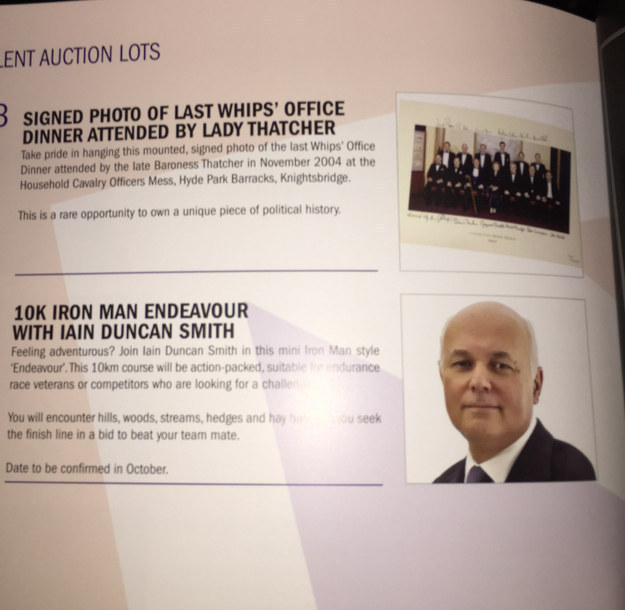 There was also the chance to have breakfast and go on an "early morning 5km run" with education secretary Nicky Morgan.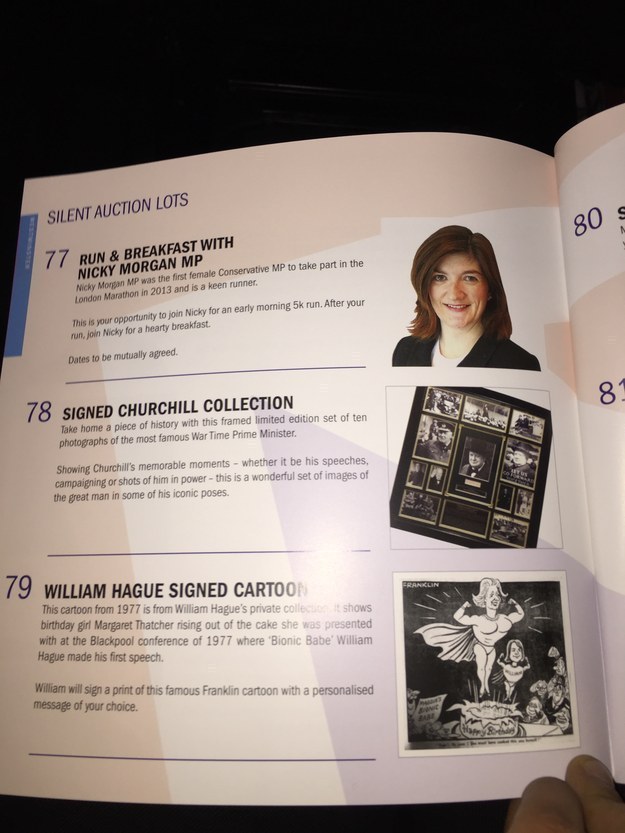 Guests could also bid on tickets for the premiere of Mockingjay – Part 2 (the next film in the Hunger Games series), the chance to have Michelin-rated chef Albert Roux come to your home and cook for eight people, and a host of holidays and breaks.
While some lots were sold as part of a live auction, the majority of items were sold silently, with guests given their own machines to bid on items.
Among the items sold in the live auction was a week-long trip for 24 people to the La Fortaleza estate on the Bay of Pollença in northern Majorca. The trip, which reportedly sold for £220,000, includes a 17th-century fortress with five bedrooms, five more houses, two swimming pools, and a helipad.
A small bronze statue of Margaret Thatcher reportedly sold for £210,000. It portrays Thatcher in 1990, during her final term as prime minister.
The auction items were listed in a brochure Conservative press officers tried to keep away from journalists, including those from BuzzFeed News.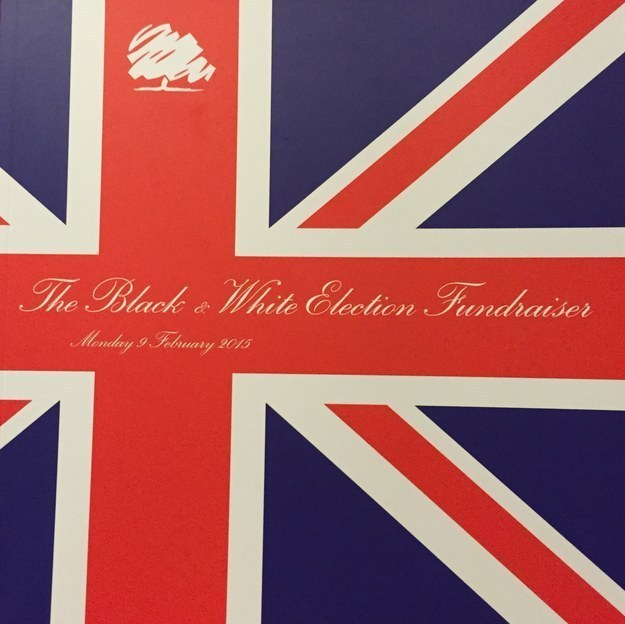 The event was attended by multimillionaire supporters of the party, the prime minister, nearly every cabinet minister, and other government officials.
Supporters at the event included Subaskaran Allirajah, the founder of Lycamobile, which had two tables at the event, Pimlico Plumbers founder Charlie Mullins, and hedge fund manager Stanley Fink. Lapdancing kingpin Peter Stringfellow was also there.
Mullins refuted the idea that the gala was inappropriate while austerity measures were still taking place. He told journalists gathered outside: "At the end of the day, it's businesses who are going to get the economy back on its feet.
"That's where all the money comes from for the NHS, for schools, for education. The money comes from taxes and taxes are paid by businesses."
This is the full list of items auctioned off in a bid to raise millions for the Conservatives ahead of the election.
A trip on a private jet to Santorini.
A small bronze statue of Margaret Thatcher.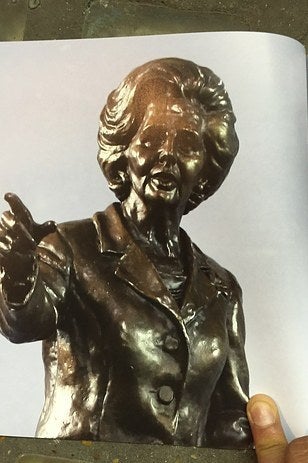 The first model of a new Subaru in the UK.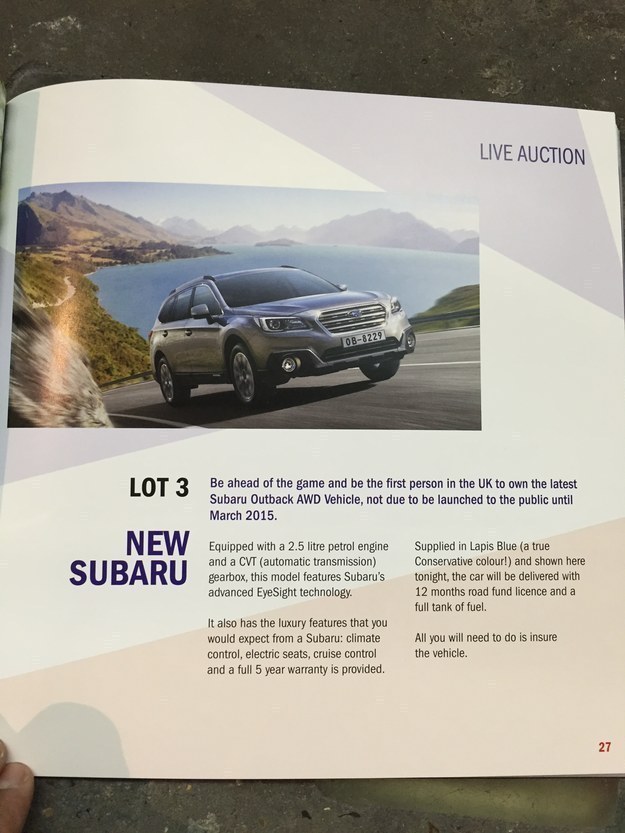 A week in a luxury chalet in Switzerland.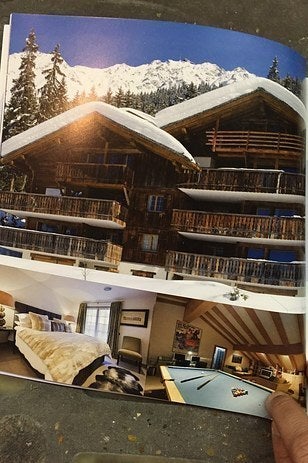 Pheasant shooting for eight people with a 500-bird limit.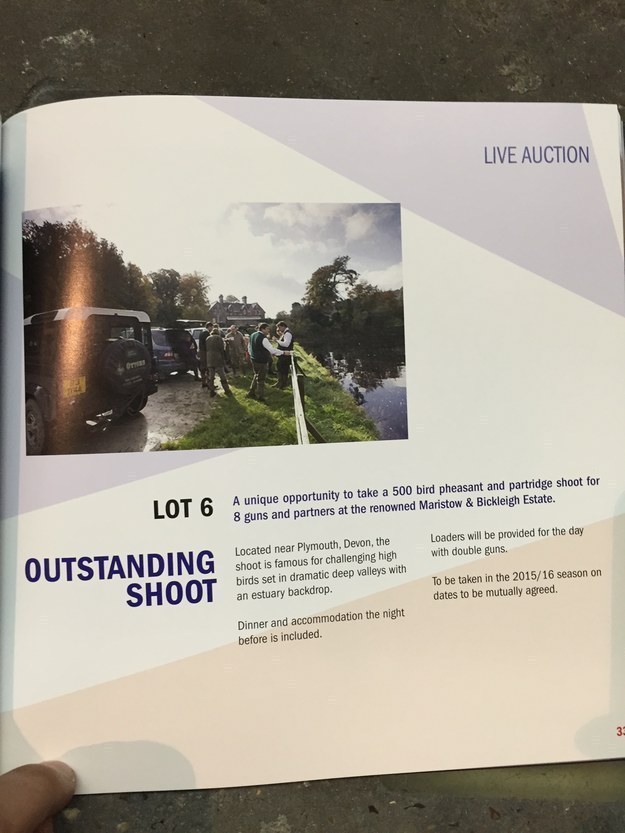 Original sketches of Margaret Thatcher.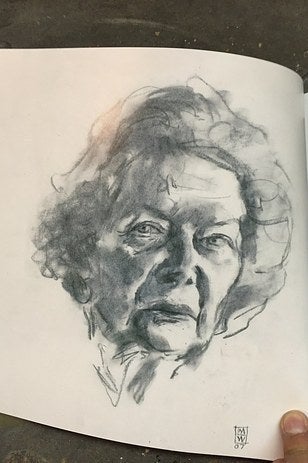 A week at a 17th-century Majorcan fortress.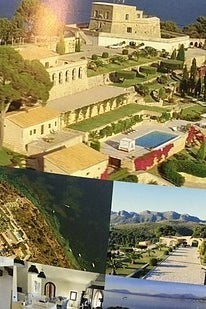 A private night at London's Annabel's nightclub.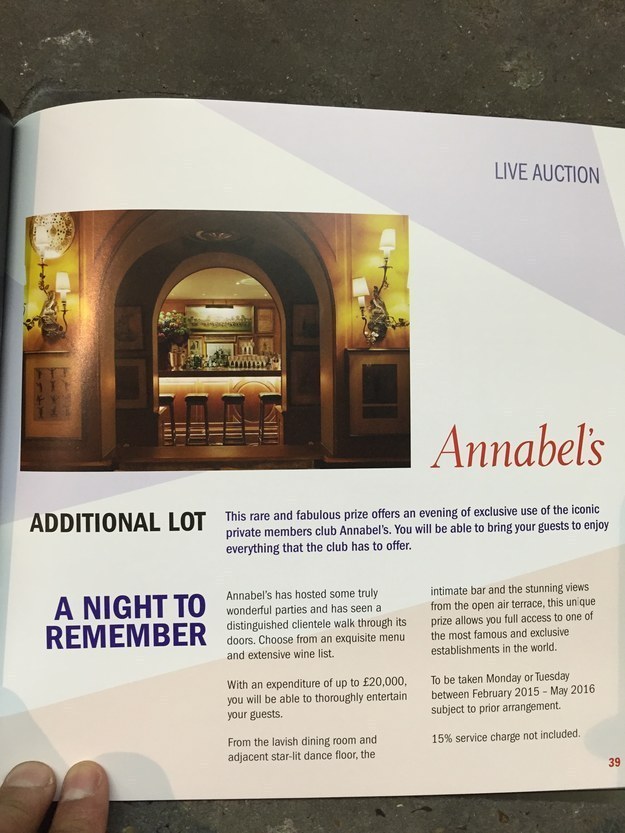 These are the other luxury items that could be bought in the silent auction:
Thailand villa for 10.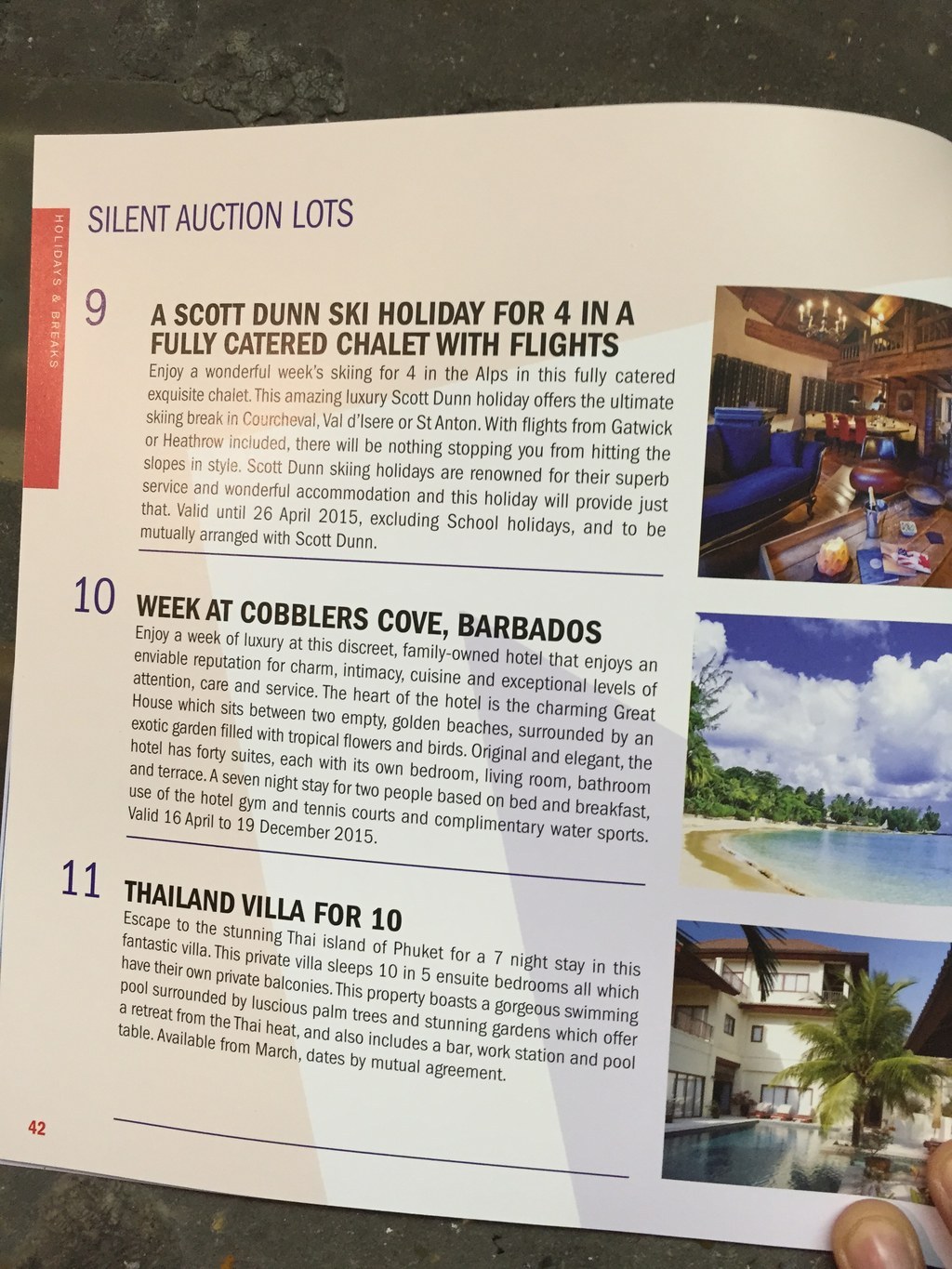 Skiing for 10 in Utah.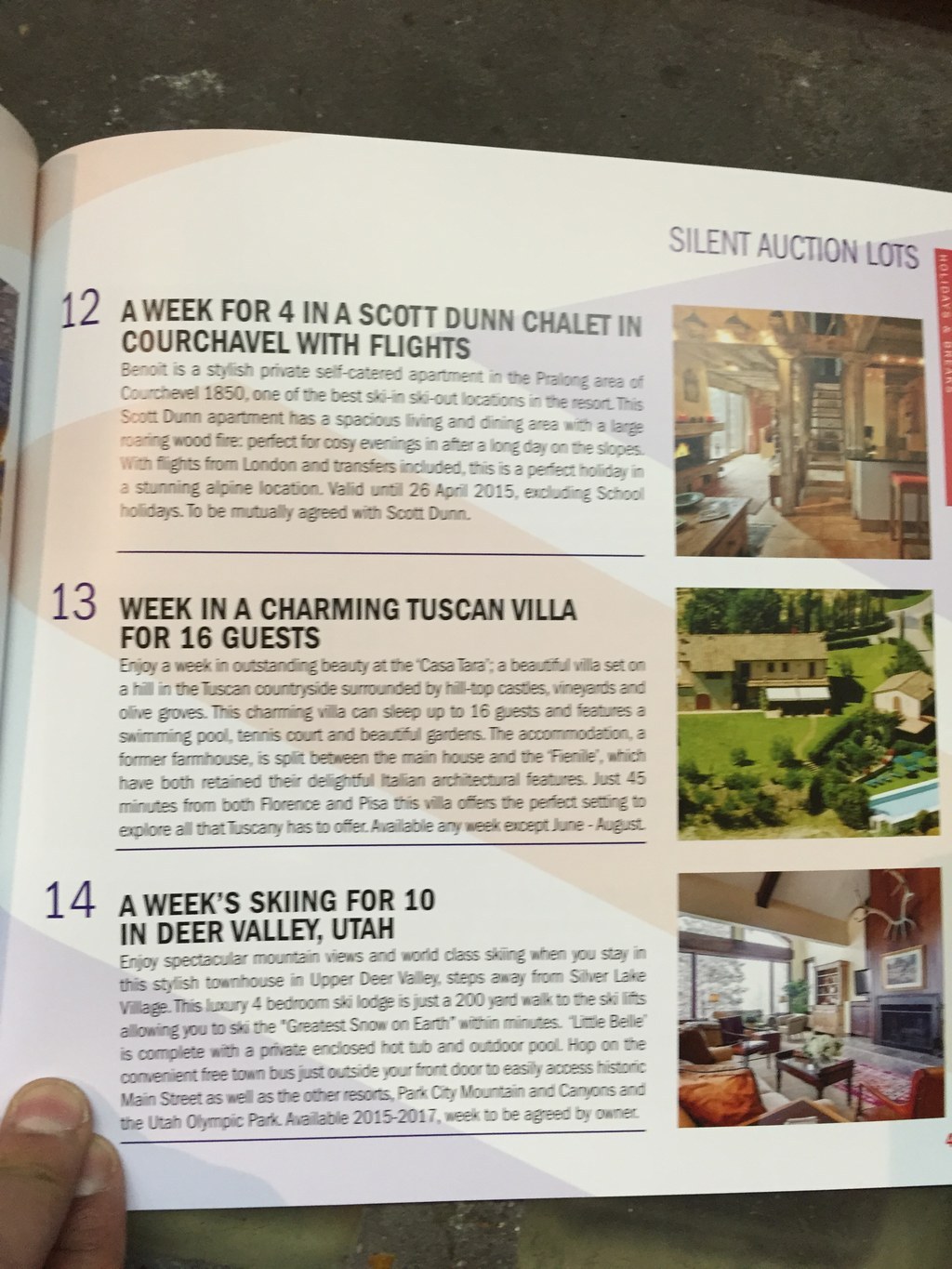 Luxury chalet for 10 guests.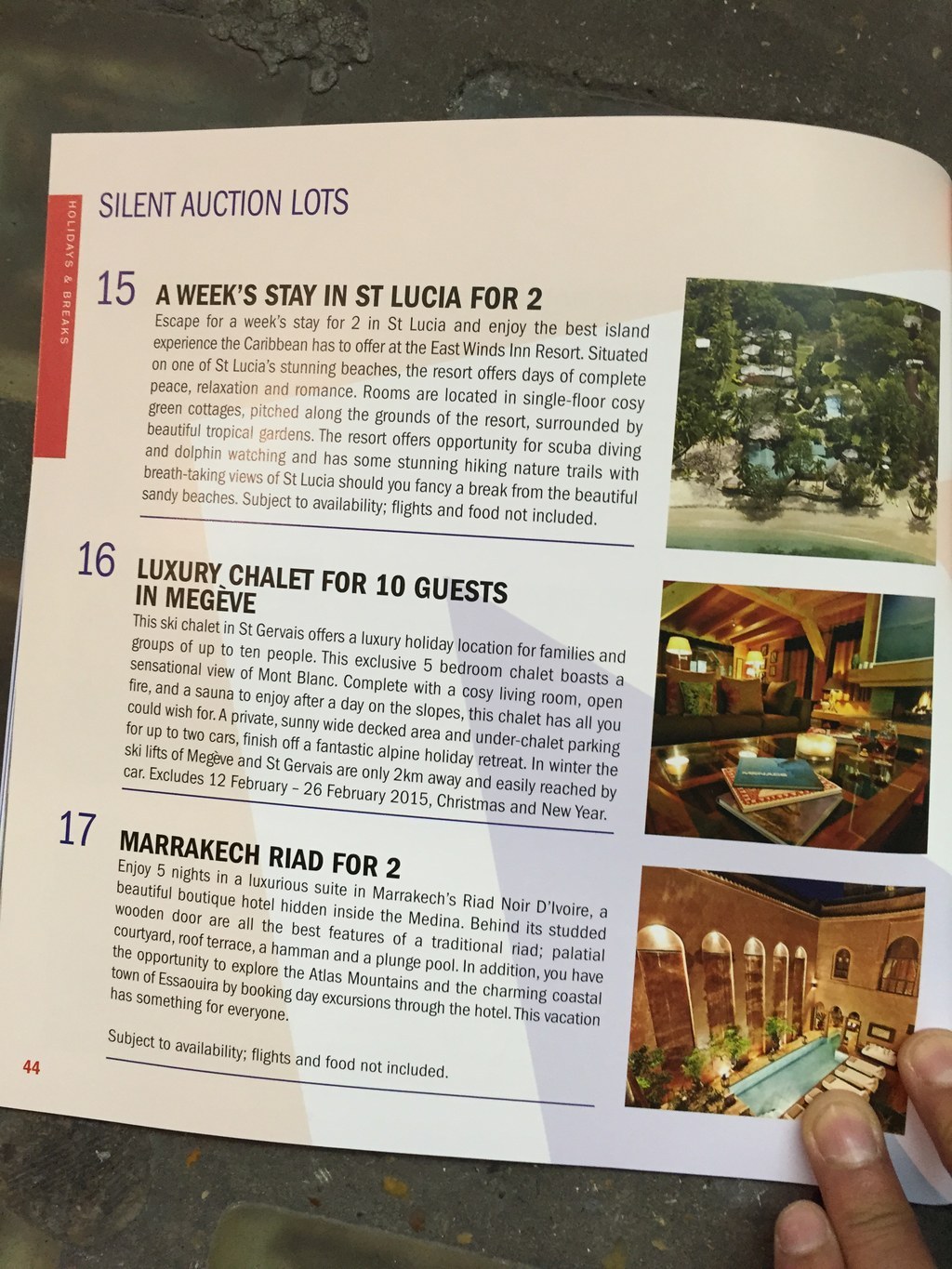 Trip to the Cotswolds including a guided visit to Prince Charles' gardens at Highgrove.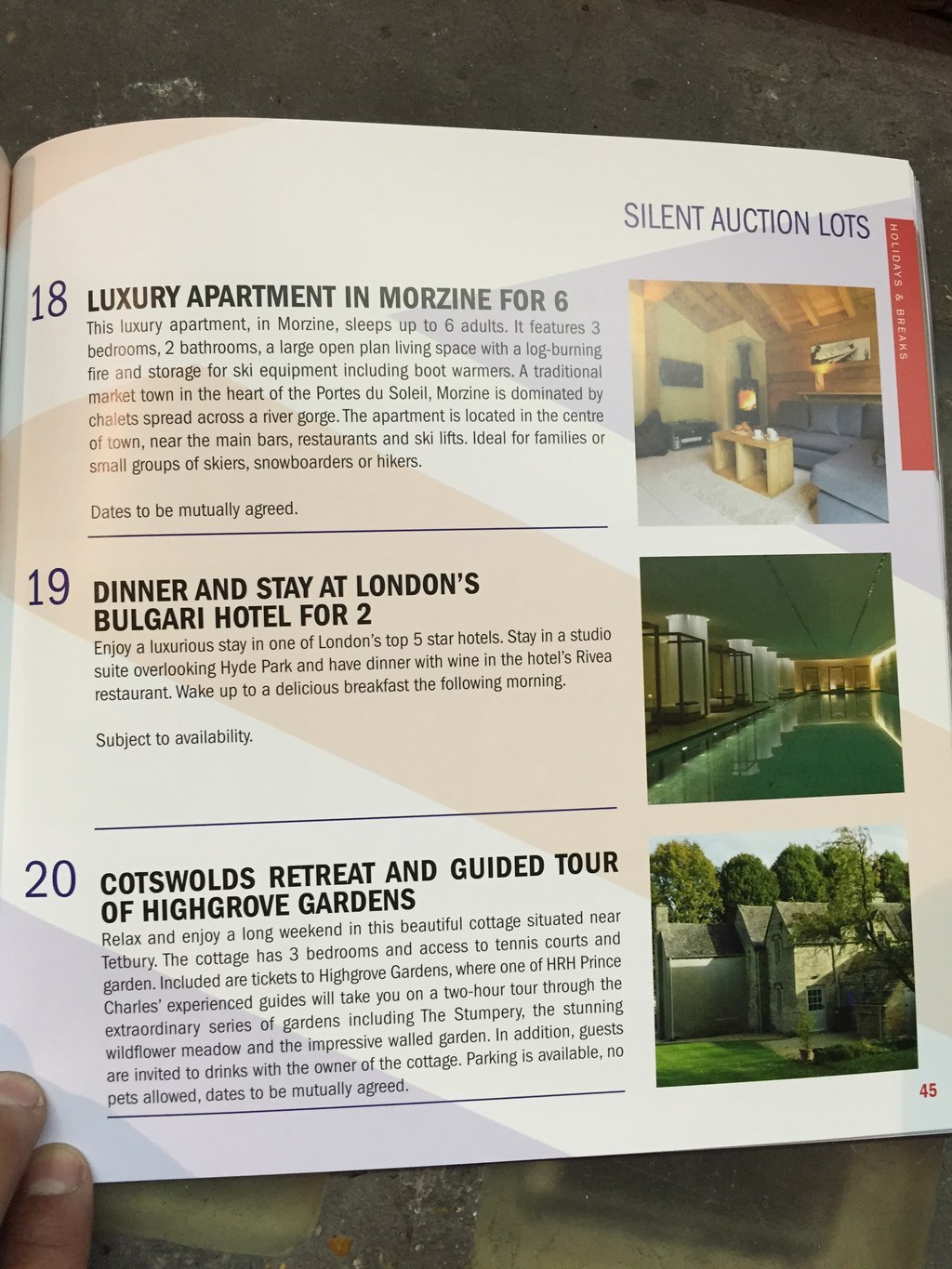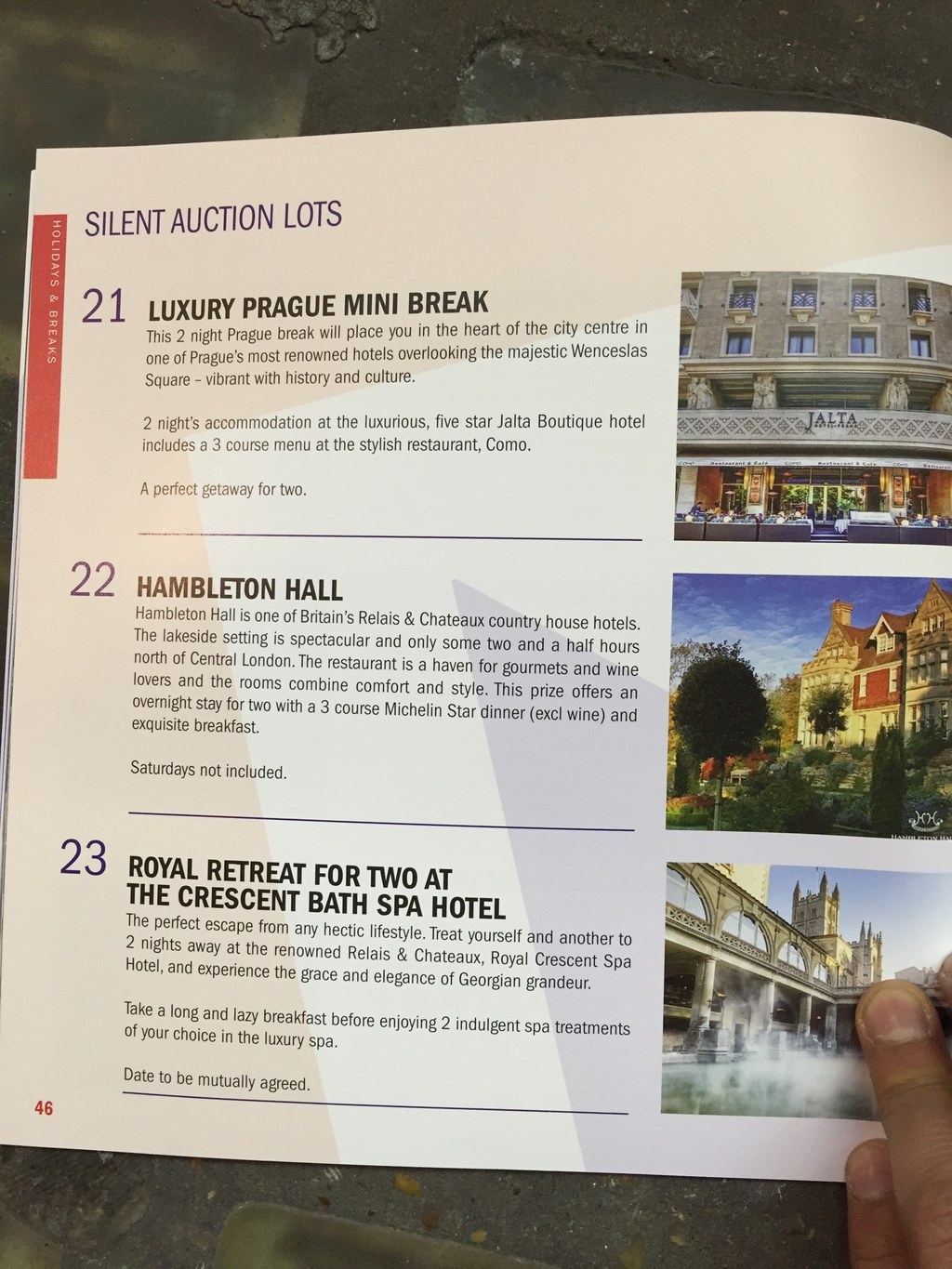 A personalised composition by Mike Batt, the man who wrote The Wombles theme tune and Katie Melua's "Closest Thing To Crazy".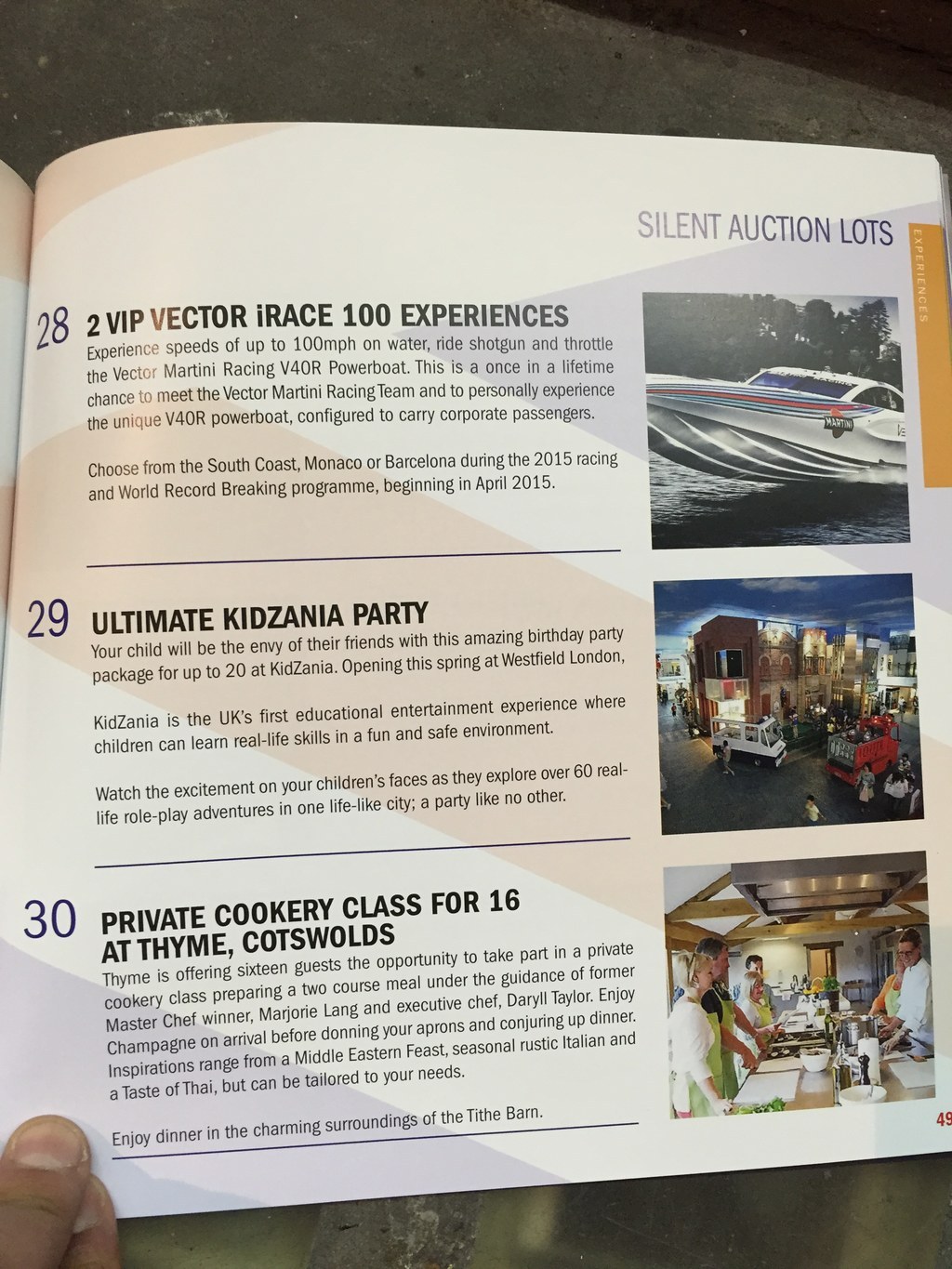 Baking class with the Duke and Duchess of Cambridge's wedding cake creator.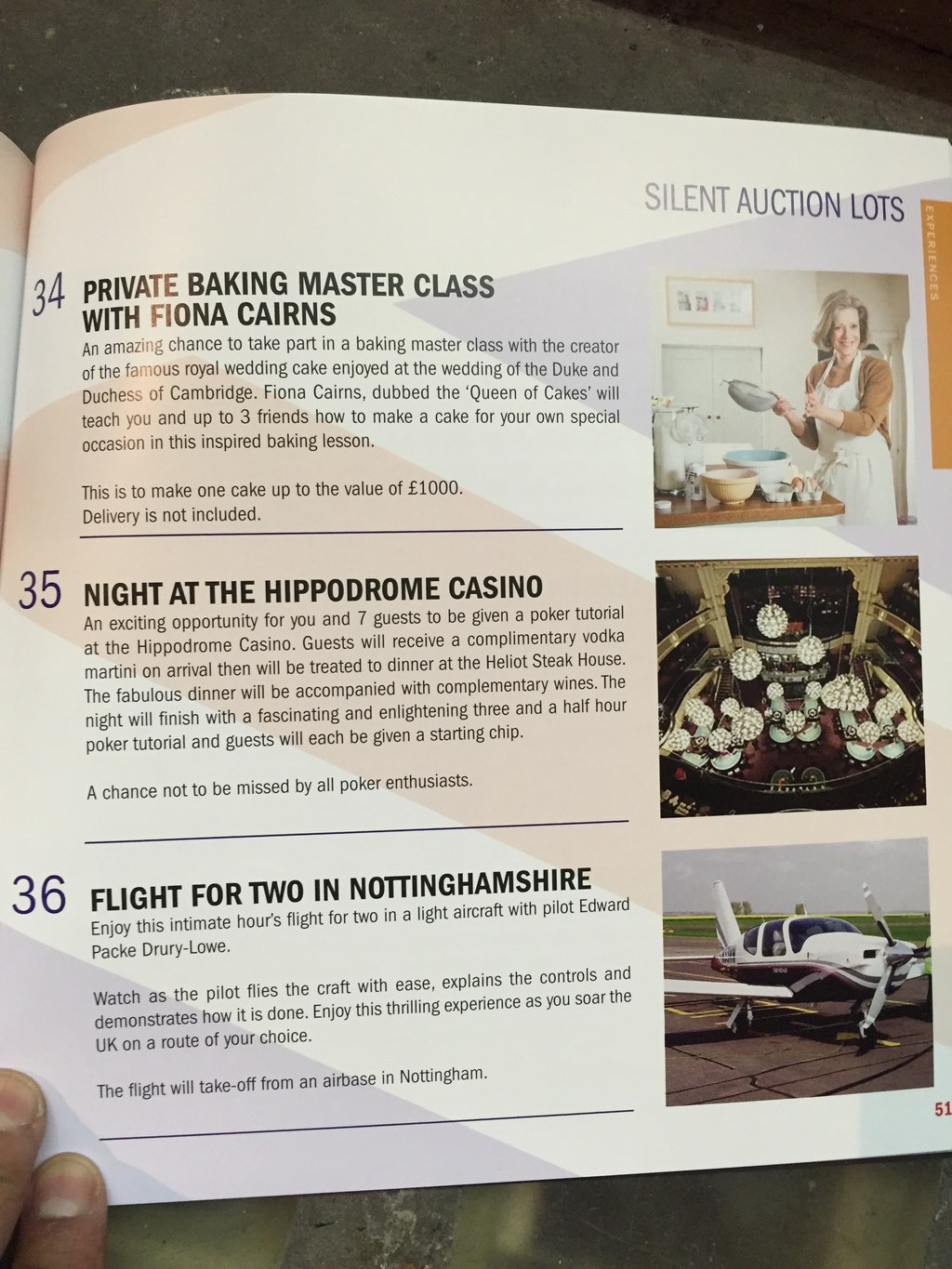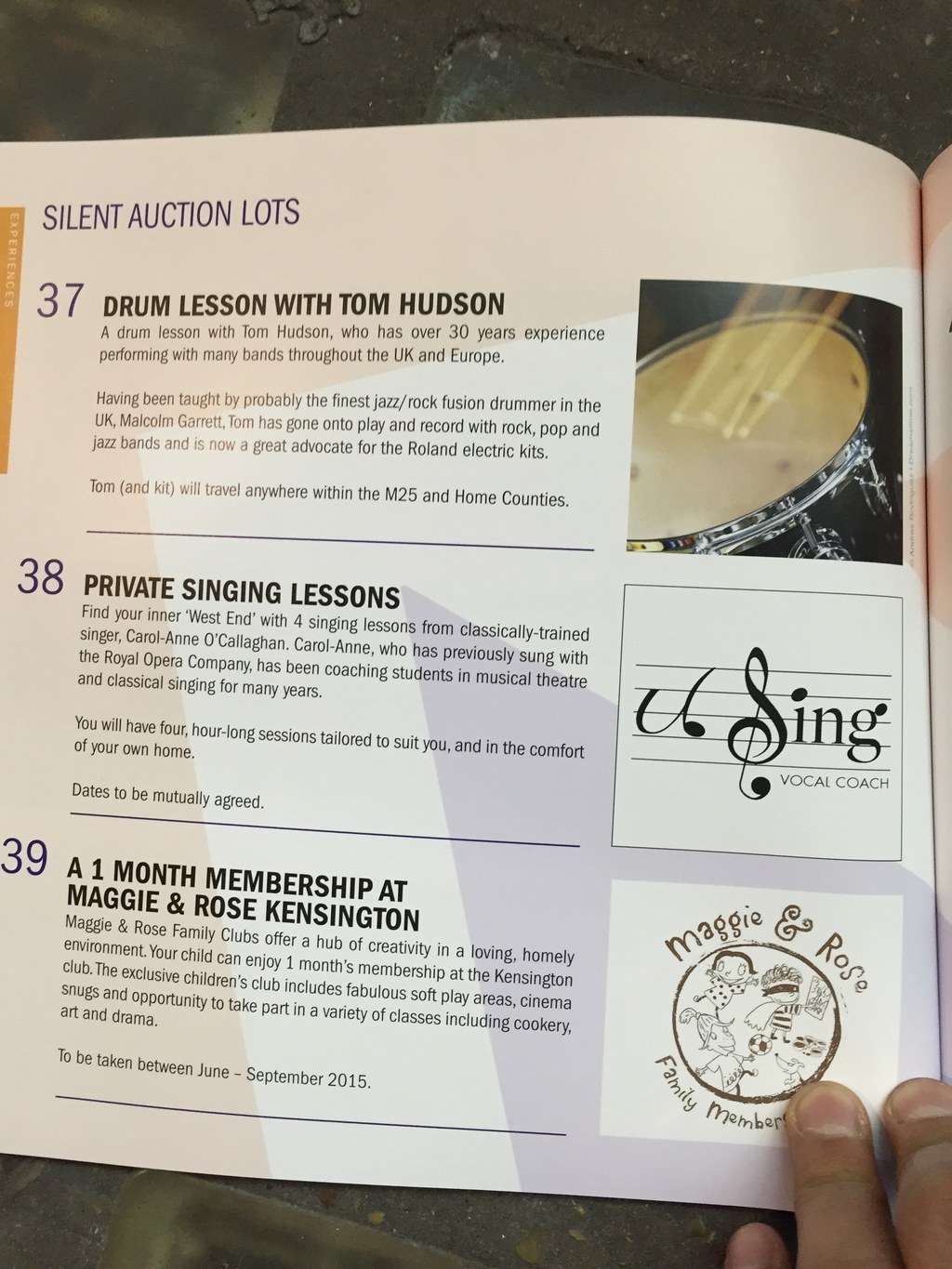 Deer-hunting in the UK.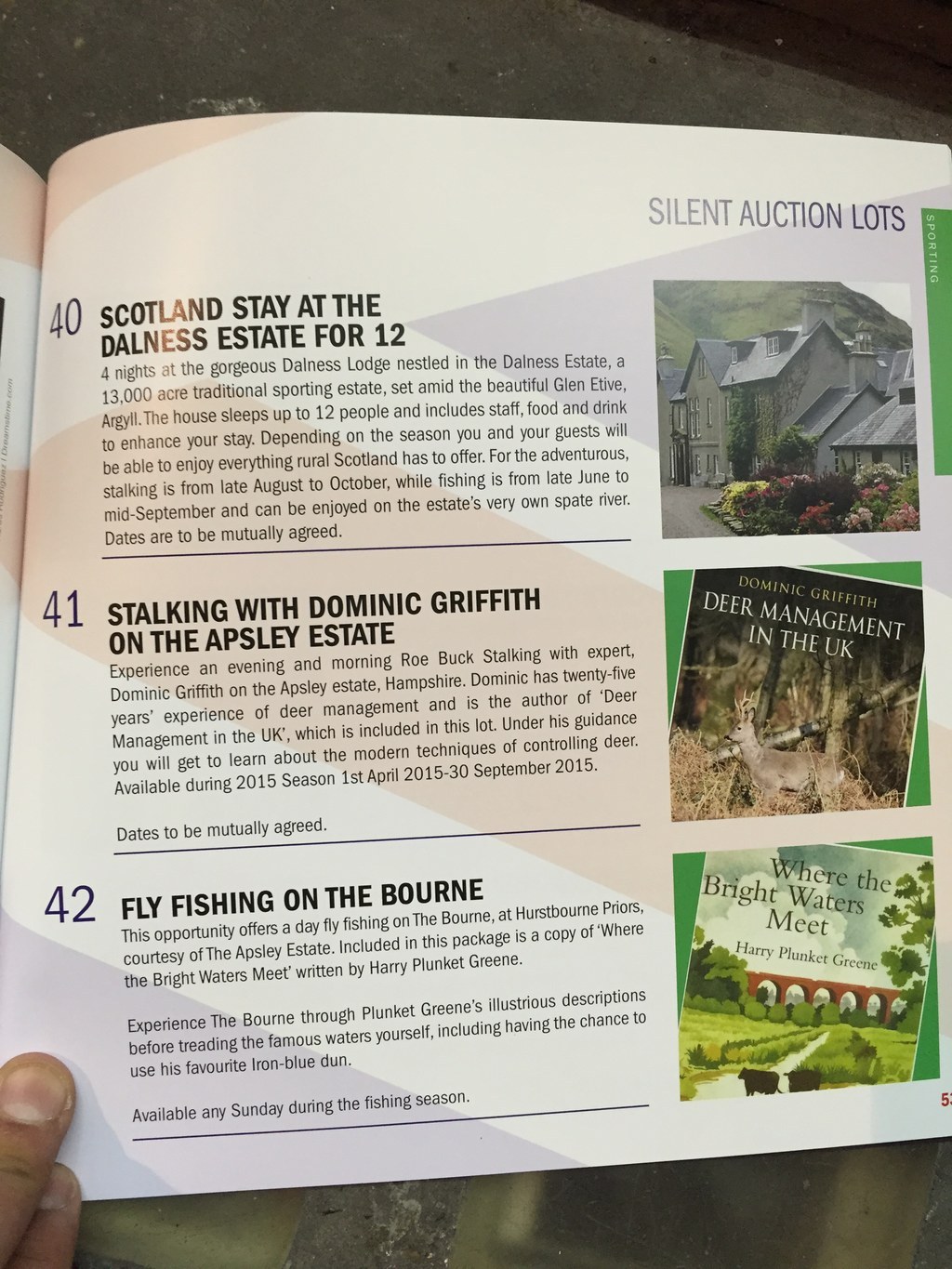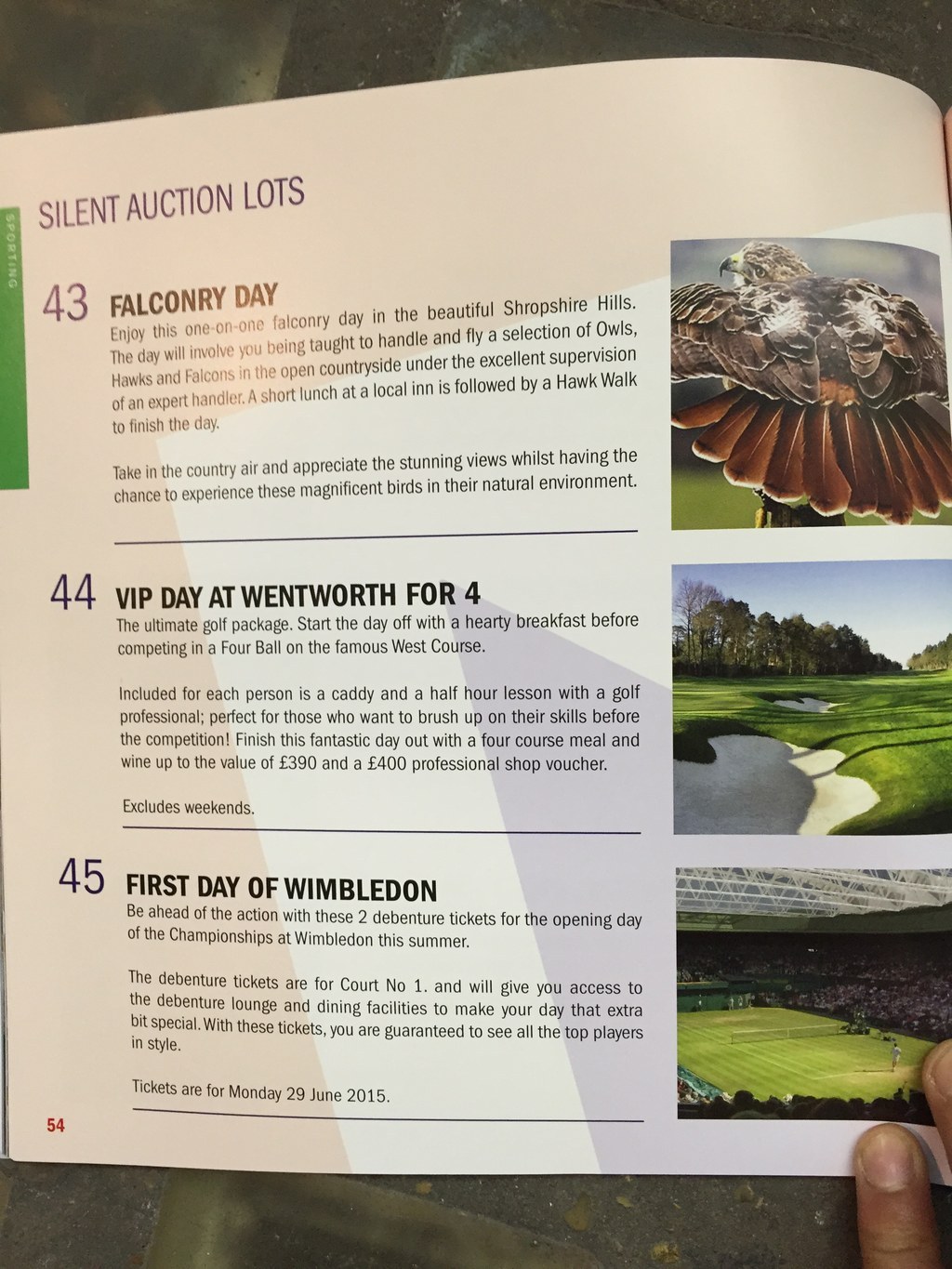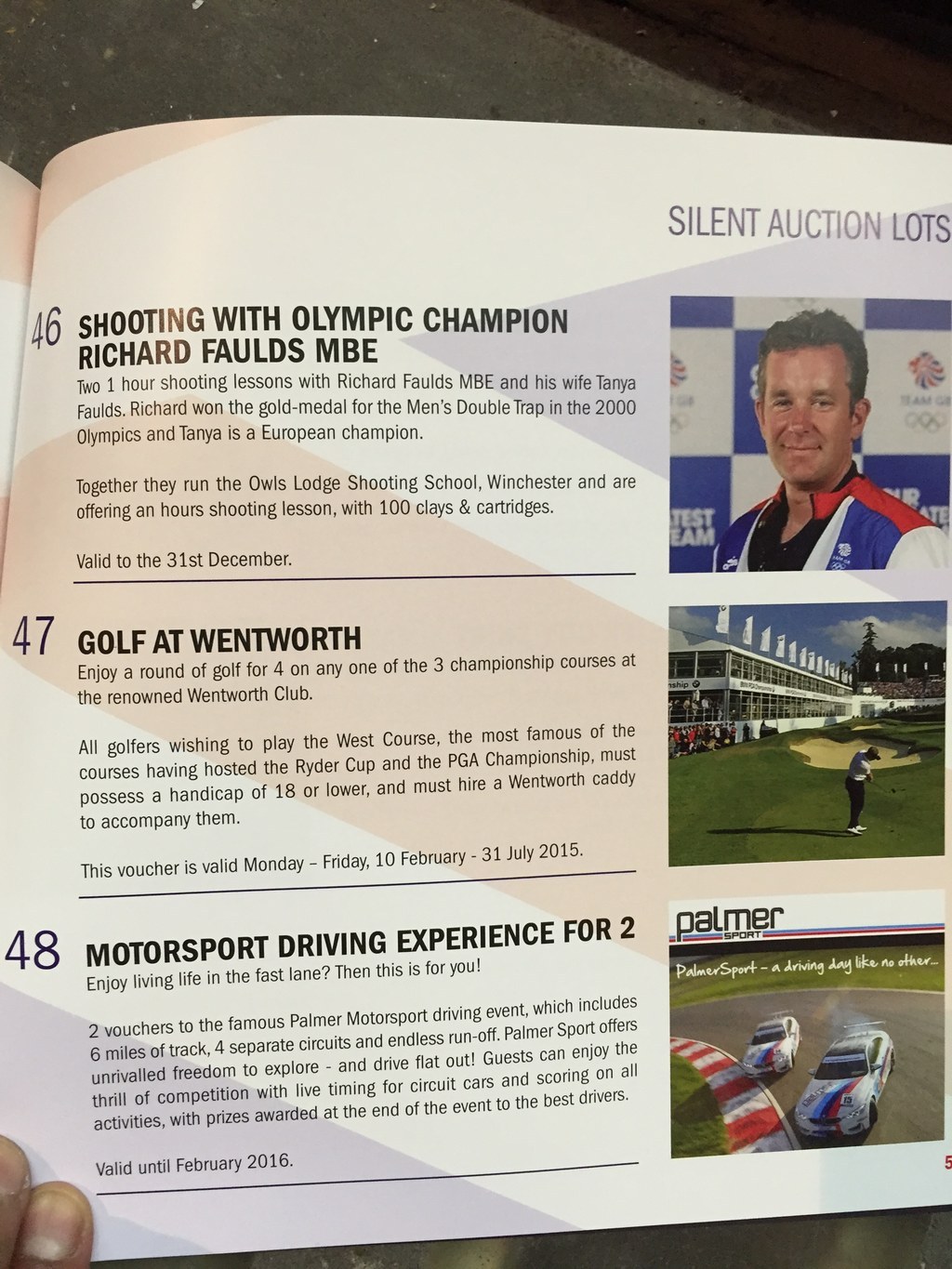 Tickets to the West Ham director's box, and a signed Man City shirt.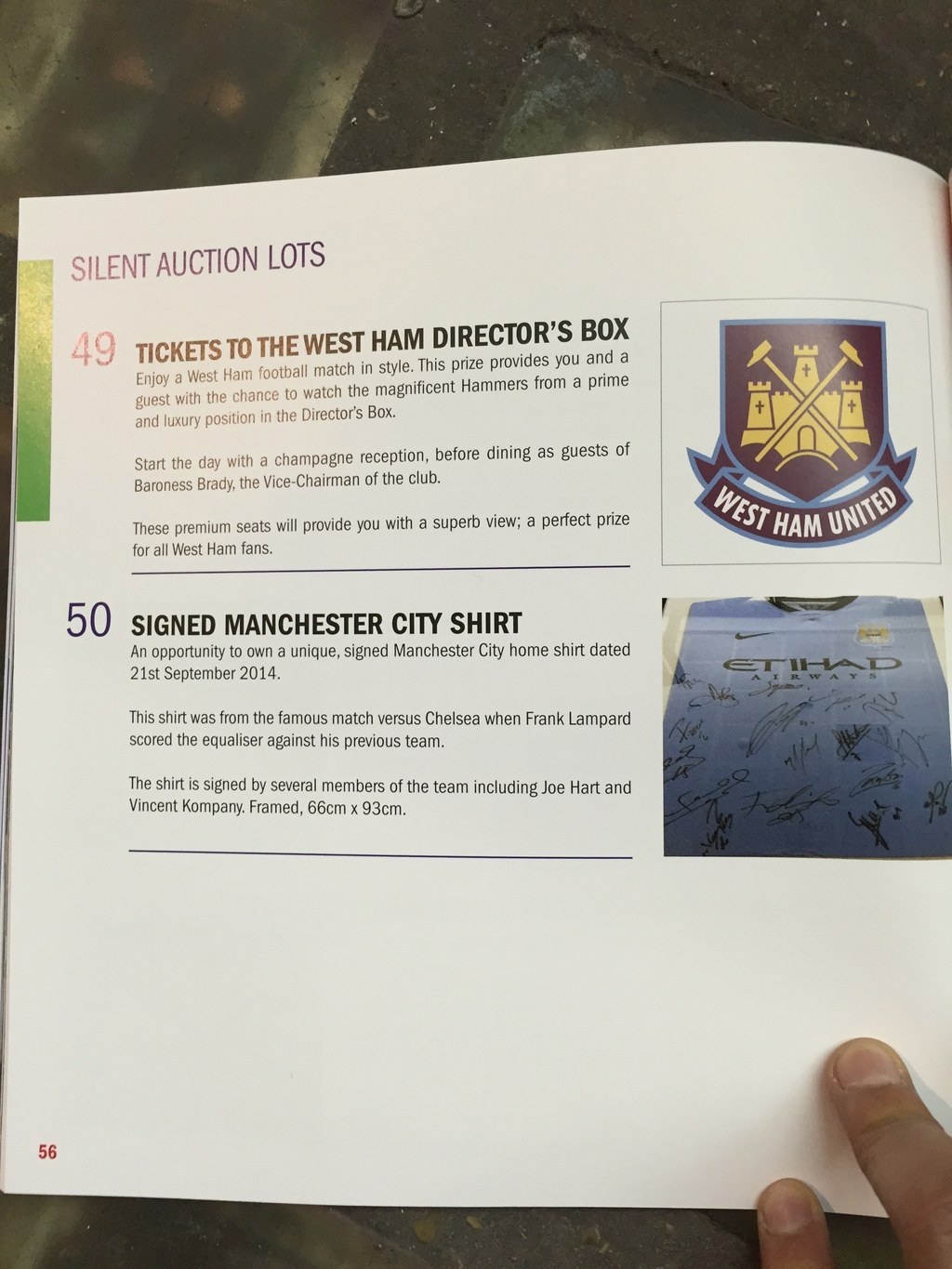 Albert Roux cooking at your home for up to eight guests.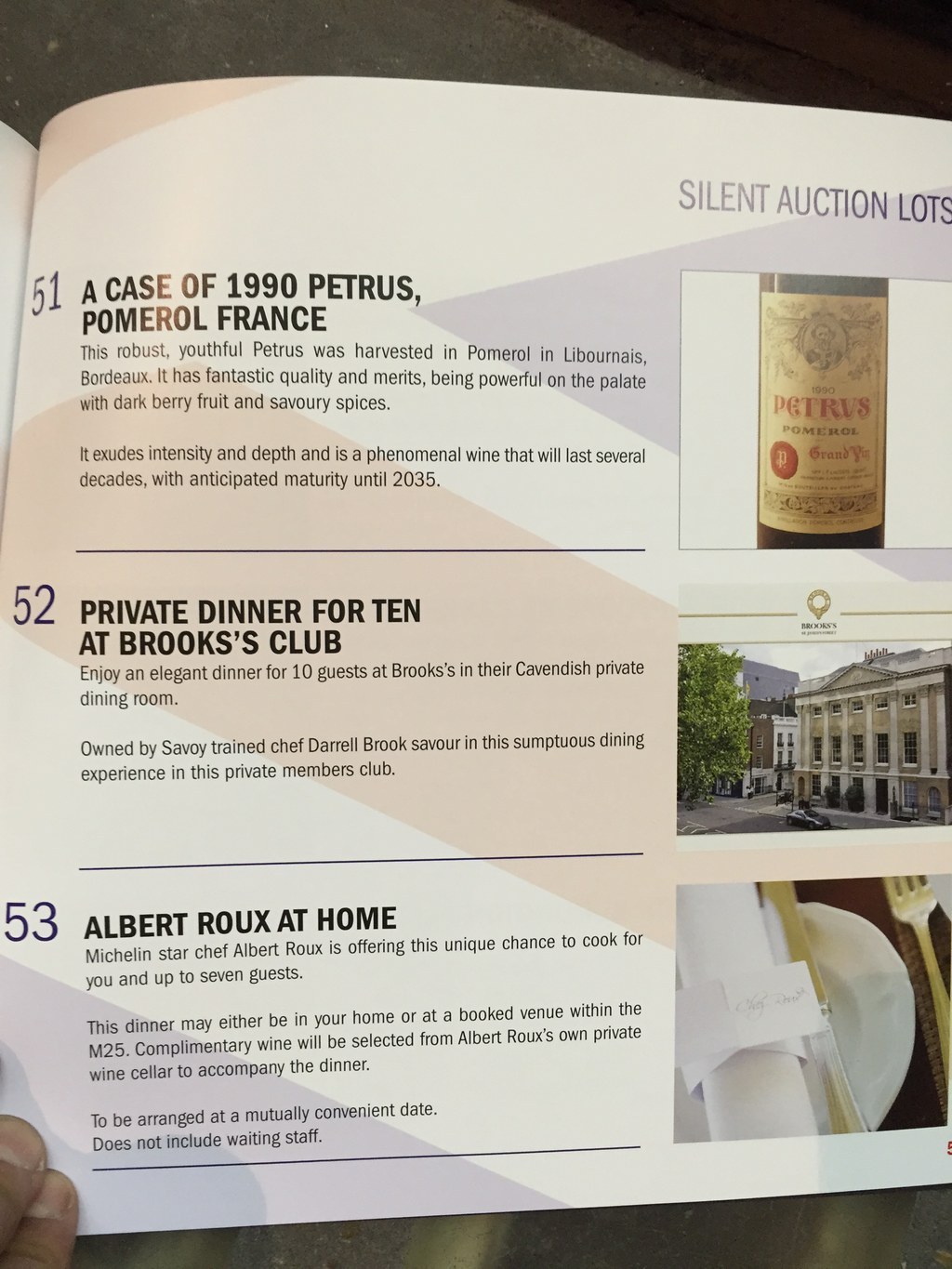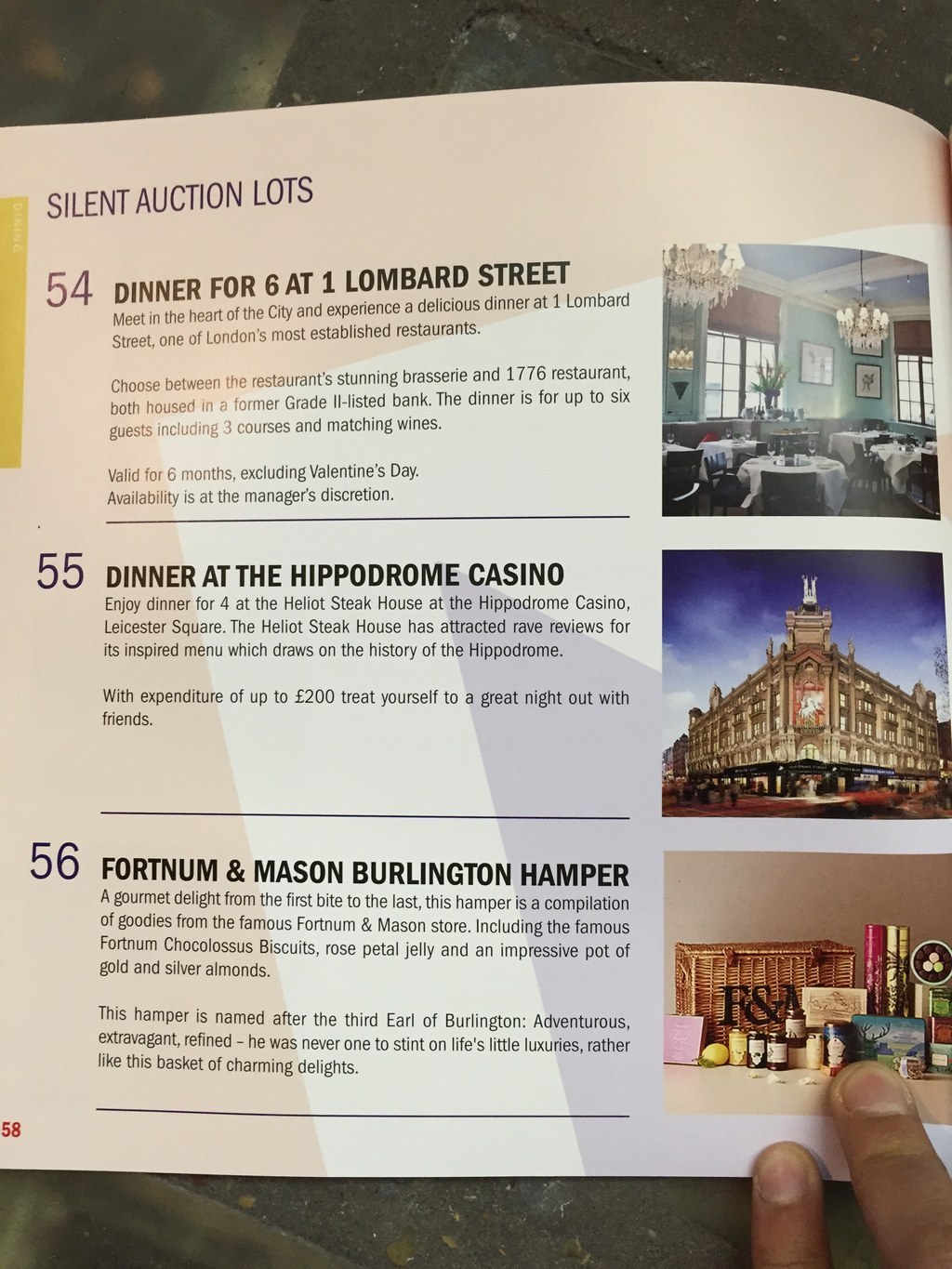 Bust of the Duke of Wellington, and a portrait of Suggs from Madness.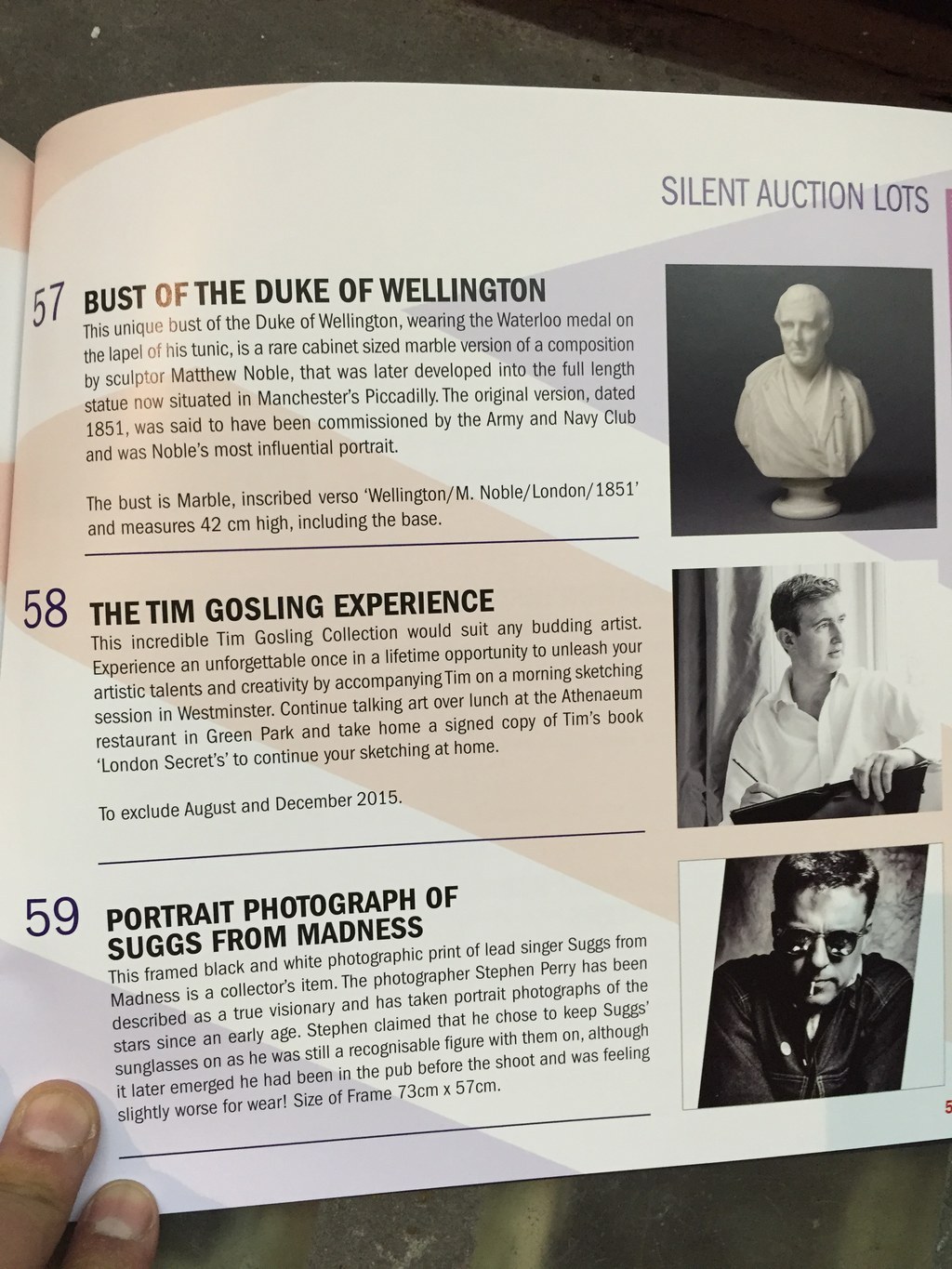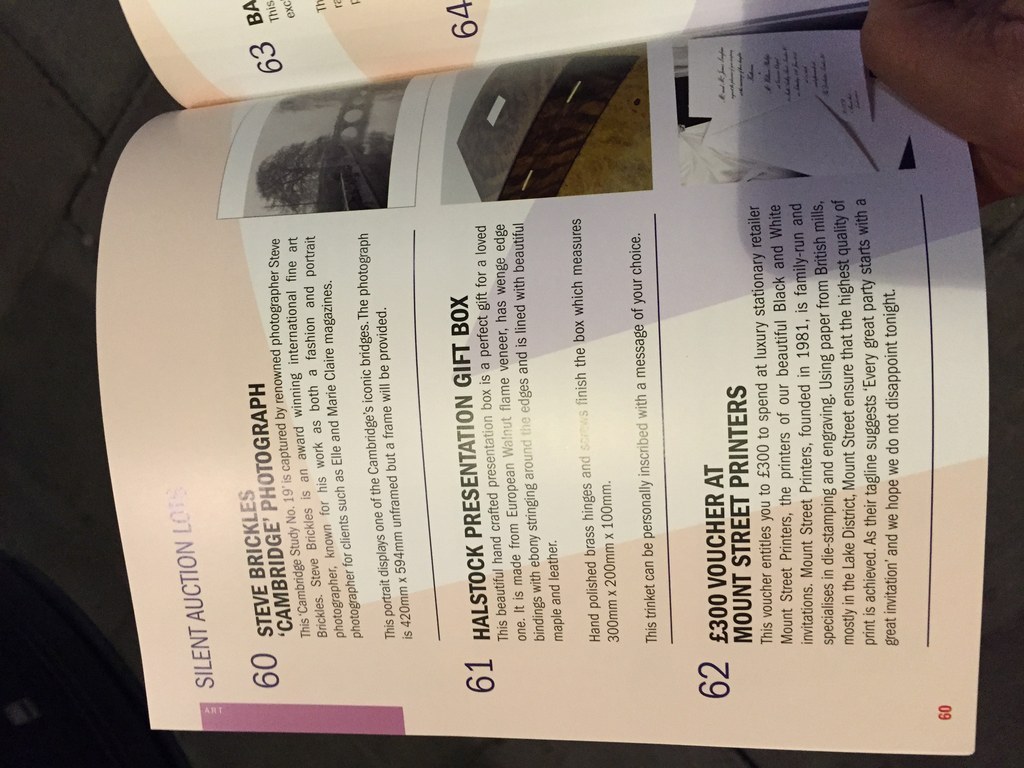 A year's supply of Kurt Geiger shoes.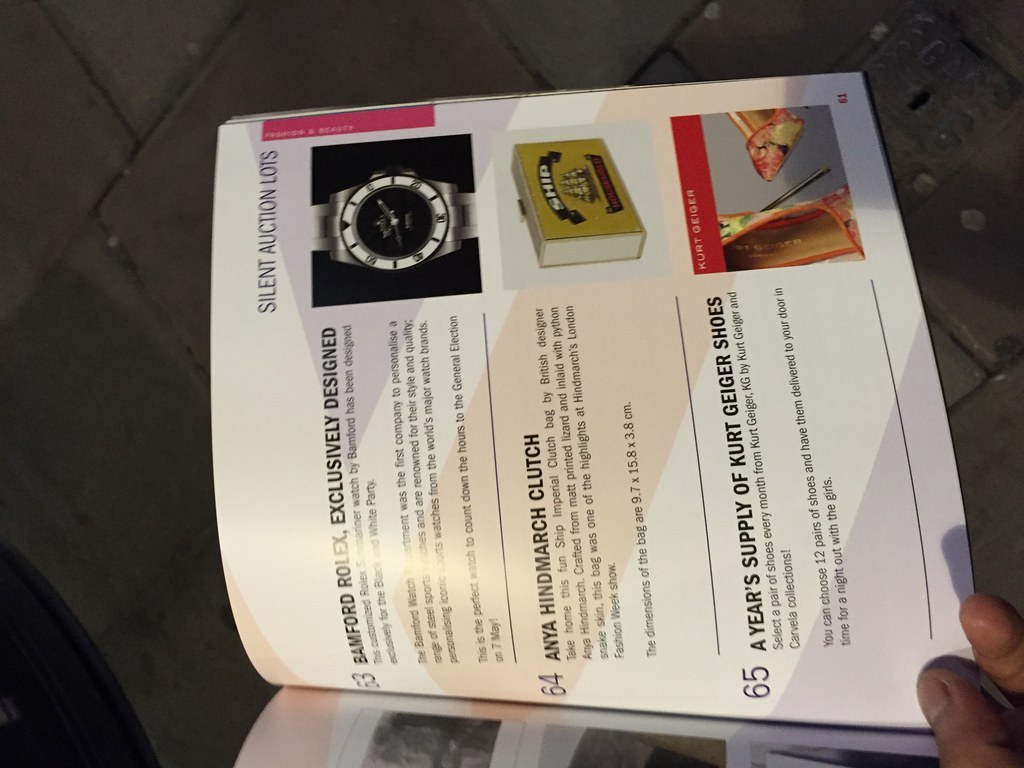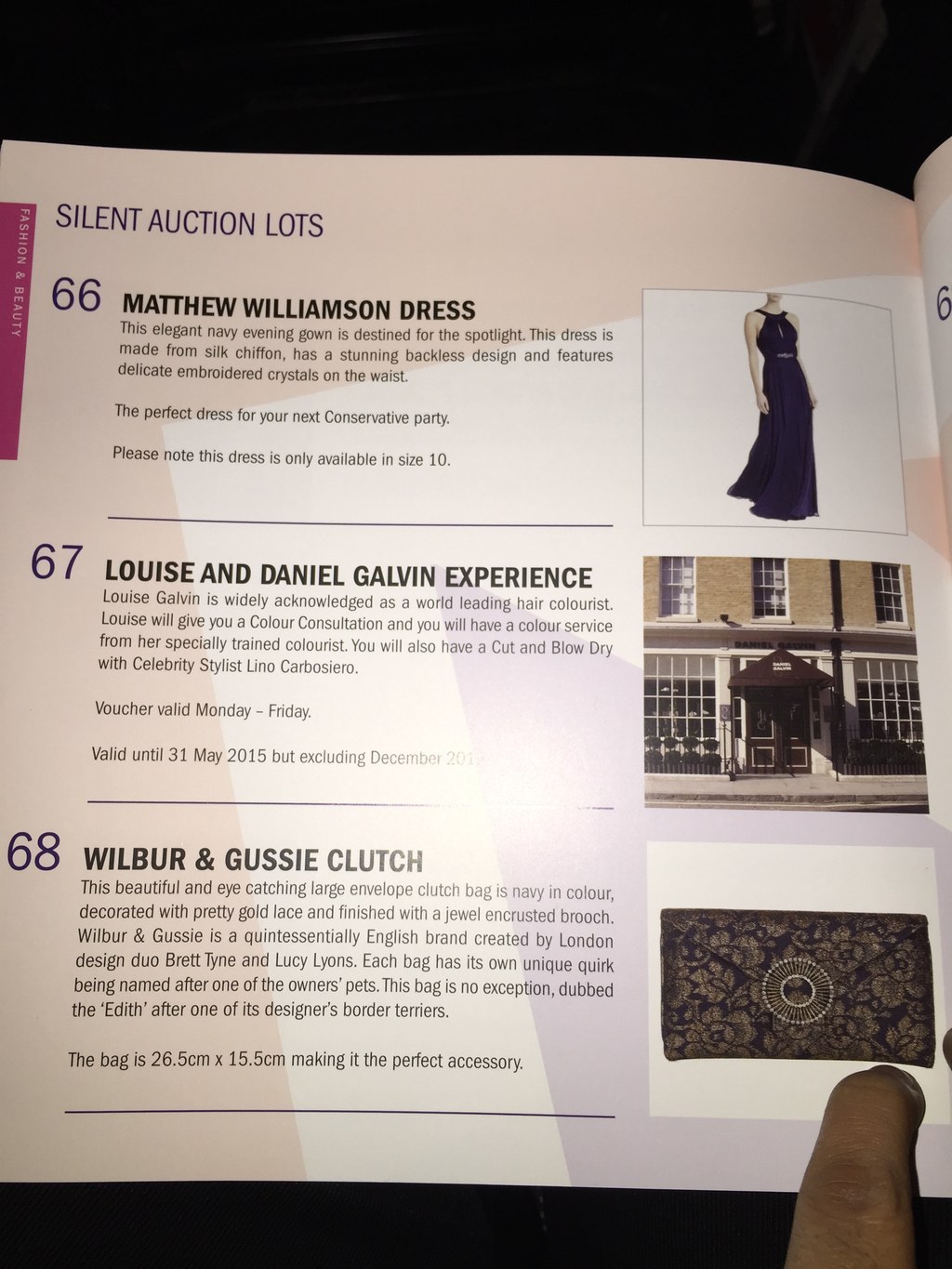 "Wardrobe Rescue Day" with Bumble Hadden-Paton.