In a month's time, Eddie Izzard will be touring America, performing stand-up gigs in Denver, San Diego, and Las Vegas. But right now, he has another, harder project: He's trying to help Labour win a majority.
On the campaign trail, Izzard makes for an unusual sight. When BuzzFeed News joins him in Loughborough, the comedian – arguably Britain's highest-profile cross-dresser – is in what he describes as "girl mode", in a dress and painted nails.
But that only underscores the oddity of Izzard's campaign style. He may look different to your average politician, but he sounds exactly like one. His passion for politics, in other words, seems to have made one of Britain's funniest men, well, boring.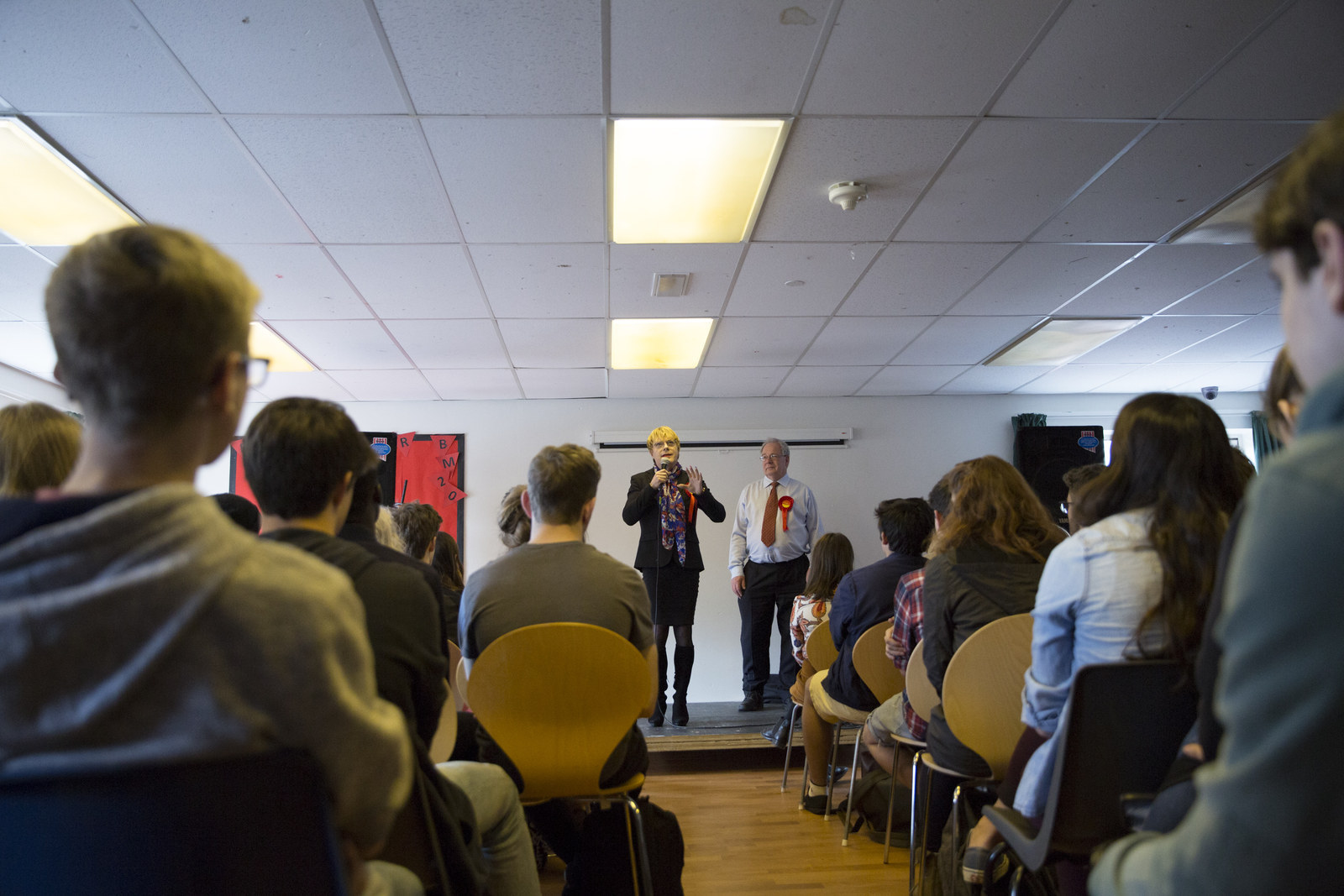 Izzard – a committed Labour supporter – has been touring the country, as he did at the last election and during the AV referendum, encouraging activists in marginal constituencies to keep campaigning for the party. Loughborough is the 48th constituency he's visited in the last few weeks.
Standing in Rawlins Academy, addressing the sixth-formers, Izzard certainly seems to be in his comfort zone: He answers questions on everything from tuition fees to Trident, referring anything he's not sure about to Matthew O'Callaghan, the local Labour candidate (who's looking to unseat education secretary Nicky Morgan), and sticking slavishly to the party line.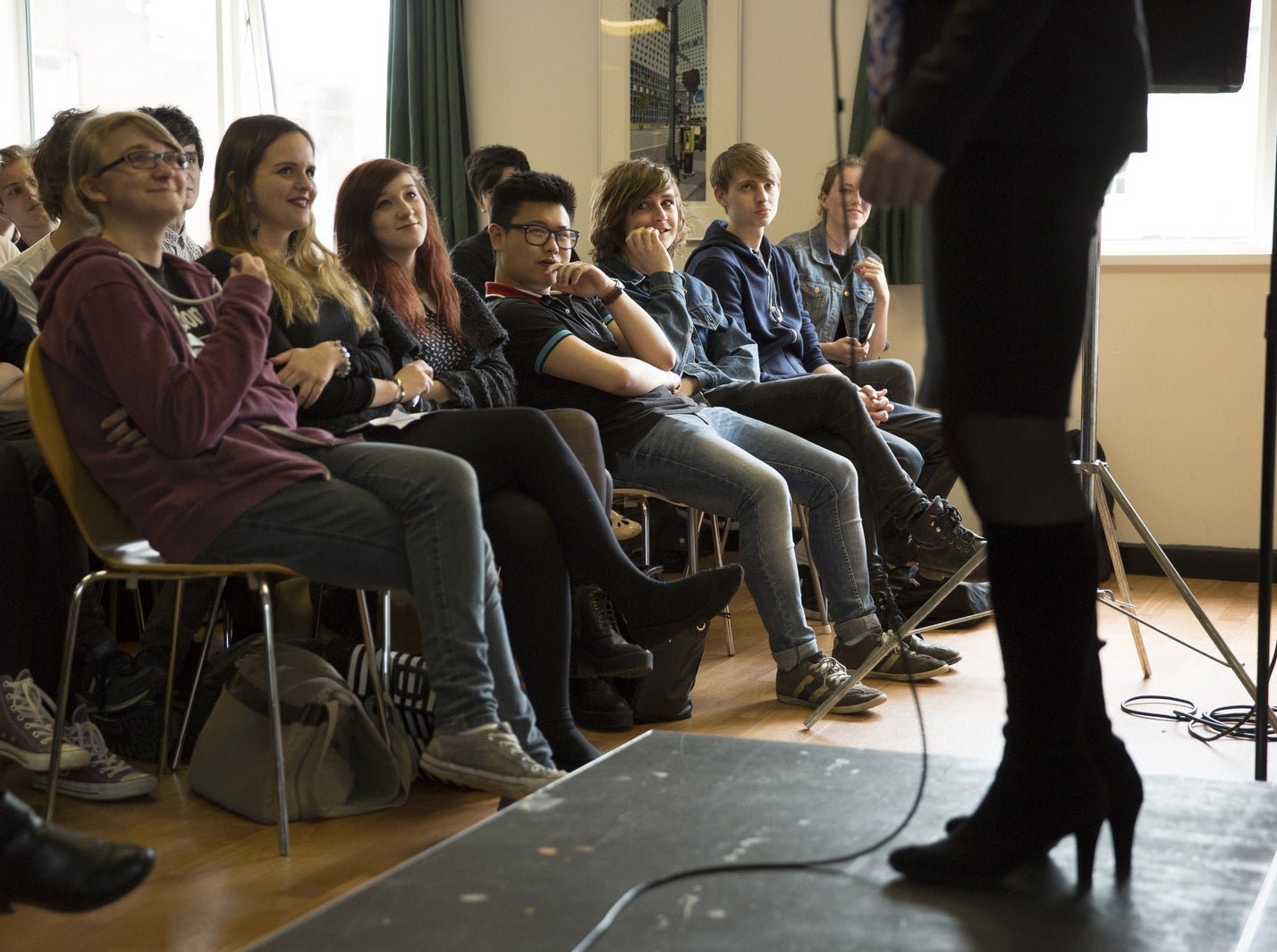 It's not what people were expecting. At one point a school governor whispers to some of the teachers: "I thought he was going to be funny. Ask him to tell us a joke!" The teachers raise their eyebrows and some of the students respond with hushed giggles.
It's not the only time he gets a mixed reaction. When he sits down in the canteen, a few of the students are a little baffled to see Izzard in "girl mode". When he talks, some of the sixth-formers at the back of the room are playing on their phones. Another pupil walks into the room, takes a picture, adds a filter, posts it to Instagram, and then walks out.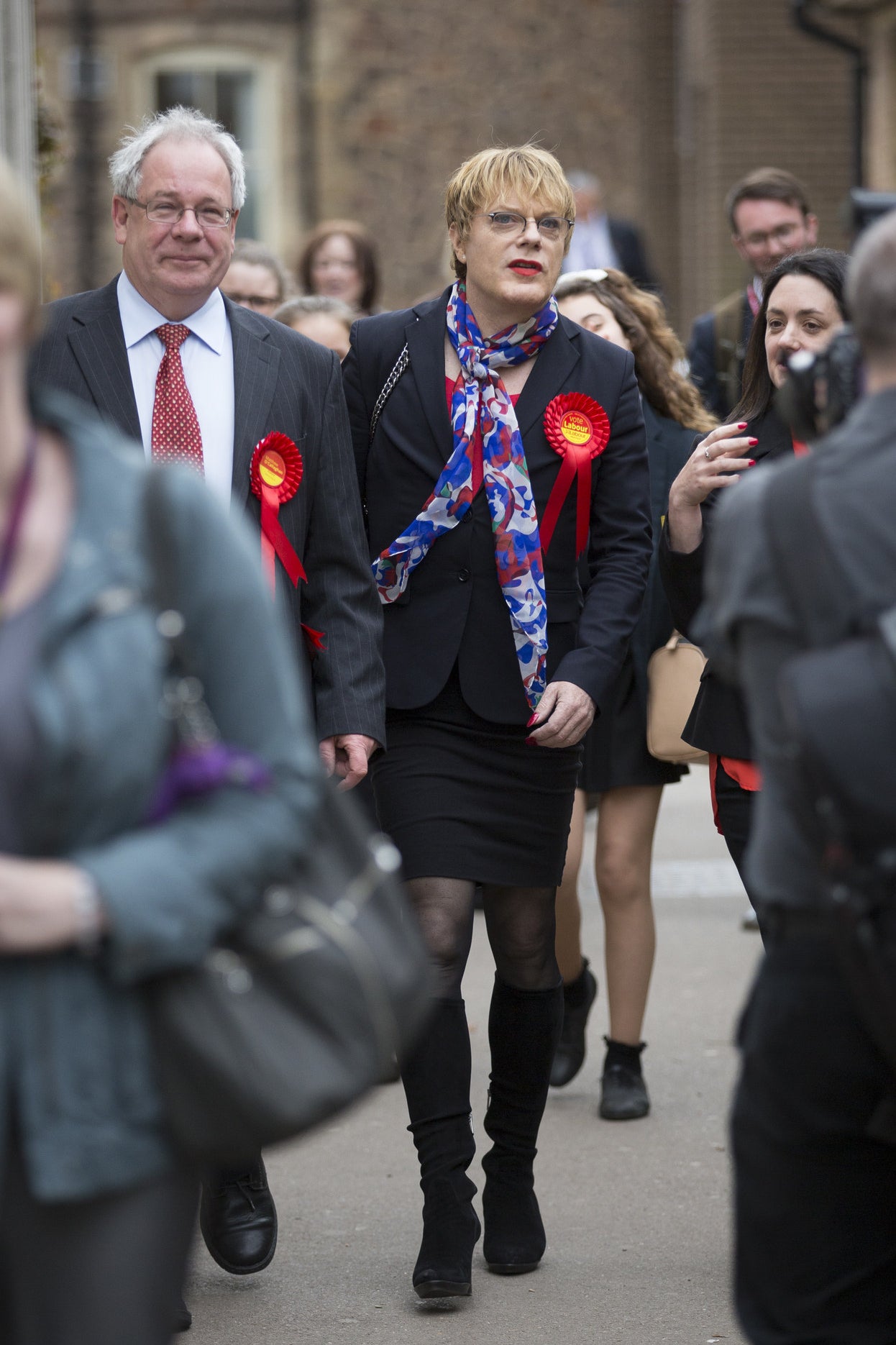 Still, the majority of students do seem genuinely engaged and ask him informed questions. "For a first-time voter," says one, "do you think it's more important to vote for a party that represents your ideals, or to vote strategically to kick out the Tories?"
Without missing a beat, Izzard replies, "Kick out the Tories." It's the kind of answer Ed Miliband would be proud of. Indeed, when BuzzFeed News asks him what he makes of Miliband, he gives us a glimpse of what Izzard the politician might look like, saying: "He's honourable, he's hard-working, he's conscientious, he listens as well and has an opinion."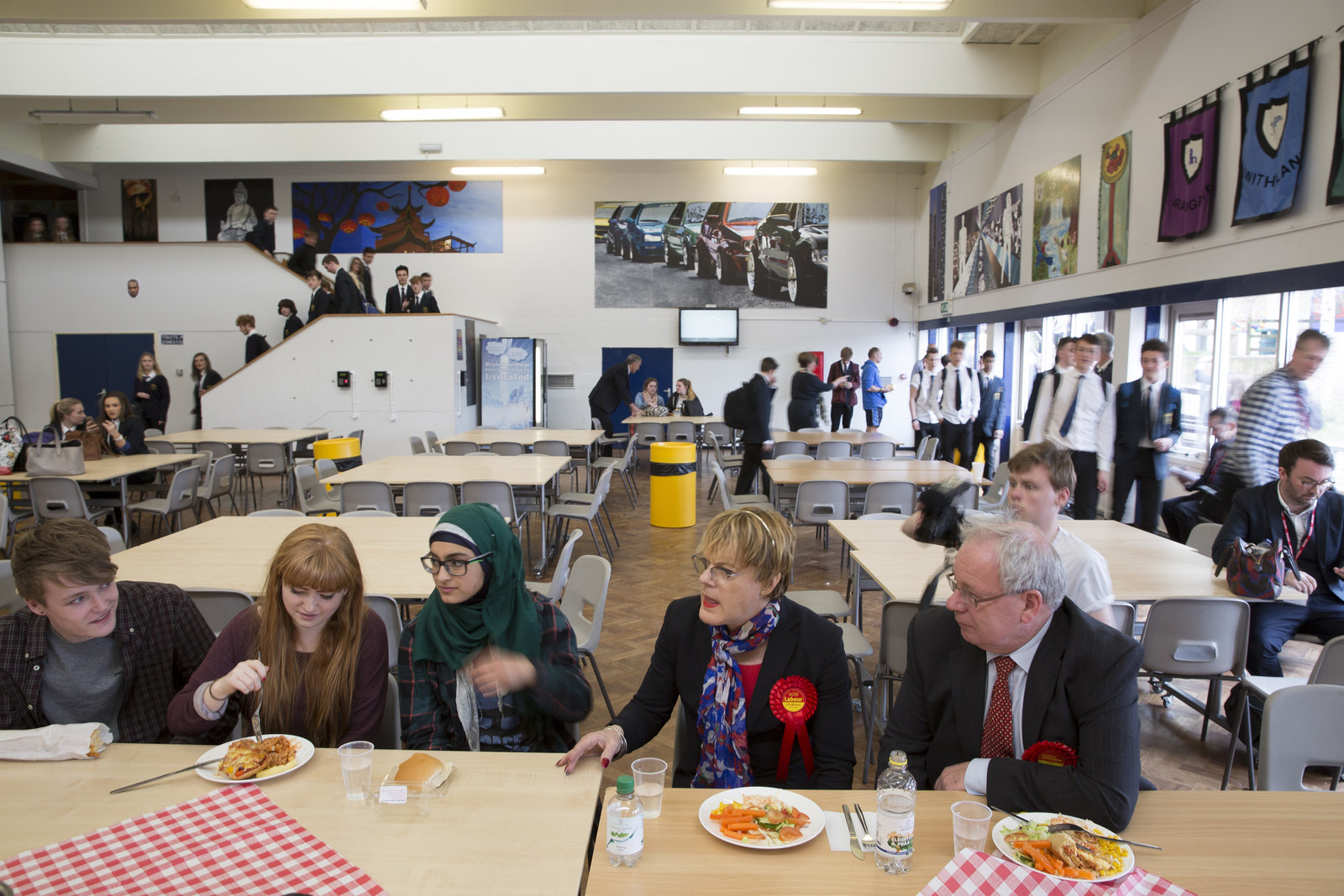 As we walk out of the school, Izzard is mobbed – mostly by teachers who want to take selfies with him. One gives him an old tour video to sign. O'Callaghan, the Labour candidate, stands back and attempts to act casual.
The next stop is the town centre, where Labour activists are already waiting. They have branded balloons and bags, and the really keen ones are wearing T-shirts adorned with the words "Hell yes, I'm voting Labour" – a reference to Miliband's fiery declaration in an interview with Jeremy Paxman that he's ready for power.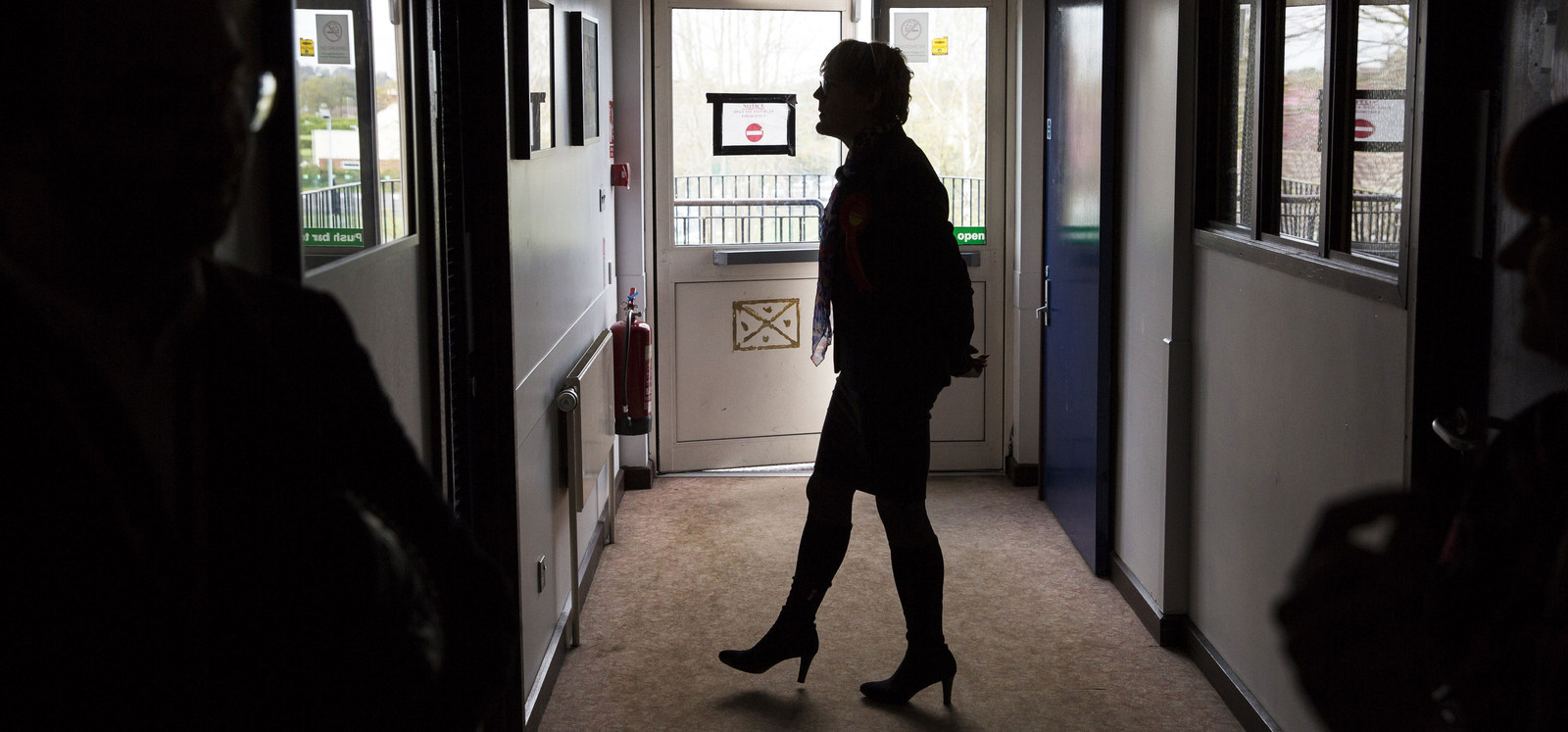 Izzard shakes hands with each of the activists and thanks them for their support, before giving them all a pep talk: "We go and have 4 million conversations [with voters]," he says, "and the Tories will just sit at home and I don't know, have wine.
"I volunteered to do this. I have not been wheeled out [by the party], I am self-propelled." Izzard sounds like he's channelling another political figure at this point, London mayor Boris Johnson. Yet it's a rehearsed line that he's repeated on a number of occasions.
Before joining the campaign trail, Izzard made the decision to campaign in "girl mode" – he's worn a dress in every constituency he's visited and makes a point of telling female activists that he understands how hard it is to trudge around in heels. The British public, he says, have been completely cool with it.
Many of those who meet him are clearly excited to encounter one of their idols. Jack Barsby, a 21-year-old student and a genuine floating voter, has his face frozen in unexpected glee.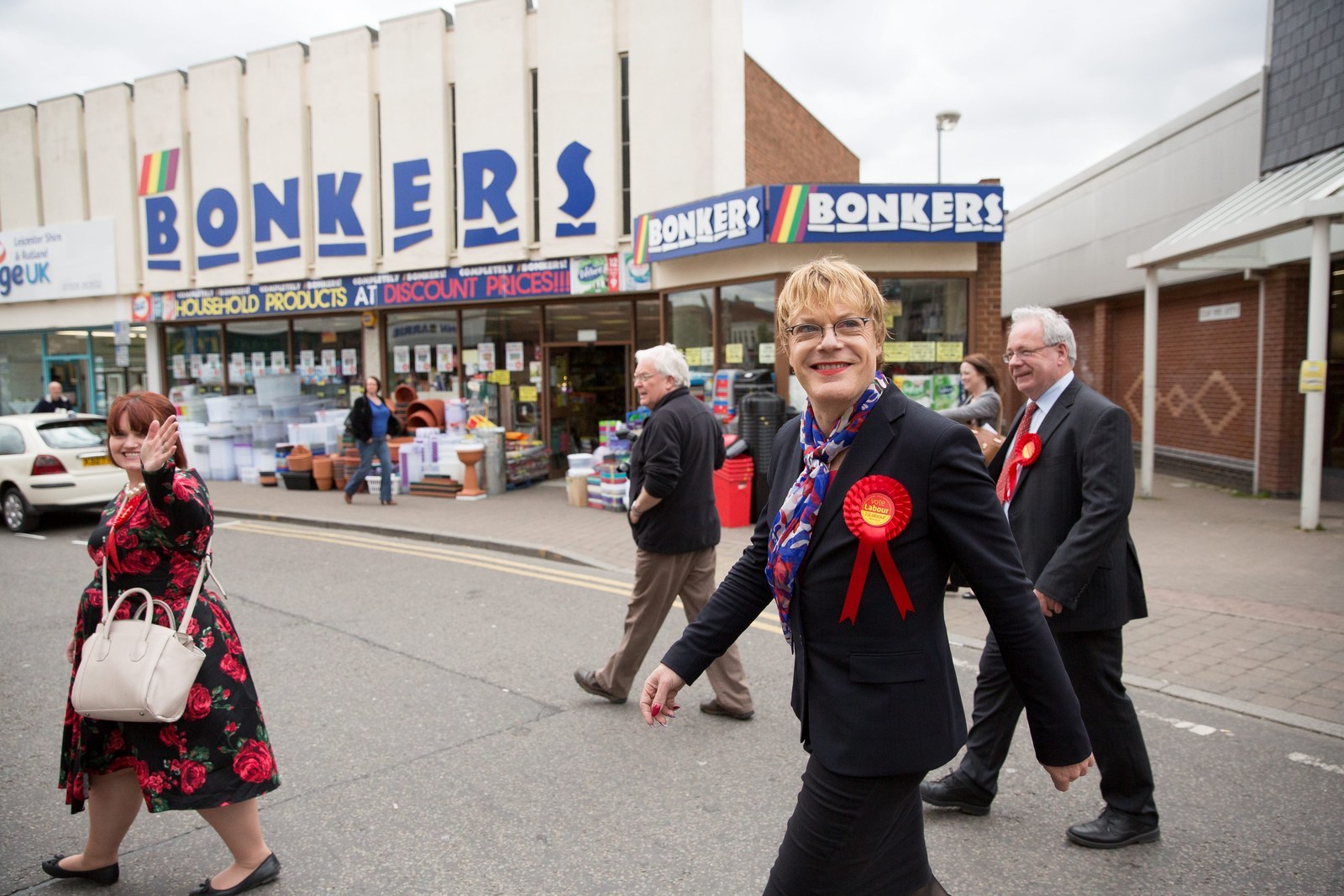 "I can't take my eyes off him," he tells BuzzFeed News. "I think it's great that Labour has gone to these lengths to make the point that they're reaching out." He is promptly hit in the face by a Labour balloon.

Izzard then sets off down the high street with the Labour candidate and their accompanying activists, stopping people occasionally to talk to them about politics. Helen Keast, a photographer in her mid-thirties, asks what Labour would do for families, and one of the volunteers excitedly shoves a bag full of paraphernalia in her face. "You're a bit scary," Keast tells them.
Keast is a floating voter, too, but is excited to meet Izzard. She definitely takes him more seriously, too, now that she's seen him discuss politics.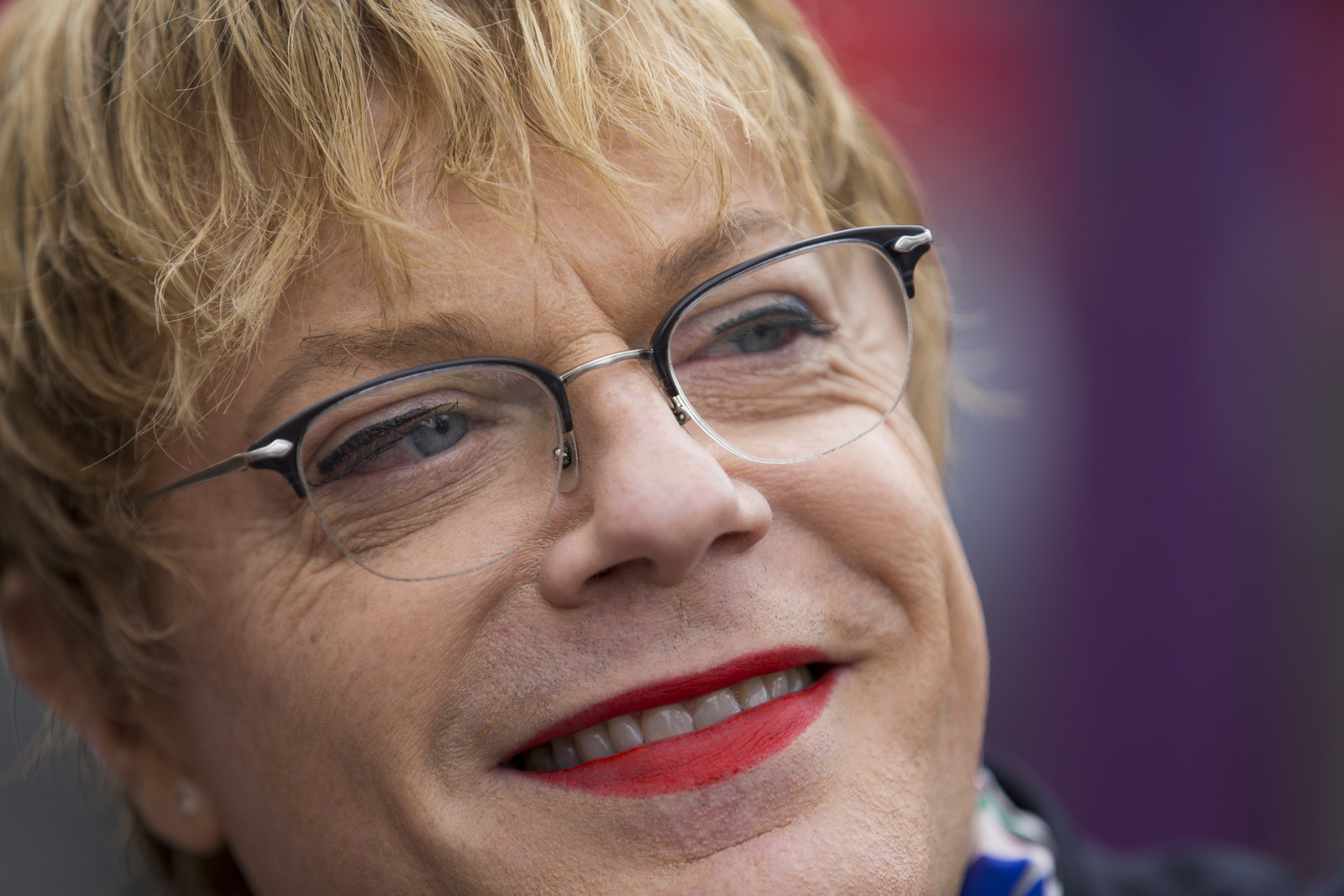 But that's the sticking point. People are clearly expecting Izzard to be funny, and he's clearly trying to prove he can be a serious politician.
Visiting a chocolate store, he tells the owner that politicians aren't meant to eat in public and turns down the offer of some free grub. (He later wolfs down a few dark chocolate buttons when he thinks no one's looking.) He's clearly trying to rein his language in, too: He road-tests "motherfudgecake" as an alternative swearword, before swiftly discarding it.
The day draws to a close with a final rally for party members in a nearby pub. O'Callaghan tells activists that he expects them to be out meeting people even more in the final two weeks of the election campaign, in the market and at school gates. "I want people to know that we're not afraid of being out there," he says.
But the Labour candidate knows that that the day isn't really about him, and steps aside and gestures to his guest. "So, any more selfies?"