A Brexit Campaign Posted An Anti-Immigration Video Narrated By Donald Trump
Leave.EU insists it does not endorse the video, which appears to compare immigrants to "vicious snakes", despite sharing it on its social media accounts.
An anti-EU campaign has been accused of promoting "vile, toxic dog-whistle politics" after posting an anti-immigration video narrated by Donald Trump on its social media accounts.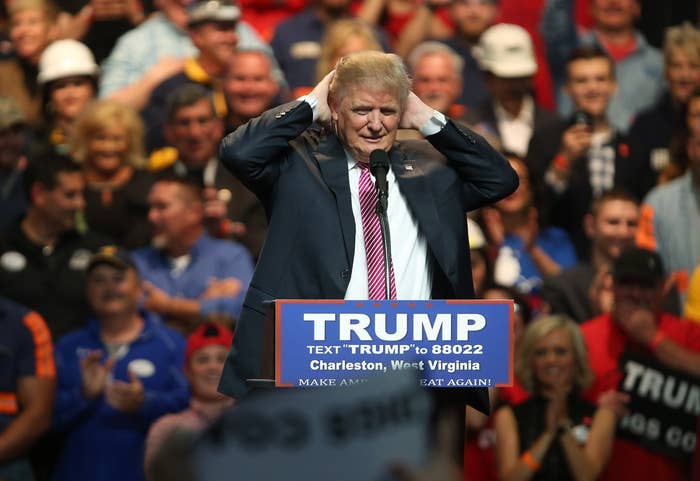 The Leave.EU campaign posted the video on both its Facebook and Twitter accounts on Monday with the caption: "Now you knew darn well I was a snake and still decided to stay in... Vote to leave the 'vicious snake' that is the EU on June 23rd!"
The video's soundtrack is of the US presidential hopeful reading the lyrics of a song called "The Snake" in which Trump appears to to use "vicious snakes" as a metaphor for immigrants.
Leave.EU, which narrowly lost out in its bid to become the official Leave campaign, is closely associated to UKIP and Arron Banks, the party's biggest donor.
The group told BuzzFeed News it did not endorse the video, despite posting it on its Facebook and Twitter accounts.
"The first rule of social media is 'shares and retweets are not endorsements'," a spokesperson said. "We're very clear that this is Donald Trump's take on immigration and no one else's."
Labour MP David Lammy accused the campaign of "vile, toxic dog-whistle politics" and said "the people of the UK deserve much better".
He told BuzzFeed News: "The Leave.EU campaign needs to publicly and fully disavow their apparent support of Donald Trump's stance on immigration and make clear that this ugly xenophobia isn't part of their strategy."
Leader of the Liberal Democrats Tim Farron told BuzzFeed News it was "pathetic of Leave.EU to fan the flames of hatred like this".
"Using Donald Trump, someone who refused to disavow the Ku Klux Klan, is gutter politics of the worst kind," he said. "The demonisation of fleeing refugees is reprehensible. No campaign on either side of the debate should cheapen themselves like this."
The video shows immigrants in France, Greece, and Hungary in different scenarios, including climbing over what appears to be a border crossing.
The video was posted by the news aggregation site Supreme Patriot earlier this year, which currently features a poll asking whether Muslim refugees should be deported from the US at the top of its website.