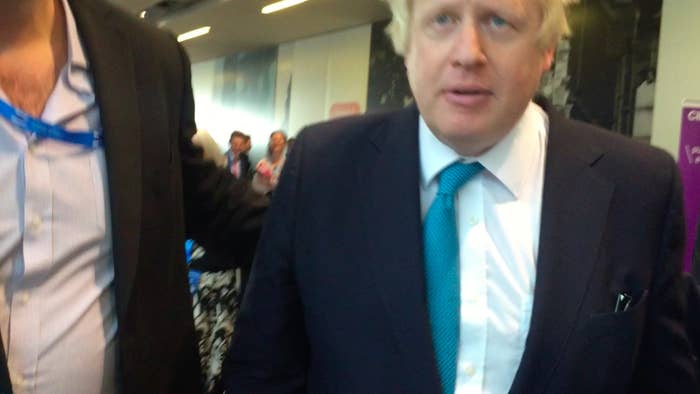 Boris Johnson has refused to comment on why he has accepted donations from Lycamobile, after BuzzFeed News exposed business practices that involve depositing rucksacks stuffed with cash at Post Offices across London.
Lycamobile is one of the Conservative party's largest donors and has given £503,450 to the party this year alone. The firm's boss, Subaskaran Allirajah, has donated more than £1.3 million to the Tories since 2011.
The group also donated money towards Johnson's London mayoral campaign in 2012 and he used Lycamobile's office space for canvassing sessions. The company denies any wrongdoing and said its cash deposit methods are simply "day-to-day banking."
But Johnson failed to comment when pressed on why he accepted money from the firm. He then walked into the "blue room" at the Conservative party conference, set aside for corporate guests and Tory donors.
Siraj Datoo / BuzzFeed News
After receiving the donation, Johnson said of Lycamobile: "I think it's a wonderful business, what a fantastic thing you're doing."
However, the company had avoided paying corporation tax in the UK for years despite reporting global sales of £1.1 billion in 2014. When it first emerged that the donor was not paying any tax, a spokesperson said it was reinvesting money into the firm.
Johnson also showed up at the company's birthday in 2011.
When asked by BuzzFeed News about the donations, the party's chairman, Lord Feldman, failed to comment and instead asked for questions to be referred to his staff.
buzzfeed-video1.s3.amazonaws.com
Just days before the party accepted donations from Lycamobile in 2012, it was sent a letter from its compliance team warning that the company had repeatedly failed to file its accounts on time.
Lycamobile then donated £110,000 to cover two memberships to the £50,000 Leader's Group, where donors can dine with – and have access to – the prime minister and members of the shadow cabinet.